Friends with Kids |

reviews, news & interviews
Friends with Kids
Friends with Kids
Jennifer Westfeldt scores a home run in witty, touching, and adult romcom
Here's looking at you, kid: Adam Scott and Jennifer Westfeldt clinch the child-bearing deal
Can your BFF also be the father (or mother) of your child, not to mention the lover with whom you share both body and bed once all platonic constraints have been cast aside? It's in the DNA of the Hollywood romcom to contrive suspense out of so many foregone conclusions, and I doubt anyone watching Friends with Kids will be in any way surprised at the outcome.
What filmgoers should respond to are the wisdom and wit that writer/director/star Jennifer Westfeldt gently imparts along the way to a finish that may make even the most child-phobic start to choke up. As unpredictable in its details as it is conceptually preordained, the film looks set to be this summer's
Bridesmaids
but with babies on board. Oh, and it's a better movie, too.
Artful not least in its narrative compression, Westfeldt's script begins at a restaurant with her (kid-free) chums, who are remarking on the chaos engendered by the various tots at the neighbouring tables. Flash forward four years and more or less the entire assemblage have become parents themselves. The exceptions: Westfeldt's Julie and her longtime pal, Jason (Adam Scott), who offers himself up as his best mate's impregnator-to-be with the proviso that he and Julie continue to date other people, their anxieties about childlessness at the very least allayed.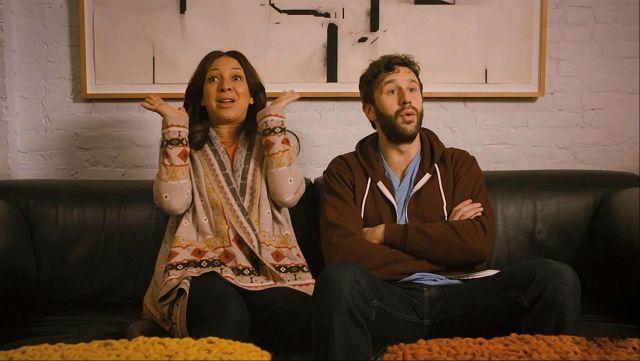 What ensues is a startlingly modern take on the oldest celluloid narrative going - the slow-burning romance - that folds pain aplenty into a putative celebration of the pleasure principle. Her ensemble top-heavy with alumni from Bridesmaids, not to mention longtime beau Jon Hamm, Westfeldt allows Jason and Julie's amorous (mis)adventures to bump up against the flowering - or not - of the families that increase and multiply as the film goes on. Maya Rudolph and Chris O'Dowd (pictured above right) are especially winning as a couple whose frictions nonetheless find room for an underplayed affection. ("I did everything you asked," O'Dowd remarks plaintively at one point, his tone that of a husband for whom domestic life is one long if not unenjoyable trial.)
On the other hand, there's an Edward Albee play in embryo in the brewing toxicity between Hamm's Ben and his partner, Missy (an underused Kristin Wiig). Westfeldt brings the competing narrative strands to the boil in a triumphantly sustained dinner table sequence during a wintry retreat to the country that includes Jason's lissome flame-du-jour, Broadway dancer Mary Jane (Megan Fox), and Julie's apparent beloved, the softly spoken Kurt (Edward Burns). His eyes flashing with a vitriol that would seem to deserve a film all its own, Hamm (pictured below with Wiig) laces the seasonal good cheer with arsenic, offering along the way yet another reason for Jason and Julie to resist the inevitable lowering of their defences. After all, what happens should their deep-seated camaraderie start to go cold?
That change in temperature remains a very real prospect at times, its chances abetted by something about Scott's features that suggests a hardness behind the quipster facade. Westfeldt, too, communicates a resignation borne out of years of erotic defeat, and it's at once funny and touching when she precedes the pair's lovemaking with the words "good luck". Her script, too, knows how make a leitmotif land, Julie's fondness for decidedly macabre either/or games (you know the sort: would you rather die of an aneurysm or cancer?) pressed into service for a satisfying pay-off.
You could carp that the children themselves are all too incidental to Friends with Kids, notwithstanding their pride of place in the title, and that the exigencies of child-rearing receive short shrift. Westfeldt's interests, though, lie not in the cutesy but in a gently observant riff on the way a certain generation is living now. I've not yet actually heard a new dad encourage his child to "tell mommy you hope she gets laid", but to the extent that a film is its director's baby, Friends with Kids is very bright, indeed.
Watch the trailer for Friends with Kids