Classical CDs Weekly: Byrd, Cage and Rossini |

reviews, news & interviews
Classical CDs Weekly: Byrd, Cage and Rossini
Classical CDs Weekly: Byrd, Cage and Rossini
Effortless Elizabethan polyphony, music inspired by stones and Swiss history
This week's chronologically varied selection includes instrumental music written by one of the giants of Elizabethan music and a baffling, beguiling work composed by a 20th-century maverick, inspired by a visit to a Japanese garden. There's also a splendid new recording of an Italian opera which opens with one of the world's most famous tunes.
William Byrd: Complete Consort Music Phantasm (Linn Records)
This is a collection of music composed by William Byrd for viol consort, probably between 1560 and 1603. The viol is the ancestor of the cello, a fretted, bowed instrument with six strings. It comes in several sizes, and the six members of Phantasm play a selection ranging from bass through to treble. Their sound at full stretch is extraordinary - the higher instruments possess a flute-like timbre and the bass viol's lower reaches have a gorgeous, bottomless depth. Listening to this Linn disc is a bit like bathing in chocolate; you're immersed in musical textures of unbelievable warmth. These works are often richly polyphonic, sometimes sounding like instrumental transcriptions of vocal music, and Byrd does make use of hymn tunes and snatches of plainsong. Which might imply that this is a collection of murky, austere music – on the contrary, Phantasm's performances skip, dance and sing.
Laurence Dreyfus's notes trace the development of Byrd's viol music from the breeziness of the early hymn transcriptions to the final three-voiced fantasias, each one a concise, stripped-down miracle of concentration. The concision startles, and it's a shock to realise that many of the 27 pieces on this disc don't exceed three minutes. Invariably they feel much longer, but in a good way. You're continually surprised by the potency of Byrd's musical imagination – the occasional quirky modulation, or the subtle use of dance rhythms which give the music such lift. Linn's production values are as exceptional as the performances, and this release is also available as a high-quality download. Blissful.
John Cage: Ryoanji (Hat Hut Records)

In 1962, John Cage visited the Ryoan-ji (Peaceful Dragon) garden in Kyoto, originally laid out by Zen monks in 1488. The garden, now a World Heritage Site, had a profound effect on Cage, whose artistic response initially took the form of a 1983 series of pencil drawings based on the 15 stones found in the garden. Cage used the I Ching to determine how the drawings were made – the variables including the amount of pressure, the type of pencil used and the number of tracings. Shortly afterwards, he began composing Ryoanji, using lines traced from the stones to outline the melodic material. On this recording, the percussionist Jan Williams is set against five soloists, ranging from double bass to oboe.
Clear the house and find yourself a quiet corner or a decent pair of headphones – you need to experience Ryoanji's 60 minutes in one stretch. The sound of wooden and metal percussion offers a constant throughout the work, carefully notated by Cage in contrast to the graphic scores used by the instrumental soloists. What you hear is an endless series of gently resonant stone-like clunks, set against undulating, melodic glissandi. The dynamic level rarely rises above mezzo piano. Yet it's musically compelling, Cage's gift for sonority making Ryoanji a perplexing yet oddly soothing musical experience. The percussion strokes appear at close but disconcertingly irregular intervals, while the instrumental and vocal lines float above, mostly as solos but occasionally coexisting. It's like witnessing an austere, arcane ritual.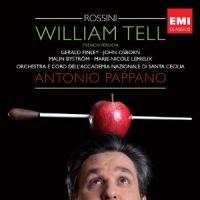 Rossini: William Tell, Orchestra e Coro dell'Accademia Nazionale di Santa Cecilia/Antonio Pappano, with Gerald Finley, John Osborn, Malin Bystrom and Marie-Nicole Lemieux (EMI)
Successfully performed by most of this team at last Saturday's Prom, Rossini's rarely heard opera seria William Tell is now released in a recording made from live concert performances given last year in Rome. As has been pointed out, this has to be one of the least-known major operas ever written. It's not too difficult to see why; this is not the effervescent, witty Rossini familiar to fans of The Barber of Seville, but an epic historical drama about Swiss independence. It's also nearly four hours in length. Antonio Pappano has chosen to perform the opera in its original French libretto, and you'd be forgiven for finding that bits of it sound like Berlioz; notably the delicious offstage horn calls heard in the first act. It doesn't all hang together, and there are several extended passages where you involuntarily find yourself wandering into the kitchen to feed the cat or make a cup of tea.
But the attraction of a recording as beautifully produced as this new one is that you can listen to the work one act at a time. It's consistently well sung; Gerald Finley an excellent, lyrical hero, heard at his best in the marvellous aria just before he's forced to shoot the apple perched on his son's head, sweetly portrayed by Elena Xanthoudakis. Tenor John Osborn's Arnold sings with incredible control and allure, and you can't blame the audience for spontaneously applauding his more flamboyant arias. Heard in small doses, there's not a lot to dislike. From the famous overture onwards, the orchestral playing is unbelievably fleet and responsive, and the choral singing is immaculate. At the close, Switzerland is liberated to the accompaniment of one of the most gloriously over-the-top operatic apotheoses imaginable. It's marvellous. Documentation and packaging are excellent.
Antonio Pappano presents William Tell
Explore topics
Share this article