Killer Joe |

reviews, news & interviews
Killer Joe
Killer Joe
Matthew McConaughey crackles and spits in William Friedkin's neo noir
If looks could kill: Matthew McConaughey is 'Killer Joe'
Some movies are defined by sounds and Killer Joe is most certainly one of them. The squeak of a stripper's heel on a clear plastic floor, the crack of thunder, the thrum of a motorcycle engine and the thump of a bouquet of flowers landing on a coffin – which unquestionably spell sex, trouble and death.
From director William Friedkin - still best known for
The Exorcist
and
The French Connection
, films he made some 40 years ago –
Killer Joe
is pure juicy pulp. It's hard not to get swept along as it delights in immorality and double-crosses, that is until Friedkin punches you square in the gut for your twisted complicity.
Killer Joe opens in a storm and Chris Smith (Emile Hirsch, pictured below right with Juno Temple) is in a frenzy. He's in debt to Digger Soames (Marc Macaulay) and has been thrown out of his mother's house (everyone presumes he's hit her - again). In haste he hatches a plan to kill her off and collect the $50,000 life insurance policy, joining forces with his dim-witted trailer dwelling father Ansel (Thomas Haden Church) and spectacularly skanky stepmother, Sharla (a typically fearless Gina Gershon, whose knicker-less entrance sets the film's down-and-dirty tone).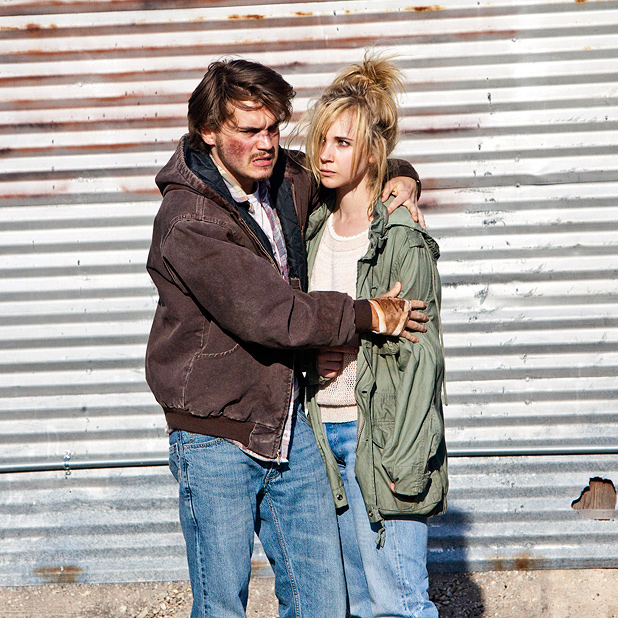 Enter Killer Joe Cooper, a rogue detective with Southern style to spare and a sideline in murder. As played by Matthew McConaughey, he's at once gentlemanly and sinister, an impeccably mannered psychotic fetishist. Since the bumbling, stony broke trio are unable to provide payment for his services up front he agrees to accept a sordid retainer in the shape of Chris' beautiful - apparently backward - younger sister Dottie (Juno Temple).
Killer Joe is based on the award-winning stage play by Tracy Letts, who has personally adapted it for the screen, and it's a characterful, confident translation - vibrantly vulgar and grimly hilarious. Matthew McConaughey has long been stuck in a rom-com prison of his own making, but under Friedkin's direction he busts out in style. Killer Joe reminds us how good he was in acclaimed fare such as Lone Star and Dazed and Confused, and then some. It's a mesmeric, gong-worthy performance - as deadly and hypnotic as fire and as cool and unshakable as ice. McConaughey's scenes with the excellent Juno Temple (vulnerable, ethereal, unpredictable and the owner of a truly disturbing Justin Bieber collage) are akin to watching an angel dance with a distinguished devil: they're tender and terrifying in near equal measure.
This is a film loaded with Lynchian unease and style which displays no shortage of nerve, but its failings are also significant. As our craven protagonist, Emile Hirsch is too unshakably Hollywood to convince as white trash. Detrimentally for a noir, the denouement holds few surprises (although if you have a penchant for Kentucky Fried Chicken, after watching this, consider that cured). Because the plot is predictable, when digested as a whole it feels like a lesser work than its (often striking) parts suggest. Friedkin's nineteenth feature might fall short of its classic noir aspirations but Killer Joe remains a terrifically sharp shooter nevertheless.
Watch the trailer for Killer Joe
McConaughey has long been stuck in a rom-com prison of his own making, but under Friedkin's direction he busts out in style
rating
Explore topics
Share this article