Edinburgh Fringe: Tiffany Stevenson/ Carl Donnelly/ The Two Wrongies |

reviews, news & interviews
Edinburgh Fringe: Tiffany Stevenson/ Carl Donnelly/ The Two Wrongies
Edinburgh Fringe: Tiffany Stevenson/ Carl Donnelly/ The Two Wrongies
Two engaging stand-ups and dire performance art
Tiffany Stevenson: gets better with each Fringe outing
Tiffany Stevenson ★★★★
The comic is currently appearing on Show Me the Funny on ITV, where her smily disposition is a welcome antidote to some of the sneery critics they have mustered. There's boyfriend stuff in Cavewoman but Stevenson also delivers a few astute political observations, as well as the occasional unPC gag - such as suggesting Tina Turner's dance moves were inspired by her avoiding Ike's punches.
There are some nice riffs about going to a bingo session with her mother and the weird sisterhood she saw there, her penchant for leopardskin prints (you can take the girl out of...), the real reason the periscope was invented and why Katie Price is an evil genius. There's also some delicious guying of the middle-class mums who go to her local Starbucks and order Babychinos for their offspring. As ever, Stevenson provides a lot of laughs and she impresses more with each Fringe outing. Until 29 August Veronica Le
Carl Donnelly ★★★
The fact that Carl Donnelly has called his third Fringe show Carl Donnelly 3: Carl Donnellier in tribute to Die Hard 3: Die Harder gives some indication of his very appealing brand of benign silliness. Now that he's cut his hair and invested in some sensible specs, the Londoner observes – correctly – that he looks like a "young Rolf Harris", but in terms of content and delivery he more closely resembles an entertaining mate holding court down the pub than an Antipodean cartoonist or, indeed, a slick gag-smith.
Donnelly's easy charm is both the show's appeal and its shortcoming. On the plus side, he proves highly engaging company during an hour's worth of consistently amusing observations on novelty dancing, the lost art of storytelling and the perils of photographing yourself sitting on the toilet. On the downside, this amiable ramble never quite cranks into top gear and occasionally wanders down a few comedic cul-de-sacs.
Yet, though there's nothing particularly earth shattering about what he does, Donnelly's daft positivity – and clear joy at being in the room – ultimately provides a refreshing alternative to the comedy of irony and cynicism. Until 29 August Graeme Thomson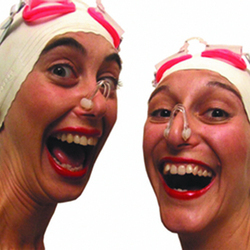 The Two Wrongies ★
Sometimes an act at the Fringe is so wrong that it's right, but The Two Wrongies are just plain wrong. This is one of the most misconceived shows I have ever seen and what it's doing in the comedy section of the brochure I do not know. Maybe the involvement of Kim Noble, listed as one of its directors, explains it.
The Two Wrongies are Avis Cockbill and Janine Fletcher, and they take off their clothes - all of them - fairly early into the show and stay that way. Few words are spoken as they writhe, dance and cavort around the stage, in "sketches" about synchronised swimming, the joys of lungeing and being inadvertently booked as a children's show, where they are dressed as a giant cock and vagina. There's also one in which they simulate sex for about 10 minutes.
The duo describe their show as a "dance-based exploration of the female sexual psyche" but they are in no way being subversive by being naked, merely acting as a magnet to late-night pervs. Even as performance art it's dire, with its one saving grace being a section in which they envelop each other in a voluminous black dress, which is quite beautiful and stands out from the rest of this pretentious dross. They are clearly talented dancers, but I didn't laugh once. Until 28 August Veronica Lee
Share this article