Opinion: Is The X Factor back for good? |

reviews, news & interviews
Opinion: Is The X Factor back for good?
Opinion: Is The X Factor back for good?
A nation queues up to be manipulated and fleeced for the eighth time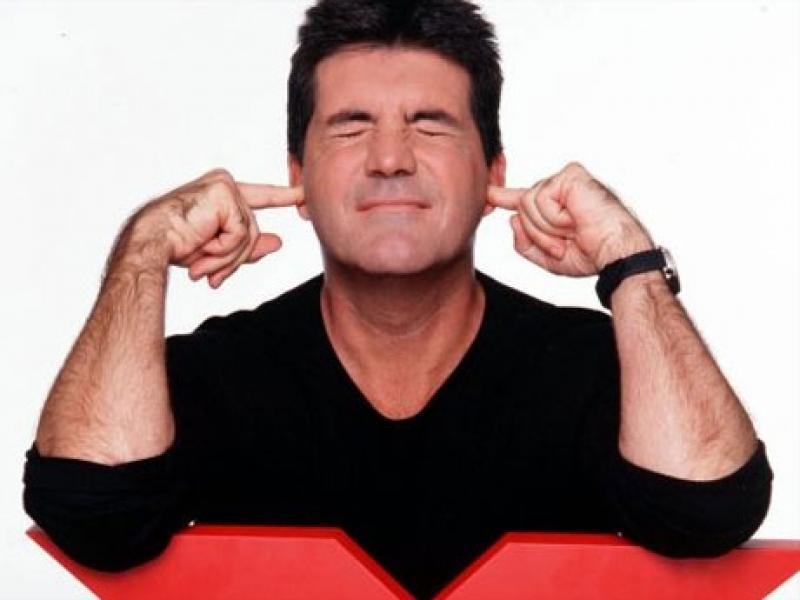 He's got the right idea: ex X panellist tries to drown out the din
And so it begins again. Earlier this summer I attended what has become a regular British ritual, exactly like Wimbledon and Henley, the Chelsea Flower Show and Ascot, with only one or two small discrepancies.
The forecourt in front of the O2 heaved with ticketed humanity, carefully caged into pens and queueing against the magical moment when the doors would open and officials in fluorescent jackets wielding digital barcode readers would usher them into that citadel of contemporary British culture. I refer, of course, to the
X Factor
auditions.
One goes along to these things in the spirit of anthropological enquiry because, God knows, no other reason springs to mind. At least this year there's been a bit of a change. For the first time, the Dark Lord of the TV talent factory is not to be a judge. Instead he will be yanking on strings from behind the scenes, like the Wizard of Oz but in a tighter, blacker T-shirt. However marvellous the money, one can only imagine it gets exceptionally dull on this relentless transatlantic treadmill of Cowell's own making, shepherding hopefuls along the yellow brick road to fame and fortune or, more probably, indifference or even national obloquy.
This man, truly, has a nation dancing to his tune
But you can tell the faithful are missing the conscienceless old rogue. The singers are as usual staged neatly along the spectrum: awful, moderately alright and, here and there, impressive. The new judges say their thing, including Tulisa wotsit and Kelly thing. It's no doubt been calculated that these two young honeyz will spend the autumn scratching each other's eyes out in a synthetic rerun of previous panel wars beloved of tabloid headline writers. Louis Walsh is there too, as ever superglued to his seat like a deluded lover clinging to the ankles of the man who has spurned her. And there's Gary Barlow, working his little socks off to be as vaudevilleanly unpleasant as Cowell despite 20 years in the limelight projecting the opposite image. It doesn't remotely wash.
But anyway, it's all business as usual. Dermot the oikish MC tries to stimulate up the thousands into some sort of frenzy. He makes inappropriate sexual jokes to children in the audience, safe in the knowledge that they won't be broadcast. There's something not quite right about the atmosphere, though, something stale and unprofitable. The four women parked in front of me, veterans up in town from Essex and cheerfully pissed, work hard to whip up some good-natured hysteria, but their hearts aren't quite in it and they leave early shaking their heads.
What happens next is terrifying. Half an hour into proceedings the Lord of the Underworld saunters in from the wings to make an impromptu appearance that, like everything casual and unscripted about The X Factor, has been meticulously planned and plotted in a production office staffed by cowering Cowellites. The entire room leaps to its feet as if every seat in the house has simultaneously had a 10,000 volt charge run through it. This man, truly, has a nation dancing to his tune.
But why? When you strip away all the gaudy flashing architecture of The X Factor, what we're witnessing for the eighth time of asking is the coronation of the suit in A&R. In a country which no longer has a widespread commitment to God, The X Factor is the closest the great British public gets to the opiate formerly known as Sunday worship. They just do it on Saturdays instead. And our messiah is a talent scout.
The reality is that the talent he scouts, some of them with earnest ambitions and no other route to the big time now that record companies make you pay for the privilege of signing them, is disposable. Only Will Young and Leona Lewis - of all winners anointed by the public in talent shows judged by Cowell - have gone on to have any kind of proper pop career. A few others have muddled a path into musical theatre, while the victors of the BBC's musical-theatre castathons – Connie Fisher, Lee Mead, Jodie Prenger - have created more solid careers. Even Susan Boyle from Britain's Got Talent has had a much healthier time of it than all those X Factor podiumees whose names you don't remember.
In the old days they just baited bears and had done with it
What sends the heart towards the boots is not the sameness of the entrants: big booming soul voices with cheap vibrato, caterwauling rock divas, pub princelings and karaoke queens (although that of course lures the blade towards the wrist). No, it's the wretched, miserable, transparent, shameless, ugly cynicism of the entire greedy monolith. We know all too well that there are no depths to which the X Factor scriptwriters will not sink to manipulate its contestants and its audience. It's only when you go to a live audition and see it playing out before you that the scales fall entirely from your eyes.
When someone at the audition I attended was told to go away and come back next year as she just wasn't ready, you instantly knew that her weekly singing lessons have already been contractually sorted. A single mother, however genuinely maltreated by her ex, had clearly had personal misfortune ruthlessly milked to give her a storyboarded shot at redemption. A flakey middle-aged weirdo loner, playing the village-idiot stereotype to the hilt, came on and sang "Life on Mars", gallivanting delusionally off into the crowd to receive the boos as if not remotely under instruction one little teeny bit. In the old days they just baited bears and had done with it.
But the most depressing moment, for me at least, came at the beginning, when a Scottish soldier demonstrated first how to march, then how to sing. Gary B wasn't so sure and eventually, after much humming and haaing and drawing things out, thumbed him through to the next round. Cue a whole platoon of Scots Guards in red tunics and bearskin hats, long since booked for just such a money shot, pouring onto the stage to hug and high-five. The apparatus of the state, national symbols that pre-date this soulless farrago of second-hand shite by a good 200 years, had been put at the service of the Cowell's factory of star-making and lucre-raking.
In the week that Big Brother has limped back onto the small screen, one sorrowfully concludes that these modern light entertainments, botched malformities bred in the multi-channel laboratory now that television no longer has money to pay talented people to entertain us, are indestructible as cockroaches and here to stay. Back, yes. But please, not for good.
The X Factor is the closest the great British public gets to the opiate formerly known as Sunday worship. They just do it on Saturdays instead
Explore topics
Share this article