theartsdesk Olympics: Graeco-Roman-Thespian wrestling |

reviews, news & interviews
theartsdesk Olympics: Graeco-Roman-Thespian wrestling
theartsdesk Olympics: Graeco-Roman-Thespian wrestling
Ken Russell and DH Lawrence require two actors to undress and grapple in 1969
'Let's strip, do it properly'
In the original Games featuring Athenians and Spartans and the like, they would of course have done it all in the buff. The sporting costume – the thin end of the wedge that is the singlet - was a tawdry Olympic neologism foisted on the pure ideals of the athletic contest in the first modern Olympiad in 1896. Just what naked wrestling would have looked like is of course something one has to imagine - dreamily or otherwise.
Alternatively, of course, you can have another peep at Ken Russell's
Women in Love
.
The film itself, a hippy-trippy Sixties take on the Lawrentian quest for much more sex please, doesn't really stack up these days (any more than its source, one might argue). It's best remembered for the thoroughly homoerotic scene - the Men in Love interlude, if you will - in which Gerald Crich and Rupert Birkin flail about naked in the firelight. In the book the encounter happens when Birkin offers to demonstrate the jiu-jitsu techniques he once learnt in Heidelberg. In the film the sport isn't given a name: Oliver Reed's Gerald just wants to hit something. "Well, you can't do much in a stuffed shirt," says Alan Bates as Birkin. "All right," offers Reed/Gerald, "let's strip, do it properly."
The two actors, both in their early thirties, lock the door and then horns. Their freeform grapples, enhanced by the orange flow of the fire, look more or less like the muscular cavorting of figures on Grecian urns, with a heavy injection of actorly prancing. This is Graeco-Roman-thespian wrestling. They both get a gold medal for effort as their bits and pieces swing audaciously about in 1969.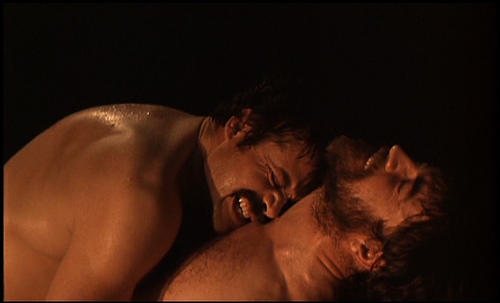 It may be deemed germane that I once interviewed the film's scriptwriter and producer Larry Kramer, who was proud of the scene's fidelity to Lawrence's sinuous prose. When he and Ken Russell screened the film to Lord Trevelyan, the chief censor of the British Board of Film Classification, he recalled that "we were able to say, 'This is a faithful representation.' He caved in, much to our surprise." I couldn't resist asking Kramer if, in preparation for the scene, the hard-partying he-man Reed toyed himself into a state of semi-tumescence. "Yes, he did," said Kramer. "They didn't get on very well. But you can't see it on screen. Actually Alan had more natural endowment than Oliver." Which may of course help to explain just why they didn't get on.
They both get a gold medal for effort as their bits and pieces swing audaciously about in 1969
Explore topics
Share this article