My Summer Reading: Violinist Vadim Gluzman |

reviews, news & interviews
My Summer Reading: Violinist Vadim Gluzman
My Summer Reading: Violinist Vadim Gluzman
The violinist with a voice chooses Papa Mozart, Bulgakov and Meir Shalev
Tuesday, 06 September 2011
Gluzman: 'Papa Mozart opens a door to the style, character and flavour of violin playing'
Some violinists just play; others have a voice. Ukrainian-Israeli violinist Vadim Gluzman follows the distinguished line of great Petersburg violinist Leopold Auer - whose 1690 Stradivarius he currently plays - David Oistrakh and Isaac Stern, his one-time mentor.
Some violinists just play; others have a voice. Ukrainian-Israeli violinist Vadim Gluzman follows the distinguished line of great Petersburg violinist Leopold Auer - whose 1690 Stradivarius he currently plays - David Oistrakh and Isaac Stern, his one-time mentor. His 2008 performance of the Tchaikovsky Violin Concerto, dedicated to Auer, with the great Neeme Järvi on responsive form, forged an electrifying concert partnership and augurs well for his next appearance with the London Philharmonic, this time conducted by Vassily Sinaisky, in the Korngold Concerto. The wide-ranging curiosity so apparent in his true concerto relationships with orchestras extends to the reading he tells us about here.
What are you reading at the moment?
For a few years now I spend the second half of August in Salzburg, teaching at the Mozarteum. It's a very exciting two weeks filled with meeting my young colleagues and exchanging ideas, sharing experiences, while at the same time preparing for the upcoming concert season. Since in 2011/12 I will be coming back to Mozart, I picked up (most appropriately in Salzburg!) the new edition of his father Leopold Mozart's The Art of the Violin (Gründlische Violinschule).
Leopold's directions and advice regarding articulation, appoggiaturas, metre and subsequently musical phrasing are as compelling and indispensable today as they were in 1769. As if reaching us from the depth of time with incredible wit, elegance and charm, Papa Mozart opens a door to the style, character and flavour of violin playing and, more importantly, music-making of his time.
[Excerpt from the Oxford Early Music Series translation by Editha Knocker. Leopold is describing the basic form of the violin and gets carried away when he moves away from the body of the instrument.]
At the extremity, violin makers endeavour to give an air of finish; some by means of a graceful, snail-like curve, some by carving a lion's head. Yea, they often attach greater importance to such decorations than to the main structure. Consequently the violin – who would believe it! – is a victim of the universal deception of external show. He who values a bird for its feathers, and a horse for its blanket, will also inevitably judge a violin by its polish and the colour of its varnish, without examining its principal parts. This course is taken by all those who judge with their eyes and not with their brains. The beautifully 'curled' lion's head can improve the tone of a violin just as little as a fancifully curled wig can improve the intelligence of its living wig-stand. Yet in spite of this, many a violin is valued simply for its appearance, and how often does it happen that clothes, money, pomp, and especially the curled wig, is that which turns a man into a scientist, counsellor or doctor? But where have I got to? My zeal against this common habit of judging by superficial appearance has well-nigh led me astray.
What did you most enjoy reading in a previous summer?
A year ago, also in Salzburg, I remember re-reading Bulgakov's The Master and Margarita. Having read this book for the first time in my teens, I come back to it again and again throughout the years. Like listening to Bach's Goldberg Variations, each meeting with Master allows me to experience another spectrum of emotions and probe yet again the timeless questions raised in this grand work. A quote from Goethe's Faust, which Bulgakov uses as the epigraph for this novel:
"Who are you then?"
"I am part of that power which eternally wills evil and eternally works good."
[Excerpt from The Master and Margarita by Mikhail Bulgakov (Penguin Classics)]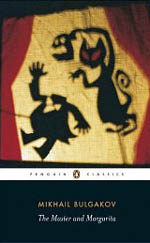 At the hour of the hot spring sunset two citizens appeared at the Patriarch's Ponds. One of them, approximately forty years old, dressed in a grey summer suit, was short, dark-haired, plump, bald and carried his respectable fedora hat in his hand. His neatly shaven face was adorned with black horn-rimmed glasses of a supernatural size. The other, a broad-shouldered young man with tousled reddish hair, his checkered cap cocked back on his head, was wearing a cowboy shirt, wrinkled white trousers and black sneakers.
The first was none other than Mikhail Alexandrovich Berlioz, editor of a fat literary journal and chairman of the board of one of the major Moscow literary associations, called Massolit for short, and his young companion was the poet Ivan Nikolaevich Ponyrev, who wrote under the pseudonym of Homeless.
Once in the shade of the barely greening lindens, the writers dashed first thing to a brightly painted stand with the sign: "Beer and Soft Drinks".
Ah, yes, note must be made of the first oddity of this dreadful May evening. There was not a single person to be seen, not only by the stand, but also along the whole walk parallel to Malaya Bronnaya Street. At that hour when it seemed no longer possible to breathe, when the sun, having scorched Moscow, was collapsing in a dry haze somewhere beyond Sadovoye Ring, no one came under the lindens, no one sat on the bench. The walk was empty.
"Give us seltzer," Berlioz asked.
"There is no seltzer," the woman in the stand said, and for some reason became offended.
"Is there beer?" Homeless inquired in a rasping voice.
"Beer'll be delivered towards evening," the woman replied.
"Then what is there?" asked Berlioz.
"Apricot soda, only warm," said the woman.
"Well, let's have it, let's have it!"
The soda produced an abundance of yellow foam, and the air began to smell of a barber shop. Having finished drinking, the writers immediately started to hiccup, paid, and sat down on a bench face to the pond and back to Bronnaya.
Here the second oddity occurred, touching Berlioz alone. He suddenly stopped hiccupping, his heart gave a thump and dropped away somewhere for an instant, then came back, but with a blunt needle lodged in it. Besides that, Berlioz was gripped by fear, groundless, yet so strong that he wanted to flee the Ponds at once without looking back.
What are you looking forward to reading next?
I have just started to read a book by one of my favorite modern writers – Meir Shalev. Having read a number of his books - A Pigeon and a Boy, Fontanelle - I have never read the one that is considered by many his best work – As a Few Days (also called Four Meals in English translation). I must say, mesmerising from the very beginning!
[Excerpt from A Pigeon and a Boy by Meir Shalev (Schocken Books)]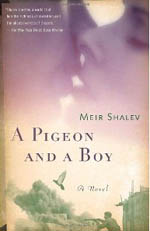 "And suddenly," said the elderly American man in the white shirt, "suddenly, a pigeon flew overhead, above that hell."
Everyone fell silent. His unexpected Hebrew and the pigeon that had alighted from his mouth surprised all present, even those who could not understand what he was saying.
"A pigeon? What pigeon?"
The man – stout and suntanned as only Americans can be, with moccasins on his feet and a mane of white hair on his head - pointed to the turret of the monastery. Many years had passed, but there were a few things he still remembered about the terrible battle that had taken place here. "And forgetting them," he declared, "is something I'll never be able to do." Not only the fatigue and the horror, not only the victory – "A victory that took both sides by surprise," he noted – but also the minor details, the ones whose importance becomes apparent only later: for one, the stray bullets – or perhaps they were intentional – that struck the bell of the monastery on occasion – "Right here, this very bell" – and then the bell would ring sharply, an odd sound that sank, then abated, but continued to resound in the darkness for a long while.
"And the pigeon?"
"A strange sound. Sharp at first, and high-pitched, like even the bell was surprised; then it got weaker, in pain but not dead, until the next shot hit it. One of our wounded guys said, "Bells are used to getting hit from the inside, not the outside."
He smiled to himself as though he had only just understood. His teeth were bared, and even those were terribly white, as only elderly American teeth can be.
"But what about the pigeon? What kind of pigeon was it?"
"I'm 99 per cent sure it was a homing pigeon, a Palmach carrier pigeon. We'd been fighting all night, and in the morning, two or three hours after sunrise, we saw it suddenly lifting off."
This Hebrew he had unleashed, without prior warning, was good – in spite of his accent – but his use of the term homing pigeon in English sounded more pleasant and proper than its Hebrew equivalent, even if the bird in question did belong to the Palmach.