Woman in a Dressing Gown |

reviews, news & interviews
Woman in a Dressing Gown
Woman in a Dressing Gown
Yvonne Mitchell's revelatory acting illuminates the film that launched kitchen-sink drama
Housewife in extremis: Amy Preston (Yvonne Mitchell) grapples with the news that her husband wants a divorce
The British new wave came ashore with its angry young men – foremost among them those played by Laurence Harvey in Room at the Top (1959), Albert Finney in Saturday Night and Sunday Morning (1960), Tom Courtenay in The Loneliness of the Long-Distance Runner (1962), and Richard Harris in This Sporting Life (1963), all but Courtenay's rebellious Nottingham borstal boy bloody-minded Northerners.
With the exception of Rita Tushingham's character, pregnant and single in A Taste of Honey (1961), and Leslie Caron, pregnant, single, and French, in The L-Shaped Room (1962), the movement's most memorable women – Rachel Roberts and Shirley Anne Field in Saturday Night, June Ritchie (knocked up by boyfriend Alan Bates) in A Kind of Loving (1962), and Roberts in This Sporting Life – played second fiddle to the men.
Of angry middle-aged housewives, there was but one: Amy Preston (Yvonne Mitchell) in the neo-realist Woman in a Dressing Gown (1957), which is habitually neglected in the kitchen-sink roll call. That will change with the re-release today and DVD release on 13 August of J. Lee Thompson's suspenseful proto-feminist film, for which Mitchell won the Silver Bear for Best Actress at Berlin. It was actually the first kitchen-sink drama, and the one that defined the term.
The suspense derives from the movie's problem – will Jim (Anthony Quayle), Amy's husband of 20 years, with whom she has a factory-worker son (Andrew Ray), stay with her or leave her for his young mistress, Georgie (Sylvia Syms, right with Quayle)?
Like The L-Shaped Room, Woman in a Dressing Gown takes place in a dingy London shaped by austerity rather than Macmillan-era affluence. However, the understated sociological agenda of Ted Willis's screenplay is concerned less with economics than the desensitising narrowness of Amy's life. A hapless slattern who has given up on herself as a feminine, sexual being, Amy seldom changes out of her threadbare dressing gown, never cleans or tidies the family's cramped London council flat, and invariably burns the meals she cooks.
Matching the movie's mise-en-scène to its critique of the retrograde notion that a woman's place is in the home, Thompson's cinematographer Gilbert Taylor constantly frames her like a caged beast between table legs or behind window panes. Amy noticeably comes alive outside the mean confines of the flat – raucously so when she goes to the pub with Jim on a Sunday night after one of his secret liaisons with Georgie, later on an expedition to get her hair done in a heartrending attempt to make herself freshly attractive to him.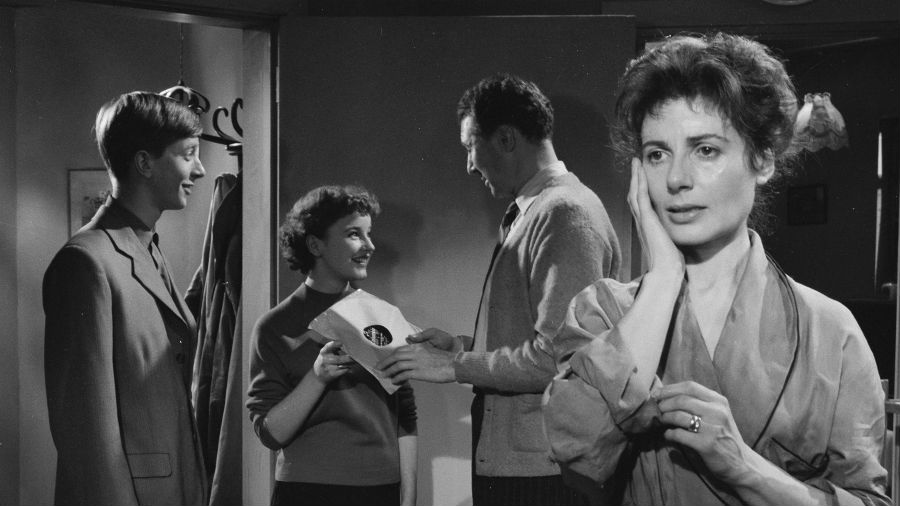 Though Thompson is best known for masculine genre films like The Guns of Navarone (1961) and Cape Fear (1962), he had previously touched on a woman's entrapment in Yield to the Night (1956), in which Diana Dors played an incarcerated murderess, partially inspired by Ruth Ellis, on the eve of her hanging.
Not realising that her future is as black as her toast, Amy remains stridently cheerful and takes pleasure in radio music, but from the beginning of the film until the emotional summit she requests with Jim and Georgie, she hovers on the brink of hysteria: it's difficult to think of another performance by a British actress in which nervous intensity is so unshowily contained. Amy's malaise is a result of the psychological damage she has sustained, which is shared by Jim (scarcely the philandering type) and has cost him drive and ambition.
Willis quietly introduces, almost in passing, the source of the couple's pain during the three-way parley that resolves how the film will end. The marriage's fate hinges on the familiar contest between the value of love as devotion that endures suffering and the daily grind and the value of love as gratified desire.
Battle for her man elicits Amy's long-dormant fierceness that makes her look and sound beautiful
This third-act meeting reveals that Jim is the weakest of the three and that Georgie, who has coldly rationalised why Jim should leave Amy, is not quite the "fish" Amy dubs her. She apologises to Amy for the trauma the affair with Jim has caused her, but it's Amy's reasoning that has moral weight behind it. "Didn't you have the strength to leave him alone?" she demands of her rival.
Roused to action after years of denial and self-deprecation, Amy is transformed. The battle for her man elicits her long-dormant fierceness that makes her look and sound beautiful. The scene where she orders Jim to get out and to keep his money because she intends to get a job is one that would embolden any woman who has been passed over for a younger model.
Mitchell (1915-79) is revelatory in Woman in a Dressing Gown, which seems fresher than most kitchen-sink films. Her great perfomance makes one hungry to know more about her. In stage plays – a four-decade endeavour – and films like The Divided Heart (1954) and Sapphire (1959), she was an actor who often chose socially challenging subjects. On TV in the mid-Fifties, she was acclaimed for her Cathy Earnshaw and her Julia (opposite Peter Cushing) in Nineteen Eighty-Four. She was also an award-winning playwright, a novelist, and an acclaimed biographer of Colette. Only survivalism links the celebrated French author with the dowdy Amy Preston – that and inextinguishable feminine fire, late in the day though Amy discovers it.
Watch the trailer to Woman in a Dressing Gown

It's difficult to think of another performance by a British actress in which nervous intensity is so unshowily contained
rating
Share this article