Taking Part/After the Party, Criterion Theatre |

reviews, news & interviews
Taking Part/After the Party, Criterion Theatre
Taking Part/After the Party, Criterion Theatre
Two plays look askance at the Olympic dream as part of a season of talks, standup and theatre
Wednesday, 01 August 2012
Obi Abili as aspiring Olympian Lucky Henry in 'Taking Part'
Britain may be in grip of Olympic fever, but two playwrights are questioning our unqualified cheer: should we really break out into an excited sweat, they ask, at the mention of beach volleyball, Rebecca Adlington and Danny Boyle? Taking Part and After the Party come under the umbrella of Playing the Games, which comprises a fortnight of plays, standup and talks at the Criterion Theatre responding to London 2012.
Although complementary, each one-hour comic play stands alone. Without lapsing in bitterness, Adam Brace (
Taking Part
) and Serge Cartwright (
After the Party
) question, respectively, the principles and legacy of the Games.
Taking Part follows Lucky Henry, a Congolese security guard turned swimmer, in his efforts to compete in the Olympics. Lucky Henry, who may have been a child soldier, swims because he wants to draw the world's attention to his country's problems. Throughout this two-hander, we are also asked to consider the fairness of a competition in which some participants struggle for electricity and clean water back home, let alone training.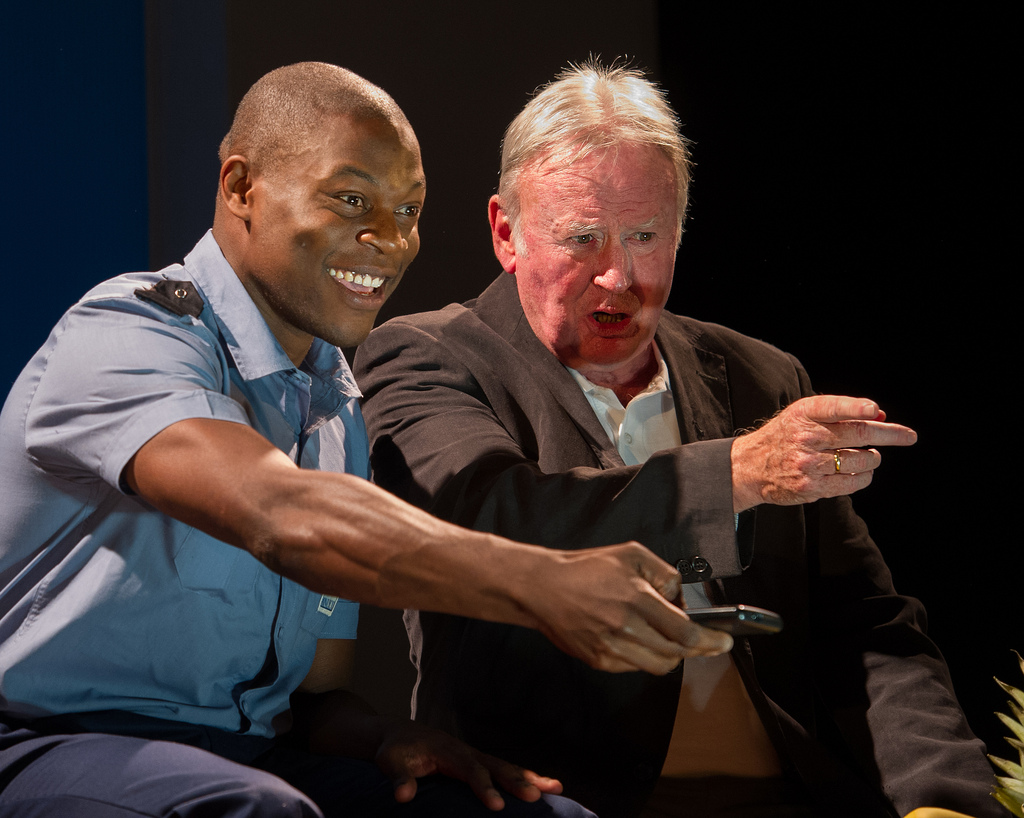 The statuesque Obi Abili plays Lucky Henry with flair. His eyes glisten, his face beams. He is persuasive and charming. One of the most persuasive lines is the swimmer's frequent refrain: "I am Lucky Henry," delivered by Abili with such innocent expectancy that it would be hard not to believe it. Paul Moriarty plays Grigory, the Russian coach frustrated to be in "shit fuck Africa". He is blunt with Lucky Henry, and much of the humour derives from his inability to quell the swimmer's optimism. "You have no chance," explains Grigory. "What things are wrong?" asks Lucky Henry. "Your hands, your feet, your breathing, agility. Your stroke rate. Your start, your turn. And really all of your swimming." Not a huge amount happens in this play. But the sharp dialogue and strong acting are engaging, and the stylishly lit minimalist set is clever. The end, however, does fade out a little disappointingly.
Cartwright's brasher After the Party questions the benefit of the Games for London. Here, we join Sean and Ray, washed-up DJs from Stratford trying to cash in on the Olympics by setting up a burger van. It's a disaster, with Cartwright implying that the economic value of London 2012 to locals is far from straightforward. The play also explores what it means to be a Londoner, 30ish and adrift.
We are thrown straight into the garage scene, with Sean on the decks, spinning DJ Luck and MC Neat's "A Little Bit of Luck". Hope is in the air. Cartwright's characters are full of good intentions, and there are some surprising moments of tenderness. Sean, played sympathetically by Richard Riddell, wants the burger business to succeed to win back his pregnant girlfriend, Chelle, who has moved out after an argument. He needs money for a deposit on their new flat. Ray, played by David Fynn, gets most laughs for his cringe-inducing chat-up lines. But he is also integral to two exemplary routines. Directed with wit and precision by Samuel Hodges, the best scene in this play has Sean and Ray making burgers before the Opening Ceremony. To the beat-skipping bass drum of a garage tune, they dance with burger boxes in slow motion. It's surreal.
Ray's rap referencing Daley, Redgrave and Anish Kapoor, designer of The Orbit, is also memorable. Lines sting with poignancy: "Is it a con? Is it a ploy?/Billions of pounds just to watch Chris Hoy/Go round and round on a stupid bike,/Stratford's changing for sports we don't like." Malcolm Hamilton plays druggy friend Keith with equal wit, recalling Mackenzie Crook's Ginger in Jez Butterworth's Jerusalem. Kate Lamb makes a remarkable transformation from sexy Panamanian Carmela to Ms Dynamite-style Natalie, Chelle's sister.
Ironic soundbites from David Cameron and sports minister Jeremy Hunt between scenes give After the Party weight. After Sean and Ray take drugs, the Prime Minister praises Britain for its resilience, enterprise and intelligence. The puffed-up Britain talked about by politicians, suggests Cartwright, is not the one experienced by ordinary people. If we get carried away with medal-counting or wishful thinking about how the Games will rejuvenate our economy and morale, we delude ourselves. Both plays suggest we risk losing sight of what matters: relationships and our personal dreams.
Taking Part and After the Party at the Criterion Theatre until 12 August as part of Playing the Games

After Sean and Ray take drugs, the Prime Minister praises Britain for its resilience, enterprise and intelligence
rating
Explore topics
Share this article