Edinburgh Fringe: Mies Julie/Loretta Maine/Foil, Arms and Hog |

reviews, news & interviews
Edinburgh Fringe: Mies Julie/Loretta Maine/Foil, Arms and Hog
Edinburgh Fringe: Mies Julie/Loretta Maine/Foil, Arms and Hog
Strindberg in South Africa, the love child of Tim Minchin and Alice Cooper, and Irish sketches
Shocking power: Bongile Mantsai and Hilda Cronjé in 'Mies Julie'
Mies Julie, Assembly Hall ****
Miss Julie is pretty full-on at the best of times but in Yael Farber's striking new version, Strindberg's themes of class and gender are given a shocking modern makeover. In transposing the action to present-day South Africa, she has written a story about the divide that still exists between the haves and have-nots, and the crippling emotional history that has yet to be overcome by the young nation.
Twenty years after the end of apartheid, things haven't changed much on a veldt farm, which is owned by a white man and whose labourers and maids are all black. The workers' neighbours may be celebrating Freedom Day, but the master's boots still need to be shined and Christine (Thoko Ntshinga) is still working her fingers almost literally to the bone - in one telling scene, she describes being unable to vote because she could not prove her identity with a fingerprint.
The maid describes being unable to vote because she could not prove her identity with a fingerprint
The master's daughter Mies Julie (Hilda Cronje), was raised by Christine, whose son John (Bongile Mantsai) was her childhood friend. It's hot and steamy both outside, where the promised relief of rain never comes, and in the kitchen, where the play takes place and where a pot is constantly on the boil. Like Maggie in Cat on a Hot Tin Roof, the unhappy Mies Julie is on the prowl. Julie and John have lusted after each other from afar but now, on this fateful night, their passions - as well as a lifetime of resentment, anger and unhappy histories - explode and lives are shattered.
While I found the barbed debate between Julie and John, which punctuates their fierce lovemaking, repetitive, their scenes together have shocking power. Mies Julie is part of the Assembly's South African season and, with seven other productions, is presented in a collaboration between Edinburgh Festivals, the South African ministry of culture and the British Council. The partnership is set to continue and it bodes well.
Loretta Maine: Bipolar, The Caves ****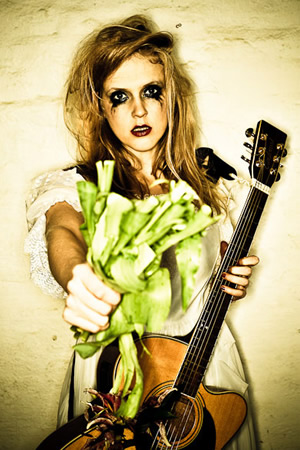 Loretta Maine is a washed-up, alcoholic, drug-addled rock star with tousled hair and running mascara - "I look like Tim Minchin fucked Alice Cooper." She's one of the many characters created by Pippa Evans.
The title, Bipolar, may cause disquiet to some; but as Loretta points out at the top of the show, being bipolar is celebrities' illness du jour, not the only joke of questionable taste in a very funny and at times dark show. She then explains she asked her two-man backing band, Penis Envy, to dress as polar bears, but they declined.
Loretta opens with a rocking number about the burden of fame "Stop Following Me, But Keep Following Me", and, like all the music in the show, it's catchy and well-crafted. Between songs she talks about where it all went wrong - it involves a guy and a bad mom, of course - while sucking on several small bottles of white wine. "They're so ladylike." The story is entirely believable, the songs are great and the laugh quotient is high in a cracking show.
Foil, Arms and Hog, Underbelly ****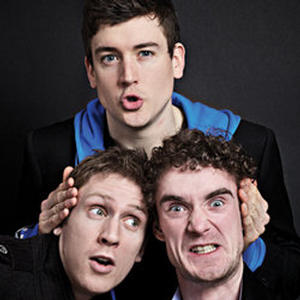 Sketch comedy is a difficult genre to do well, but when it is it's a joy. And so it proves with this Irish threesome whose Late Night Sketch Show is original, witty and inventive. Sean Finegan, Conor McKenna and Sean Flanagan (no, I don't know where their group's name comes from either) are skilful performers, and their material ranges from gossipy Irish village women and hairdryer talks from football managers to god-awful child talent-show contestants and the inhabitants of a supermarket staffed entirely by people from a misguided equal-opportunities programme.
My highlight was the chair people, which manages to be both daft (two of them have chairs for heads), while producing the groaniest puns of the night (falling between two stools, etc) and cleverly mocking the stupidity of racism as one of the lads wants to marry a chairman's daughter and he won't allow it. There is the occasional weak moment, but when the rest of the material is so strong it's barely noticed.
The story is entirely believable, the songs are great and the laugh quotient is high in a cracking show
Explore topics
Share this article