Edinburgh Fringe: Tam o' Shanter/Trevor Noah/Bridget Christie |

reviews, news & interviews
Edinburgh Fringe: Tam o' Shanter/Trevor Noah/Bridget Christie
Edinburgh Fringe: Tam o' Shanter/Trevor Noah/Bridget Christie
Rambunctious Robert Burns; a South African debut; and women's issues made funny
A terrific ensemble cast bring Robert Burns's poem to life
Tam o' Shanter, Assembly Hall ****

Scottish schoolchildren are brought up on Robert Burns but other British students aren't so fortunate. We may know snatches of the great man's work – "Wee, sleekit, cow'rin, tim'rous beastie", "O, my Luve's like a red, red rose" and so on – but few of us could recite even a stanza of Tam o' Shanter.
The long poem, in Scots and English and published in 1791, tells the story of Tam, who stayed too long in an ale house and had a vision of the Devil on his ride home on his mare Meg. In Communicado Theatre's inventive musical dramatisation, devised and directed by Gerry Mulgrew, the poem is spoken and performed as songs by an 11-strong cast of actors and musicians, who use everything from dance, shadow puppetry, video projection and physical comedy to tell the story. The script is augmented by other Burns' works, as well as some very funny modern pastiche, which references things such as the credit crunch and Dolce & Gabbana.
I must confess that, not having reacquainted myself with the work before seeing the show, there were times I hadn't clue what was going on, but I enjoyed it no less for that. This is energetic, rambunctious fun performed by a terrific multi-talented ensemble.
Trevor Noah: The Racist, Pleasance Courtyard ***


Trevor Noah, a South African actor turned comic, tells us at the top of his show that he was "born a crime", as he was born during apartheid to a black South African mother and a white Swiss-German father. He says the section for his race was left blank on his birth certificate and so his life has been a search for his black identity and, although the politics of race are borne lightly throughout, they are subtly referenced.
He has travelled widely and while Noah certainly has a facility with accents (although not all) his insistence of telling every anecdote with an accent – whether Scottish, Spanish or American – becomes rather tedious. But he's very personable and his observational comedy has some original takes on life, even if most of the set felt safely in the middle ground.
There's a distinct lull in the show as he talks too long about his time in the States, but Noah brings it round with an inspired set-piece to end the hour.
Bridget Christie: War Donkey, Assembly Rooms ****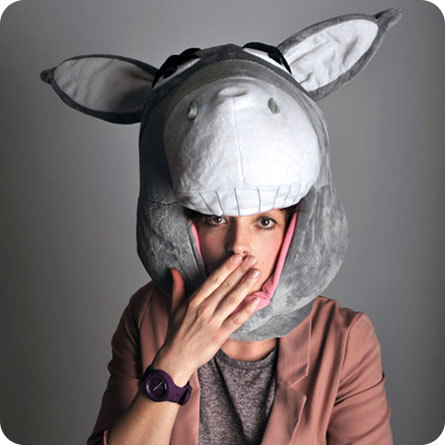 Bridget Christie's resolutely daft shtick hasn't always been my cup of tea, but this show, more focused than previous ones, has changed my mind about her comedy. She comes on dressed as a donkey because, she says, she had to come up with a title for the show back in April, but then regretted it when she actually started writing the show and found there aren't many donkey jokes – and besides he's just another donkey and everyone knows that donkeys aren't funny, in what she herself calls "a heavy-handed metaphor" about female comics. She then takes off the donkey costume and dons an inflatable fat suit so that she can do a few daft Edwin Starr jokes about his hit "War".
That gets the surreal stuff over with and she gets on with the show, which is about women's rights – as Christie says, "Misogyny, like shiny leggings, has made a comeback."
It's a brave comic who takes on such weighty matters, but Christie speaks passionately and hilariously about them. What could be a lecturing or hectoring is neither, but funny and insightful, as she talks about trying to find women's literature in high-street book shops and the modern vogue for women shaving their public hair (because young men have seen so much internet porn they think that's the norm), as "decluttered vaginas".
And in case you still think Christie's show sounds a bit right-on, she also has the Fringe's best fart joke by a country mile.
The script is augmented by other Burns' works, as well as some very funny modern pastiche
Explore topics
Share this article