The Hitchcock Players: Hume Cronyn, Shadow of a Doubt |

reviews, news & interviews
The Hitchcock Players: Hume Cronyn, Shadow of a Doubt
The Hitchcock Players: Hume Cronyn, Shadow of a Doubt
Cronyn's dysfunctional neighbour brightens a sombre film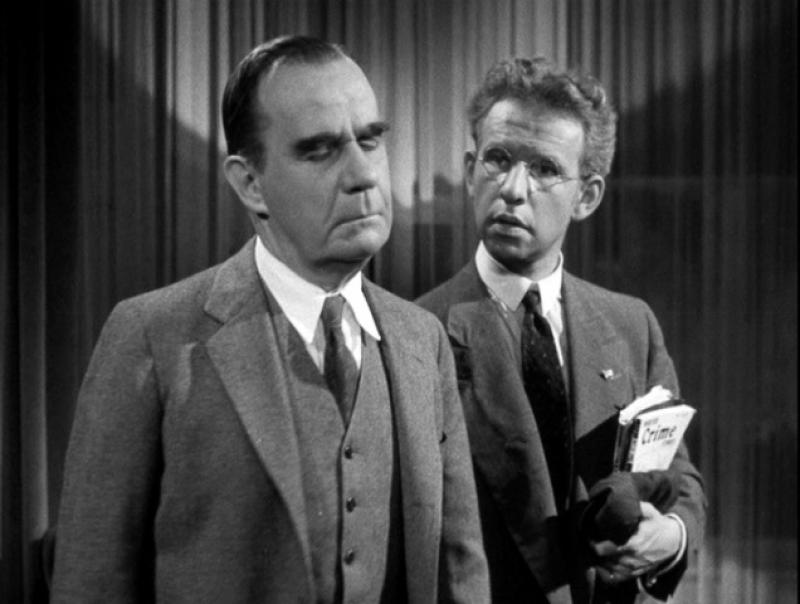 Henry Travers and Hume Cronyn discuss the perfect murder
Shadow of a Doubt was reputedly Hitchcock's personal favourite among his films. Joseph Cotten was cast against type as the glamorous, homicidal uncle, fleeing from the police and pitching up unexpectedly in his sister's household in a sleepy Californian town. Hitchcock's decision to shoot Thornton Wilder's script largely on location gives the film a unique flavour.
Hume Cronyn provides light relief as the shuffling Herb Hawkins, the crime-obsessed neighbour whose unwelcome intrusions punctuate the family gatherings. A maladroit, ageing manchild whose clothes never quite fit, he's still living with his mother in the house next door. He's invariably clutching a handful of tacky crime magazines and cheerily discusses the merits of different murder methods with Henry Travers' equally unthreatening father. This infuriates Theresa Wright's radiant Charlie, who eventually screams out "Can't we have a little peace and quiet without dragging in poisons all the time?"
These death-tinged exchanges remain sweetly innocent, with both men inhabiting a world where everyone knows everyone else's business and doors are never locked. Were Herb to realise that he's in the presence of a genuine killer, he'd probably explode with delight before running away in terror. But he does ultimately play a heroic role, rescuing Wright from a gas-filled garage near the film's close.
Cronyn later appeared in Hitchcock's Lifeboat and assisted with the screenplays to Rope and Under Capricorn. He continued acting into his eighties. But this was his finest hour, in what remains a terrific film. In Guillermo del Toro's words: "Shadow of a Doubt is one of the perfect Hitchcocks – the very first true American Gothic he made, and an eerie portrait of the world of the past being transformed by the touch of evil."
Watch an extended extract from Shadow of a Doubt featuring Hume Cronyn
A maladroit, ageing manchild whose clothes never quite fit, he's still living with his mother in the house next door
Share this article