Mademoiselle Julie, Barbican Theatre |

reviews, news & interviews
Mademoiselle Julie, Barbican Theatre
Mademoiselle Julie, Barbican Theatre
An updating of Strindberg's classic drama of class and repression dilutes it of all meaning and purpose
Friday, 21 September 2012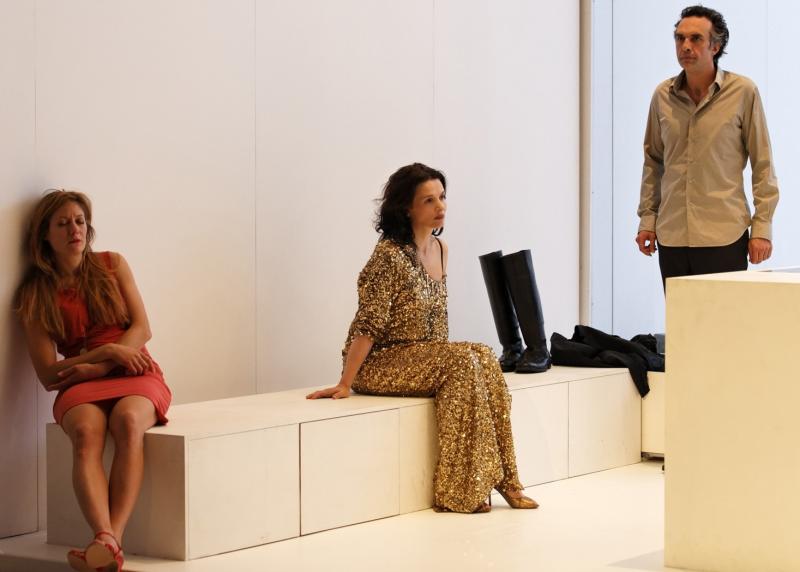 Bénédicte Cerutti (Kristin), Juliette Binoche (Julie) and Nicolas Bouchaud (Jean)
Let one visual artist and one fashion designer loose on a theatre production and you may find both set and costumes upstaging the actors. Laurent P. Berger has designed a Miers Van der Rohe-type modernist glass box, with luxurious white surfaces and Dan Flavin-esque tube lighting, while Lanvin designer Alber Elbaz has dressed the star, Juliette Binoche, in a show-stopping full-length gold-sequinned number slashed to the thigh.
Binoche certainly shines as a rather physically languorous Mademoiselle Julie, but not in the way one might have hoped for the Oscar-winning actress.
Part of the problem in this French account of Miss Julie is the spacious glass cube inside which most of the action takes place. One can barely see the actors' faces, which is, of course, frustrating in itself but occasionally creates confusion when it's not entirely clear if it's Kristin the cook (Bénédicte Cerutti) who's talking or Julie. This is especially the case for those whose French may not aid them and are reliant on catching the surtitles. And although the actors are essentially performing in a transparent cage, a clear visual metaphor for lives which are socially and psychologically constricted, such roomy minimalism manages to defuse any sense of mounting tension. Neither in the way the actors occupy the space, nor in the way they address each other across its wide canyons do we get a sense of that claustrophobic intimacy that should bind and repel Strindberg's three characters.
It looks as if the revellers might break into a spot of masked mime. It all seems very French
But the set is only partly to blame. This is a misconceived production. It's hard to see how a contemporary setting such as this can make much sense of a 19th-century naturalist play whose concerns are strict social hierarchies and sexual taboos. The play can have little impact unless we feel the force of what's at stake for Miss Julie as she seeks to debase herself socially and sexually; and though we do get shy glimpses at the psychological cost she pays, Binoche's Julie is more robust and histrionic than fragile and febrile. Furthermore, neither Nicolas Bouchaud's Jean nor Cerutti's Kristin entirely convince in their servility. For a start, they are both too fashionably dressed (Bouchaud in a shabby-chic suit also by Lanvin). And when we find Kristin preparing the food at the play's opening, she could easily pass for the attractive hostess in her desirable white kitchen.
Miss Julie has been updated for London audiences before, and successfully. A revival earlier this year of Patrick Marber's 2003 Donmar Warehouse production, After Miss Julie, relocated the action to a summer's evening in England on the night of the 1945 Labour landslide. But this did make sense, since this was a point in British history where postwar optimism promised change but the old social order still held sway, and it was difficult to tell the social veneer from the substance. What's more, Julie's father was not an aristocrat but a newly ennobled Labour peer, which seemed deliciously apposite given the New Labour landside in the nation's more recent collective memory.
There's also the question of age. Binoche looks ever youthful while the greying, slightly crumpled Bouchaud is decidedly middle-aged, yet here he is speaking the part of a young man with youthful aspirations and a fear of being tied down. What should be the sexually highly charged and neurotic interplay between two damaged, sado-masochistic lovers resembles more the drawn-out nagging of a couple in the last throes of their exhausted relationship. On occasion, volcanic emotions erupt from Binoche, but seemingly out of nowhere. None of the emotions connect and a clear trajectory cannot be found for her mental collapse.
Frédéric Fisbach, who directs, has given us a silent chorus of extras, who are meant to represent first sexual hedonism then menace, but instead appear incongruously comical. They spend much of the first 20 minutes of the play dancing, and it looks like the most unconvincing party you've ever been to. At other points it looks as if the revellers might break into a spot of masked mime. It all seems very French. What this production fundamentally lacks is focus, and the device of the chorus does nothing to help.
Mademoiselle Julie at the Barbican Theatre until 29 September
The play can make little sense unless we feel the force of what's at stake for Miss Julie
rating
Explore topics
Share this article