Dishonored |

reviews, news & interviews
Dishonored
Dishonored
Arkane's creative tale of revenge is all about multiple choice
Make sure you break into Dunwall: 'Dishonored'
You're on the roof of an abandoned apartment building, eyeing a couple of thugs that stand between you and a kidnapped shopkeeper. Do you (a) rain merry death down upon them via a stylish blade-pistol combo, (b) snipe from afar with your crossbow and incendiary bolts, or (c) possess a nearby rat and attempt to find a crack in one of the walls?
After much experimenting, and much reloading, I finally settled on (d): drop a plague-ridden corpse at the guards' very feet, silently knocking them out with sleep bolts as they separate to discover the body's origin.
Dishonored is a game about choice. I could just as easily have left the man to his fate, killed everyone in the vicinity, or taken a different path entirely to my next objective. In every mission of this dark, intoxicating blend of stealth, action and role-playing, you're presented with multiple routes, a variety of options, and the means – supernatural or otherwise – to achieve them, all while looking like a steampunk Batman.
You'll come to forge your own code of ethics over time. (Every good assassin should have one)
The game takes place in a brand new fantasy world, the four-leaf clovers of the current gaming landscape. Dunwall is a city in the midst of rapid technological innovation, thanks to the strangely potent properties of whale oil, and the mind of one brilliant scientist. It's also a city on the verge of collapse, as the Rat Plague (pictured below) claims more and more citizens each day. You, Corvo Attano, enter the scene after being framed for murder and sentenced to death. Escaping from prison, you take on the mantle of assassin, and begin to put the city to rights.
It's a great setup, perhaps slightly rushed in the beginning but with a world that's enriched no end over the course of subsequent missions thanks to eavesdropped dialogue, stray notes and books, and the faded posters and graffiti that adorn the city's walls. In each (huge) stage you're given a target to achieve – or more likely to assassinate – but you're left to conduct this in the manner of your choosing.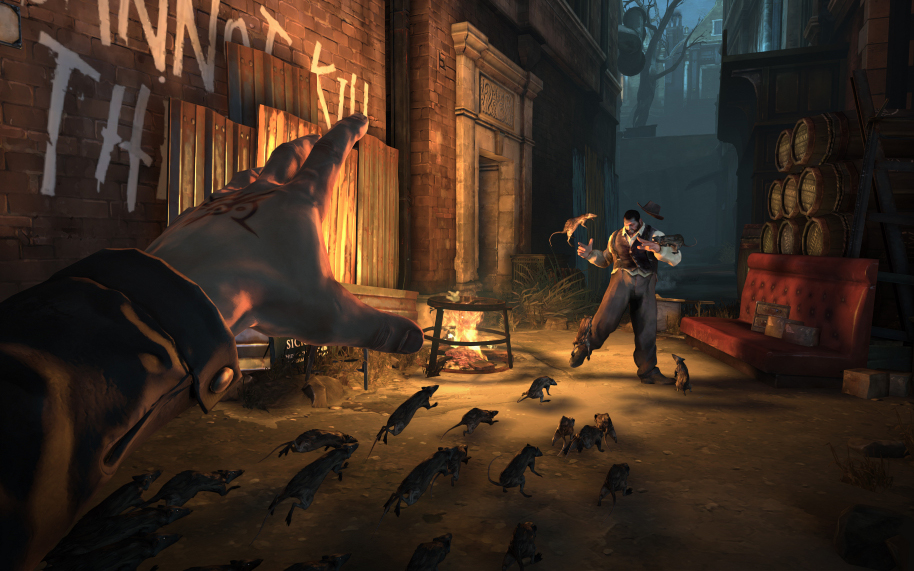 Do you head straight for your mark, blasting him square in the stomach with a pistol, or do you comb the world for clues, trinkets, magical runes or side-quests, many of which relate to the main event? Do you make the death look like a terrible accident, or remove the target without spilling any blood? It's possible to complete the game without killing a single person – perhaps preferable, as every dead body contributes to the spread of the plague. The game doesn't judge you for killing or not killing, for being stealthy or running everywhere with your sword drawn, so you'll come to forge your own code of ethics over time. (Every good assassin should have one.)
If you're looking for a pure stealth game, the glorious Thief series is still your best bet. Likewise, Hitman has perfected the art of creatively eliminating another human being. Dishonored is a bastard sword compared to the pure steel of either, but it has a flourish and character all of its own. Despite the plague, the corruption, and your unfortunate prison sentence, Dunwall is simply an extraordinary place to be in. It's a rich new universe adrift in a sea of sequels, with a level of design that doesn't just encourage creativity, it rewards it tenfold. So whether you go in guns blazing, sneak in via the roof, or hitch a ride through the sewers by possessing a nearby fish, make sure you break into Dunwall somehow.
Dishonored (Bethesda Softworks) developed by Arkane Studios. Platforms : Xbox, PS3, PC
It's possible to complete the game without killing a single person – perhaps preferable, as every dead body contributes to the spread of the plague
rating
Share this article