Halloween Special: The Shining/Excision |

reviews, news & interviews
Halloween Special: The Shining/Excision
Halloween Special: The Shining/Excision
Kubrick's grand folly is re-released, but a brave first-timer takes the horror crown
Wednesday, 31 October 2012
Redrum: Jack Torrance (Jack Nicholson) takes a turn for the worse
The Shining isn't the worst horror film ever made. Stanley Kubrick's 1980 adaptation of Stephen King's novel about blocked, alcoholic writer Jack Torrance's deadly winter as caretaker of the isolated Overlook Hotel is certainly as extraordinary as anything he directed.
Its early scenes especially, as Jack (Jack Nicholson), wife Wendy (Shelley Duvall) and six-year-old son Danny (Danny Lloyd,
both pictured below right
), wander the hotel as it shuts for winter, have a chilly strangeness.
The demented, byzantine theories on The Shining's meaning explored in the new documentary Room 237 focus on these deceptively simple, eerie minutes, and the Overlook remains a fascinating address. But it's finally an intricate folly, built by one of cinema's absolute aristocrats. It's "not just a horror film" says one Room 237 acolyte. In fact, it's a particularly gauche one: comically miscast, emotionally barren and dully involving.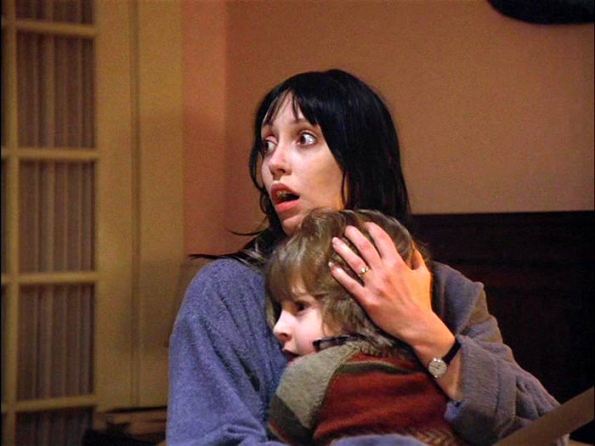 With The Killing, Spartacus, Paths of Glory, 2001: A Space Odyssey and Barry Lyndon, Kubrick transfigured every genre he tried, and in his early films cast actors – James Mason in Lolita, say - who painfully engaged you. The sea of blood which gushes from the Overlook's lifts sums up Kubrick's crude approach here. Horror equals gore, he's heard: so here's an ocean of it. Nicholson's manic leer and Duvall's panic-popped eyes are horror cartoons long before Jack reaches for his axe. Kubrick and Diane Johnson's screenplay is stuffed with clunky foreshadowing and exposition. The director was so consumed by his haunted house's construction, he forgot to populate it with breathing people. It isn't even scary.
See Excision instead. Writer-director Richard Bates Jr was turned down by every studio, scraping together the finance for a truly transgressive, heartfelt horror debut. You can tell its teenage anti-heroine Pauline (AnnaLynne McCord, pictured below left) is in trouble: her mother's Traci Lords, her teacher's Malcolm McDowell, and her priest is John Waters (all well-cast against type). "Can you catch STDs from having sex with a dead person?" she innocently asks in class, and her dreams are antiseptic-white punk tableaux of her carving bodies with a scalpel. Teen movie clichés, horror or otherwise, are trashed. Pauline's a gawky outsider, but too aggressive to really be bullied. McCord, a pretty regular in Beverly Hills teen soap 90210, leaves her image behind, sallow with bloody spots from the herpes caught when her dad resuscitated her after an accident, looking like a zombie at the back of the class, leering and feral.
Bates Jr finds daring new twists in teenage body-horror, and teaches Kubrick a lesson in what blood can mean. Pauline makes sure she's on her period when she loses her virginity to a disgusted boy, fantasising as she does so of blood blackly drenching the sheets. A dripping, aborted foetus features in another dream, and the film finally twists into mad scientist carnage. But it never feels exploitative, because it never leaves the pained, unpredictable mind of its teenage girl, at bay and snarling, but wanting to be loved by a family who can't understand her, until it's too late. This gleefully extreme but emotionally truthful nightmare takes the horror film forward. (Four Stars)
Nicholson's manic leer and Duvall's panic-popped eyes are horror cartoons long before Jack reaches for his axe
rating
Share this article