Secret State, Series Finale, C4 |

reviews, news & interviews
Secret State, Series Finale, C4
Secret State, Series Finale, C4
Hectic conspiracy thriller unveiling power networks of UK plc needed more time to breathe
Thursday, 29 November 2012
'You get to the top, and you realise it's really only the middle': Gabriel Byrne as PM Tom Dawkins
Was it a fluke that Secret State concluded its business on the day Lord Leveson handed in his homework? Maybe they really are that clever at Channel 4. Where Leveson has investigated the invisible nexus connecting the press, the police and Westminster, Secret State has delivered its verdict on a comparable ratking of vested interests linking government, banks, oil, the military, defence contractors, MI6, old uncle Tom Cobbleigh et al.
By last night's closer, every man jack of them was clamouring for a lucrative war with Iran, and they were all somewhat miffed when hyper-idealistic Prime Minister Tom Dawkins (Gabriel Byrne, looking more and more like Gordon Brown) climactically called their bluff.
Secret State, based on a novel written by Chris Mullin all of 30 years ago, has had shouty things to say How Things Are Really Run in this country. The manner in which it said them possibly detracted from the impact of the message's salutary cynicism. Wedged into four high-octane episodes, where six or even 10 would have been (say) the Danish option, it increasingly came across as the comic book version of political drama.
Thus key exchanges were rarely allowed to take more than a couple of shallow breaths before we were hurried on to the scene of the next crime against the body politic. In order to facilitate economy of storytelling, everyone had free access to anyone else. Thus Paul Clarke (Stephen Dillane), the sleazy head of petrochemical giant Petrofex, waltzed right into Westminster to deliver a plot-rich piece of information to the PM, who himself took impromptu meetings in all sorts of places: other people's private jets, the morgue, even on a pair of chairs placed in front of Number 10. Campaigning journo Ellis Kane (Gina McKee, pictured above right) seemed to be able to walk in on Dawkins without so much as a knock on the door. "Well, fuck you, Tom Dawkins," she screamed helpfully at one point when he denied her corroboration of a story. "You're not the only one trying to find their way in the world." "I'm the fucking Prime Minister," he riposted. Rather too often in Secret State, people needed to be reminded of this fact. But then perhaps this was the ultimate message: no matter who the incumbent, the wheels within wheels have precious little respect for the office. "You get to the top," concluded Dawkins, "and you realise it's really only the middle."
Even while paring itself to the bone, Secret State somehow allowed itself to be wasteful. In the end, the much dangled plotline about Dawkins's dodgy record in Bosnia eventually went for nothing, while his ex-wife (Sophie Ward) did not reappear after the first episode. There was a puzzling moment in which, for no apparent reason, Dawkins's PPS admitted to have an affair with Ros Yelland, Sylvestre Le Touzel's warmongering Foreign Secretary.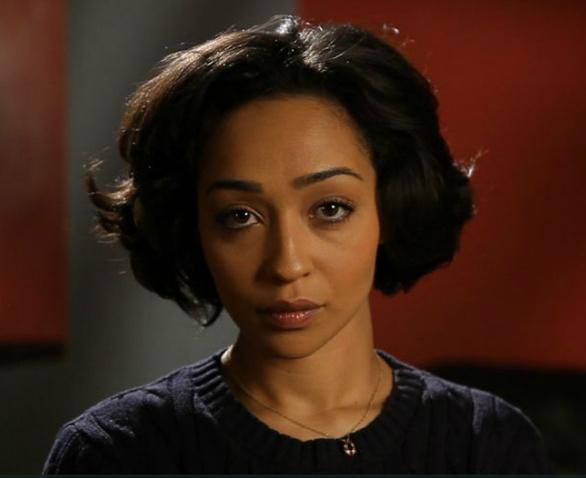 Le Touzel, scorning the peacenik diplomatic argot of "violins and camomile tea", was like all good baddies great value throughout. Nicholas Farrell's smooth string-pulling top military brass was also excellent company. Everyone played their part to put flesh on the bones on Robert Jones's neurotically jumpy script - from Ruth Negga's rogue operative (pictured) in GCHQ to Anton Lesser's deliciously reptilian banker. People said "fucking" a lot, apart from the PM's glowering bodyguard, but then he didn't say much at all until in a thrilling scene he had to pull a gun on some heavies from MI6.
For all its breathless convolutions, Secret State delivered its homily about the murky web of interests protecting their stake in UK plc with clarity of purpose. In the end, the rousing climax was pure blue-sky fantasy: that a serving Prime Minister would step up to the dispatch box and, like a turkey putting an X against 25 December in the polling booth, propose a motion of no confidence in his own rotten government is regrettably not the way things are done, as the resumption of the status quo swiftly confirmed. But it was cheering to hear someone in high office give cronyism a bloody nose, even if this was no more than a fictional manifesto from the dreaming leftiverse.
Hey, at least we can safely conclude that Secret State is for the most part alarmist nonsense. Where else but in a sensationalist thriller thick with implausibilities would a PM and leading journalist be on cosy first-name terms and freely horse-trading information by mobile telephone?