Everyday Maps for Everyday Use, Finborough Theatre |

reviews, news & interviews
Everyday Maps for Everyday Use, Finborough Theatre
Everyday Maps for Everyday Use, Finborough Theatre
Skilful dissection of moral confusion in an era of dwindling certainties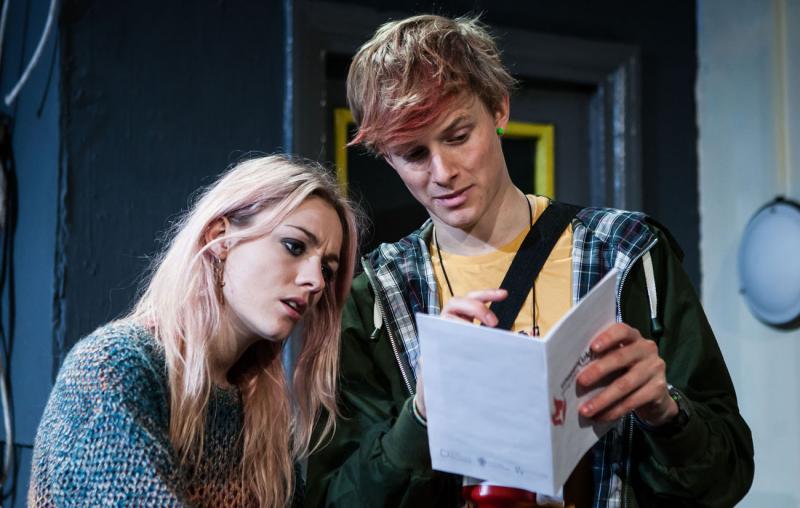 Sky Lourie and Harry Lister Smith, lost without a moral life-map
Woking and Mars both provide subject matter for cartographers. John, who reckons he's an achiever, is updating the local A to Z, while Behrooz, once a colleague of John's, is exhibiting his paintings of the red planet. There's a neat overlap in their occupations: the Martian invasion in H G Wells' The War of the Worlds took place on Horsell Common, Woking.
Tom Morton-Smith, one of the winners of the Papatango New Writing Competition, is not afraid of metaphor. In an age when religion and family structure no longer provide a moral life-map, it may be difficult to tell the difference between reality and fantasy, between momentary - even forbidden - desire and genuine feeling. Morton-Smith sets about examining this uncomfortable area of uncertainty with enormous gusto, finding comedy as well as desperation on the way. He explores too the sometimes insidious role of new technology in shaping relationships, fuelling fantasy and recording events later regretted.
His characters, whose lives interlock, search for a way to happiness but usually find only self-disgust. Maggie, claiming to be 16 but probably younger, seduces Behrooz (Moncef Mansur) on the very spot which she reckons is still warm from Wells' Martian landing. He does not want to admit to himself that her youth is what attracts him and is, to begin with, unforgiving of John who, when they were friends, looked at child porn sites on his – Behrooz's – computer "for research". John (Michael Shefford, pictured above with Cosima Shaw), now proudly brandishing his wife's baby-scan, first wants to hide his previous behaviour and then confess it, while also trying it on with Maggie's sexy mother, Corinne.
Corinne claims to be her daughter's "best friend" but actually has very little connection with her, carelessly leaving her stash of sex toys to be investigated by a nine-year-old Maggie. A dominatrix when not doing her PR job, Corinne is discovered by her daughter in flagrante with an ageing, handcuffed actor, the very same whom Maggie's friend Kiph (Kevin to his Mum) has sought out for adulation. He had been the hero of a schlocky sci-fi television series in the 1980s, set – of course – on Mars.
The embarrassing sex scene is deliciously funny with Michael Kirk (pictured left) as the erstwhile "astronaut" gamely stripping to baggy boxers and hoping for what adventurous Corinne (Cosima Shaw) dismisses as "vanilla". There's comedy too in nerdy Kiph's efforts to be cool enough to win the apparently sophisticated – actually lonely and disturbed – Maggie, toiling through Japanese alien porn sites to understand her sexual preferences. Harry Lister Smith, with his scarlet coxcomb quiff and green earring, does an excellent job, while Skye Lourie admirably captures the confusion and anger of a lost teenager rushing into experiences she can't control.
While his characters flail about without a road map, Morton-Smith ironically relishes pattern and order: the interweaving of strands is sometimes almost too neat. And this is, in the end, a bleak view of modern relationships. It would have been heartening if someone had been allowed to discover, if not romantic love, at least a friendship based on more than naivete, but this is a crisply written piece, bravely raising questions about the grey areas on the edges of pornography and paedophilia. And director Beckie Mills keeps the whole 75 mins bubbling at a great pace.