Yuletide Scenes 2: The Adoration of the Magi |

reviews, news & interviews
Yuletide Scenes 2: The Adoration of the Magi
Yuletide Scenes 2: The Adoration of the Magi
Peter Paul Rubens's baroque nativity is the second in our series of irresistible seasonal images
Thursday, 20 December 2012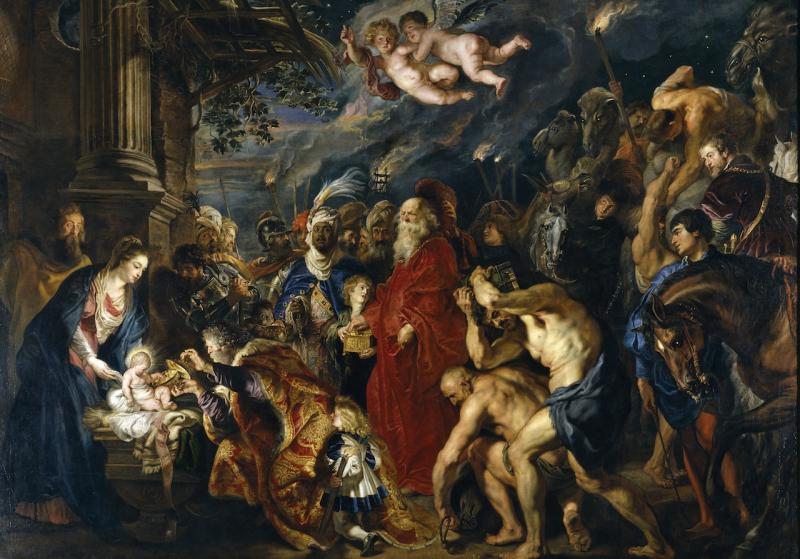 Peter Paul Rubens: 'the characteristic theatricality of the baroque style'
Rubens's gigantic masterpiece loudly contradicts the folkloric silent night. This typically muscular painting is deafening in its depiction of the commotion around the holy family when the Magi arrive to offer gifts to the divine king of Christian belief.
The enormous entourage of camels, braying donkeys, war horses, servants and soldiers, richly ornamented in oriental colour and clothing, pile up in a decrescendo behind the composition's quiet, even vacuous, centre of gravity: a tender moment as one of the Magi (perhaps Caspar) lifts the lid on his gift of gold coins which the infant Jesus delicately touches. In the characteristic theatricality of the baroque style, you can almost hear the quiet chink of the gold coins amid the cacophony surrounding the serenity of the holy family and the reverent Magi.
The message here is that all earthly kingdoms must submit to God, and, by extension, the Catholic Church Originally painted for the Antwerp Town Hall in 1609 to commemorate a truce between Spain (at its imperial height) and the Netherlands, the original painting was given over to the Spanish in 1621 perhaps to win favour for Antwerp as aggression still loomed. When Rubens joined the Spanish court in 1628, he expanded the size of the canvas and reworked the painting while still under the stylistic influence of Titian. With its wedge-like composition and writhing figures clad in drapery, there's more than a passing resemblance between this painting and, say, Titian's Bacchus and Ariadne which hangs in our own National Gallery. Rubens added a self portrait on the far right and increased the height of the canvas to include the flying putti and the inclined camel's head which pushes our eye back across the action toward the infant Jesus.
It's a painting which underscores the political power in Christian art, particularly at its height in the post-reformation baroque period, during which painted and sculpted Christian allegories were wielded as increasingly theatrical weapons of influence and persuasion as kingdoms competed for the souls of their subjects. One of a series of Adorations by Rubens, who was an emissary for the Spanish Court, the message here is that all earthly kingdoms, in their racial and regional diversity, must submit to God and, by extension, the Roman Catholic Church.