Oscars 2013: The Spielberg Story |

reviews, news & interviews
Oscars 2013: The Spielberg Story
Oscars 2013: The Spielberg Story
We look back at the 10 films which shape Steven Spielberg's Oscars story so far
Wednesday, 20 February 2013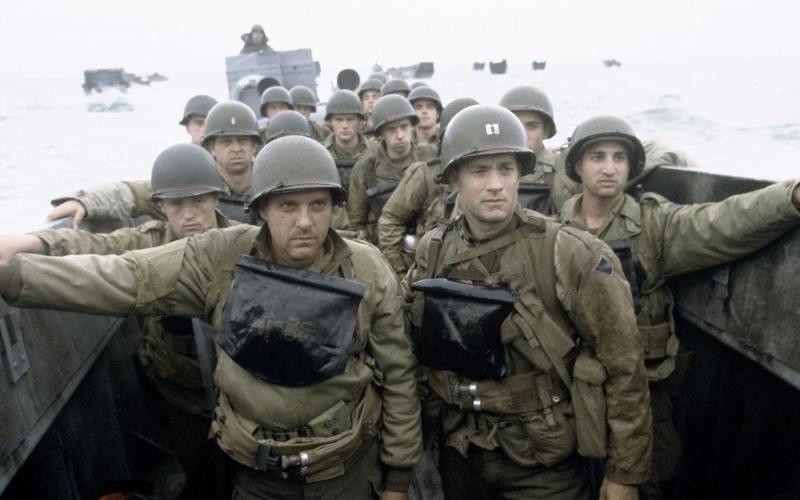 Tom Hanks and co prepare for landing in 'Saving Private Ryan'
Whether Lincoln can pip frontrunner Argo to this year's Best Picture gong is in the hands of the Academy, but its 12 nominations are a notable achievement in director Steven Spielberg's extraordinary career. It's sometimes been easy to dismiss Spielberg as a sentimentalist, an entertainer first and an artist second but his films are pure cinema, and for every work of groundbreaking spectacle he's delivered something equally as thought-provoking.
Over the years Spielberg's films have secured a not-to-be-balked-at nine Best Picture nominations, and his sterling stewardship has been rewarded with seven Best Director nods. Yet, perhaps surprisingly, if Lincoln does take home 2013's Best Picture trophy it'll be just the second Spielberg film to do so, after Schindler's List. If he nabs Best Director it'll represent his third win (after Schindler's List and Saving Private Ryan). With the distinct possibility that one or both of those things will happen, we take a look back over the 10 Spielberg films which have received nominations for Best Picture and / or Best Director. It's an Oscar story that begins with that pesky shark...
Jaws (1975)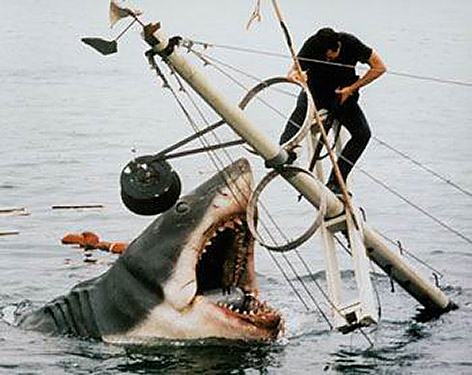 Spielberg's second feature film (and his first to be nominated for Best Picture) heralded the boy wonder's arrival in the big league – and destroyed the swimming habits of a generation. Adapted from Peter Benchley's bestseller about a Great White that terrorises an island resort, Jaws would spawn many imitators, none of which could touch its character-rich mix of adventure, horror and buddy movie. Despite, perhaps because of, the difficulties of working at sea and the misbehaviour of the mechanical shark, Spielberg's cinematic instinct flourished – notably with the use of the animal's POV to heighten suspense and the "forward track, zoom out" shot when Roy Scheider's police chief realises it's eaten a boy in front of him. But the film may have sunk without John Williams's inspired soundtrack, Verna Fields's editing (both won Oscars, along with the sound team) and the cast. Robert Shaw's Ahab-like fisherman is the most memorable, though it was Scheider's improvisation that gave Jaws its signature line: "You're gonna need a bigger boat."
Demetrios Matheou
Close Encounters of the Third Kind (1977)
No nod for Best Picture this time round but, an impressive eight Oscar nominations in total, including Spielberg's first nomination for Best Director, a win for Vilmos Zsigmond's cinematography and a Special Achievement Award for Frank E.Warner's sound effects editing. Close Encounters is perhaps the first Spielberg film which can be described as truly Spielbergian and, fittingly, it's one of the few which he both directed and penned. Indeed, this story of a benign alien visitation is surprisingly personal, born from Spielberg's childhood experience of witnessing a meteor shower and featuring sequences and subject matter from his teenage film Firelight. Furthermore, in protagonist Roy Neary (portrayed by Richard Dreyfuss) we arguably have a warts and all portrait of Spielberg himself - a man with a determined, all-consuming vision, who's in possession of an eternal, childlike wonder.
Emma Simmonds
Raiders of the Lost Ark (1981)
From the moment in the pre-credit sequence that a huge rolling ball practically flattens not only Harrison Ford but the whole audience, Spielberg's move into comic-book adventure is a boys' own banquet. The special effects – a torrent bursting out of a cliff face, the painted-on landscapes - may now look crude, but what has never dated Raiders is its Spielbergian thirst for thrilling adventure. As ever, Spielberg did everything first: the biblical hokum, the farcical Nazis, the rule-breaking scholar/action hero. When Jones cuts short a duel with a sabre-twirling oriental by drawing a pistol on him, the joke was so good it merited recycling in the (much less satisfactory) sequel. The ensuing trilogy, what with Star Wars and Witness, put Ford at one point in the seven of the top 10 grossing films of all time. And John Williams never surpassed his endorphin-releasing score. The next time Spielberg did Nazis, it wouldn't be such a hoot. It lost out to Chariots of Fire as Best Picture, but deservedly won four awards in the technical categories.
Jasper Rees
E.T. the Extra-Terrestrial (1982)
The master storyteller was beaten to both the 1983 Best Director and Best Picture prize by Richard Attenborough's Gandhi, but it was a very strong year of double-header noms - Sydney Pollack for Tootsie (one of my all-time favourite films) and Sidney Lumet (The Verdict) were also in the running - while Wolfgang Petersen (for Das Boot) and Costa Gavras's Missing (Best Picture) were in the mix too. E.T. is a modern fairytale about the relationship between a lonely 10-year-old boy, Elliott (Henry Thomas), and an extraterrestrial stranded on earth whom he helps - "E.T. go home". It's not a sci-fi film in the conventional sense, though it is, forgive the pun, a universal story about friendship. The film's emotional power has hit me every time I have watched it over the years and I defy anyone not to be enchanted by it still.
Veronica Lee
The Colour Purple (1985)
A nominee in 11 Oscar categories and winner in none, The Colour Purple lost out on five counts to 1986's big winner Out of Africa, which accrued seven awards. Yet Spielberg's lyrical adaptation of Alice Walker's epistolary novel was not only the more progressive of the two movies, it was also the more emotionally resonant. The story of Celie (Whoopi Goldberg), a 1930s Southerner who overcomes years of maltreatment by her abusive, unfaithful husband, Albert Johnson (Danny Glover), now forms with its maker's Amistad and Lincoln an enlightened unofficial trilogy about slavery's overthrow. Quentin Tarantino might disagree, but Albert augured Samuel L Jackson's malign Stephen in Django Unchained. And The Colour Purple yielded another revelation: Oprah Winfrey's fierce turn as Sofie, whose resistance of oppression paves the way for Celie's revolt but is brutally quelled.
Graham Fuller
Schindler and beyond, overleaf
Schindler's List (1993)
The film that proved Steven Spielberg as an emotionally mature filmmaker, Schindler's List brings the horror of the Holocaust into sharp focus. Liam Neeson is Oskar Schindler, a handsome and glamorous Catholic entrepreneur from the Sudetenland who goes to take advantage of the Nazi war machine only to oppose it in the most profligate fashion. With an unerring script based on Australian author Thomas Keneally's 1982 book, deft editing, superb cinematography and a heart-wrenching violin solo by Itzhak Perlman, this is Spielberg's finest moment. An accessible ode to human loss, Schindler's List is art at its most devastating. It secured Spielberg's first Oscar for Best Director and remains his only film to date to take home the Best Picture prize.
Karen Krizanovich
Saving Private Ryan (1998)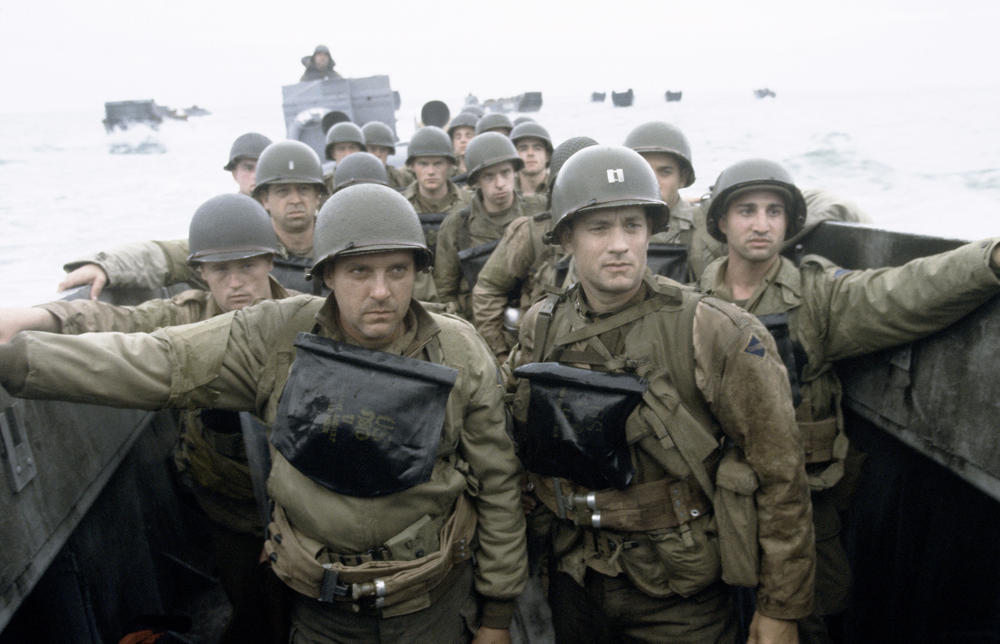 Spielberg had battled the Nazis jokily with Indiana Jones and in deadly earnest in Schindler's List, but nothing prepared us for the director's full-scale take on the Normandy landings. There had been many gruelling, bloodthirsty war movies, but never a celluloid realisation of the terror and random horror of combat like this. Thanks to Janusz Kaminski's extraordinary pseudo-documentary cinematography, you felt like you'd been personally dragged ashore to be drowned and disembowelled with the infantry on Omaha beach. In the later sequence where Tom Hanks and his squad (including the great Tom Sizemore as the Sarge) fought a grim rearguard action in a French town, there was something especially terrifying in the way the rumbling German tanks made the ground vibrate. A few sceptics disliked the "sentimental" storyline, but Spielberg's second Academy Award for Best Director was mightily deserved.
Adam Sweeting
Munich (2005)
You could see this as the other end of the seesaw from Schindler's List, the flip side of the 20th century Jewish experience. Spielberg's account of the tracking down and elimination of the Black September terrorists responsible for the 1972 massacre of Jewish Olympic athletes in Munich - barely a stone's throw from Dachau, as it happens - was a dark study in the moral consequences of killing and vengeance. Zionist critics accused Spielberg of equating the Israeli agents with their terrorist quarry and of implying that Israel was wrong to retaliate. Surely, though, what the film achieved most potently was to evoke the sorrow and the pity that had made this shadow-war inevitable. Eric Bana, playing the leader of the Israeli hit squad, painfully evoked the psychological erosion of a man bound to an impossible commitment.
Adam Sweeting
War Horse (2011)
War Horse is the Spielberg film that ought to have been a lot more exciting than it was, and its Best Picture nod would not have happened under the time-honoured Oscar system of old of having five nominees, only for the quintet to be expanded in recent years. Spielberg himself, it's worth noting, was not nominated for his direction. Adapted from the Michael Morpurgo book about an equine-fixated young lad that inspired the Tony-winning National Theatre play (still running, of course, in London), Spielberg's film meshed Saving Private Ryan-style scenes of wartime's carnage and bloodshed with the odd patina of a Disney film, not least in the ludicrously picturesque ending. Brit-pack watchers were enthused by the dual casting as military men of Tom Hiddleston and Benedict Cumberbatch, both at relatively early stages of their respective film careers, but the horse was the hero of the movie insofar as it had one. A disappointment in almost every way.
Matt Wolf
Lincoln (2012)
Lincoln is a genuine wonder and arguably the finest Spielberg film since Schindler's List. In different hands, the film could well have been a merely worthy biopic populated by lots of heavily made-up talking heads. But Spielberg's achievement on this occasion is to fold into his own celluloid know-how an astonishing script by playwright Tony Kushner that animates the political process to a degree rarely encountered on screen: small wonder both men figure among the film's 12 Oscar nominations, the most of any movie this year. Here is government in all its roisterous hurly-burly, that portion of the film presided over by Tommy Lee Jones in gleeful, scene-stealing form. But the presidential depiction is itself equally nuanced, alive to pain and heartache and to humour, too, thanks to Daniel Day-Lewis and Sally Field as an unlikely yet unbeatable thespian match. Argo will win the Oscar because it's cooler, zippier and more, well, fun, and Ben Affleck's absence from the Best Director line-up will gain the movie as a whole major sympathy votes. But Lincoln remains a formidable achievement: a portrait of a statesman that transcends expected pieties to make the liberalising impulse in public life live anew.
Matt Wolf
If Lincoln does take home 2013's Best Picture trophy it'll be just the second Spielberg film to do so
Explore topics
Share this article