Classical CDs Weekly: Gál, Krása, The King's Consort, Duo Lechner Tiempo |

reviews, news & interviews
Classical CDs Weekly: Gál, Krása, The King's Consort, Duo Lechner Tiempo
Classical CDs Weekly: Gál, Krása, The King's Consort, Duo Lechner Tiempo
Bittersweet string trios, English choral music and fireworks from Argentina
Saturday, 23 February 2013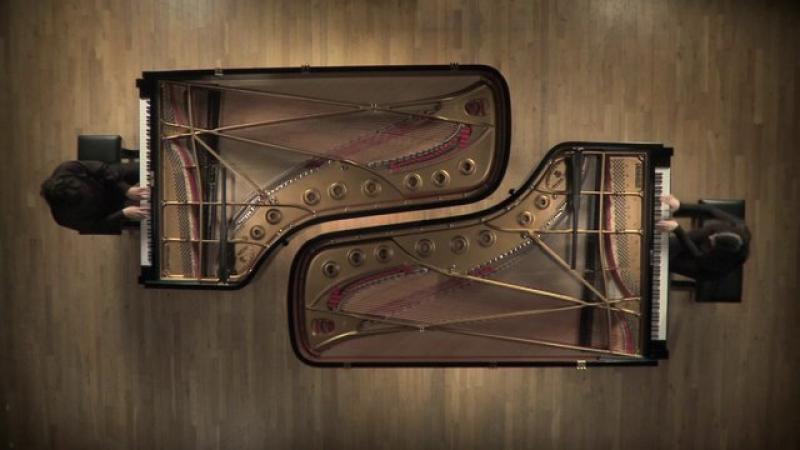 Duelling siblings: Sergio Tiempo and Karin Lechner lock horns
Hans Gál & Hans Krása: Complete String Trios Ensemble Epomeo (Avie)
Avie have already successfully exhumed the four symphonies by the Austrian émigré Hans Gál, who pitched up in Edinburgh in the 1940s and enjoyed a long academic career. His early Serenade in D for string trio epitomises his early style – breezy, neoclassical and full of busy counterpoint which never sounds too studied or pedantic. This is supremely approachable, engaging music, and sweetly played here – every chromatic kink handled with deft skill. Best is the closing Alla Marcia, dazzling in terms of its technical facility, and, evidently, very enjoyable to play. The Serenade is paired with Gál's 1971 Trio in F sharp minor, a darker, brooding work originally featuring the viola d'amore – though a standard viola is heard here. Gál's opening movement seems to hark back to fin-de-siecle Vienna, and the mood of bittersweet melancholy is neatly sidestepped in the trio's closing minutes. Cellist Kenneth Woods describes Gál as the Viennese classical tradition's "last, modest master" and it's hard not to agree.
Also on the disc are several works by the Czech composer Hans Krása. He died in Auschwitz in 1944, having spent two years interned in the Theresienstadt ghetto - where the short Tanec and Passacaglia and Fuga for string trio were composed. This makes listening to both of these brilliantly communicative pieces an uneasy experience, each one a masterly exercise in musical doublespeak. I won't attempt to describe them – buy this disc and experience them for yourself. Eloquent performances in glowing sound.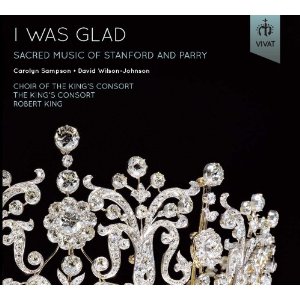 I Was Glad: Sacred Music of Stanford and Parry Choir of the King's Consort, The King's Consort/Robert King (Vivat)
You feel slightly sorry for Parry and Stanford, both of whom would probably have been remembered far more kindly if Elgar hadn't come along and stolen their thunder. Robert King's new anthology makes a persuasive case for both composers' music. Using period instruments and a medium-sized professional choir pays huge dividends, and it's as if layers of dirty brown varnish have been stripped away from these scores. Parry's music emerges as the strongest, and I was glad is resplendent here. The choir's opening salvo is spine tingling, and so beautifully, clearly enunciated. Orchestrally it's dazzling too, notably for the clarion sound of six narrow-bored trumpets and the organ of Hereford Cathedral scything through the texture. Parry reworked the piece for the 1911 Coronation, composing in addition an extravagant setting of the Te Deum. Parry's youthful Milton setting, Blessed Pair of Sirens, cannily mixes Wagnerian harmony with a very English sensibility. All gorgeous, and we also get Elgar's flamboyant, entertaining 1922 orchestration of Jerusalem.
Stanford's more intimate, less showy music is slower to reveal its charms. Here, the G major Magnificat and Nunc dimittis stand out, blending Brahmsian rigour with a welcome hint of sensuality. Soprano Carolyn Sampson duets with Catrin Finch's harp to sublime effect in the former. This is an impressive disc, well annotated and superbly recorded.
Tango Rhapsody Duo Lechner Tiempo, Orchestra della Svizzera italiana/Jacek Kaspszyk (Avanti Classic)
In which the brilliant Argentinian pianist Sergio Tiempo joins forces with his equally talented sister Karin Lechner, in an album of arrangements and newly commissioned tango-related works for two pianos and orchestra. The main attraction here is Federico Jusid's three-movement Tango Rhapsody, a dazzler of a showpiece accentuating the tango's potential for conflict between partners: "That confrontation between the performers that could swing from the most loving accordance to the sourest contention." You have to watch the accompanying DVD. Orchestral players stamp feet, tap mouthpieces, before Tiempo sneaks on like a naughty child and begins pounding away. Predictably, but wittily, Lechner creeps on stage accompanied by a bluesy muted trumpet solo, her own music appropriately sultry. It's brilliantly theatrical and darkly comic, and so consistently entertaining that you readily forgive Jusid any number of cheeky borrowings from Gershwin and Stravinsky. There's not a wasted second in the work's 18 minutes, the mood alternating between sweaty noir and exultant aggression. Possibly a modern masterpiece.
You'd be willing to pay full whack for the Tango Rhapsody on its own. Happily, the duo also provide a generous smattering of better known pieces by Astor Piazzola and Pablo Ziegler, who also provides the inventive arrangements. Unmissable – the most enjoyable disc I've heard so far this year.
Watch the

Duo Lechner Tiempo play La Muerte del Ángel by Ástor Piazzolla
It's as if layers of dirty brown varnish have been stripped away from these scores
Explore topics
Share this article