Game of Thrones, Series 3, Sky Atlantic |

reviews, news & interviews
Game of Thrones, Series 3, Sky Atlantic
Game of Thrones, Series 3, Sky Atlantic
Dragons, the undead, monstrous families: it's business as usual in the epic fantasy drama
'Mother of dragons' Daenerys Targaryen (Emilia Clarke) sizes up her slave army in 'Game of Thrones'
We hear ghastly, otherworldly shrieks and human screams over a black screen, which then fades to white and the sight of a man running for this life through a snowy wilderness. As he approaches a seated figure, he cries out, "friend", only to find the poor chap holding his own head in his lap.
The creators of HBO's rightly acclaimed fantasy drama Game of Thrones like to open and close a season with the White Walkers, the undead long ago defeated in the frozen wastes north of The Wall, but whose return puts the battle for the kingdom of Westeros into perspective; whoever gets his, or her hands on the crown will eventually have more pressing matters to deal with. As a commander tells his men, if they're not able to warn the south of the danger "everyone you've ever known will be dead".
The opener has the unenviable task of bringing us up to date with these far-flung characters, but does so with aplomb
The return of Game of Thrones has merited its fanfare. With its first two seasons, the adaptation of George R. R. Martin's epic series of novels A Song of Ice and Fire invigorated a genre that has struggled to be taken seriously on television. For the uninitiated, this is essentially a story of civil war, with various claimants battling for the Iron Throne and sole dominion over the seven kingdoms of Westeros, the action moving swiftly between many different plotlines and locations. Combining myth and magic, brutal battle scenes with Machiavellian politicking, it is dark, ribald, dramatic and sometimes awe-inspiring; it may not be Tolkien, and that may be a blessing.
The opener has the unenviable task of bringing us up to date with these far-flung characters, but does so with aplomb. At King's Landing, poor Tyrion Lannister (the series' diminutive superstar, Peter Dinklage, pictured below with Daniel Portman and Jerome Flynn) is suffering the greatest ingratitude, having had the credit for saving the capital taken from him by his own father (Charles Dance), who now adds insult to injury by dismissing his youngest son as "an ill-made, spiteful little creature". At the same time, scheming sis Cersei (Lena Headey), who probably hired the assassin who tried to kill Tyrion during the battle, gloats over his scars. "They said you'd lost your nose, but it's not as gruesome as all that".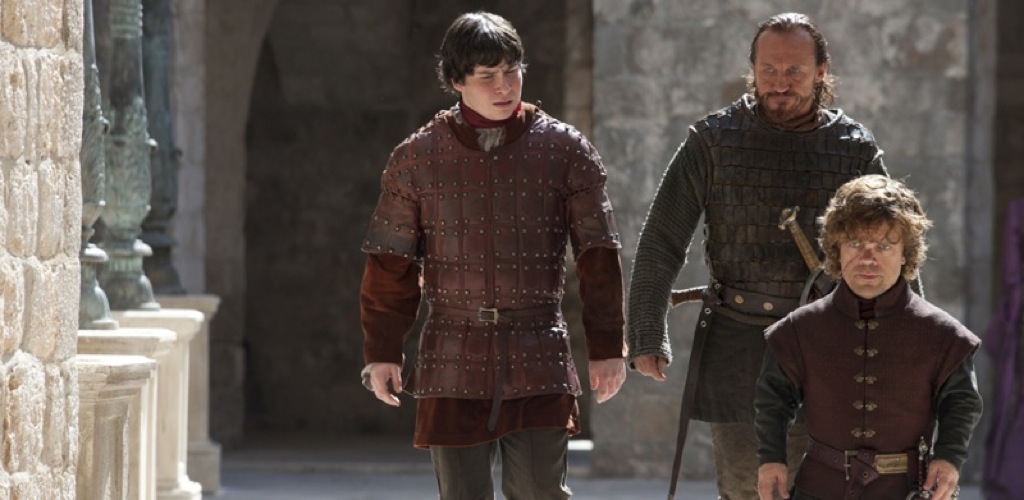 Elsewhere around the kingdoms the glowering King of the North, Robb Stark (Richard Hadden), is still desperate to avenge his father, whose murder started the war; the noble Ser Davos (Liam Cuningham) returns from shipwreck to find his king still in thrall to a witch; and Jon Snow (Kit Harington, pictured below with Rose Leslie), the elder Stark's bastard son, goes undercover north of The Wall.
Then there's Daenerys Targaryen (Emilia Clarke), making her way back from exile with three baby dragons and her own claim to the throne. This episode's most mouth-watering moment opens with the sound of squawks and flapping wings, a speeding view over water that settles on Daenerys's ship, as the little beasties barbecue their fish lunch mid-air. The production values seem to have gone up a notch.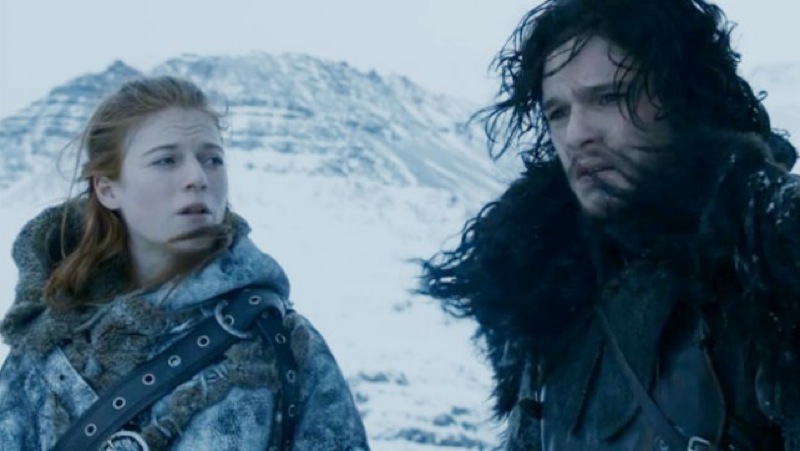 Actually, if there was a weakness to season two it was Daenerys; in a show where half of the characters walk around with a sense of entitlement, that of the self-professed "mother of dragons" was becoming a little tiresome. And she's as haughty as ever, forgetting that in season one her brother had a crown of molten gold poured over his head for being an uppity brat.
She used to be so sympathetic. Yet this speaks to one of the great attributes of Game of Thrones, and why there's no fear of the scenario running out of steam, which is that in Martin's world notions of good and bad become very muddied indeed. Part of the drama and delight is derived from seeing supposed heroes do entirely the wrong thing, or simply be irritating, seeming villains find honour.
For now, Daenerys is considering putting aside her moral misgivings to buy an army of slave soldiers, gloriously named The Unsullied. One of them has just displayed his worth by not flinching as his owner sliced his nipple off. Let the Games begin.