Sly Cooper: Thieves In Time |

reviews, news & interviews
Sly Cooper: Thieves In Time
Sly Cooper: Thieves In Time
The master thief finds himself stuck in the past - in more ways than one
Sly Cooper and his band of thieves in time
After a long break from thievery – both in the real world and in the anthropomorphic universe he calls home – dapper gentleraccoon thief Sly Cooper is back doing what he does best: pinching things. It's been eight years since Sly and the gang pinched things in the globe-hopping PlayStation 2 caper Sly 3, and now he's returned to a more powerful console and with a different developer – can the ageing mascot still hack it in the modern day?
Well, yes and no. The good news is that this is unmistakeably a Sly Cooper game, with all the jumping, sneaking, fighting and minigameing we've come to expect from the series. The gist here is that Sly's family tree – he's the last in a long line of legendary raccoon thieves – is gradually being pruned from history, his ancestors' exploits literally being erased from the Thievius Raccoonus, a tome chronicling the Cooper lineage.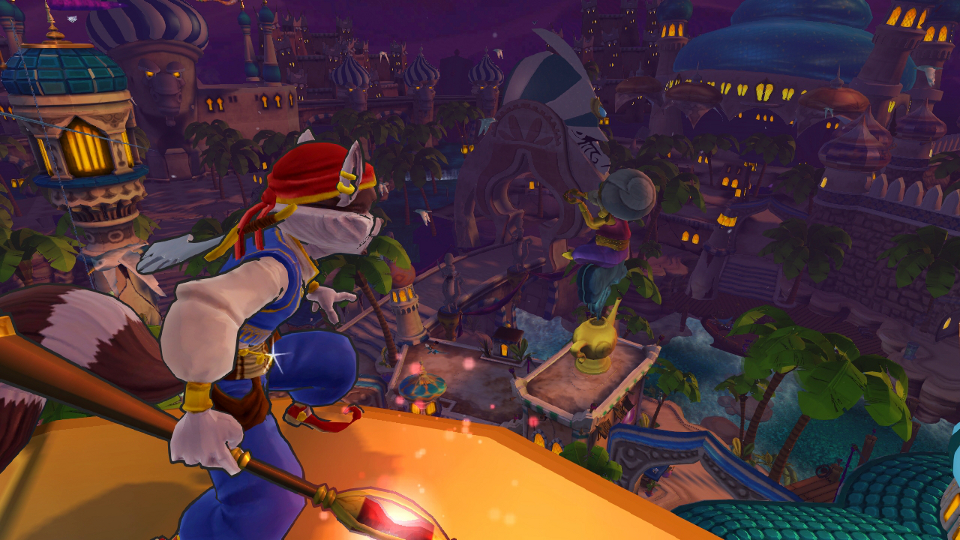 To put things right, Sly – along with his best buds Bentley the turtle tech expert and Murray the giant pink streetfighting hippo – have to travel through time, locating his larcenous ancestors in order to discover just what the hell is going on. And if they can nick some ancient silverware while they're doing it, well that's just gravy.
Every time period offers a hub environment to run around in, from feudal Japan to the Wild West and medieval England, each chock-full of rooftops to clamber around on, coins and treasures to collect, and enemies to pickpocket or beat up. The game's at its best when you're exploring these moderately sized locales at your own pace – even if the infuriatingly rigid camera did make me want to throw myself into the nearest gorge on more than one occasion. To progress to the next era, however, you need to clear a series of amusing and varied, but curiously unsatisfying missions. You'll sneak and climb as Sly, hack electronic doodads as Bentley, and fight hordes of hench-animals as Murray (among other things), but many of the game's activities feel bitty and shallow; you'll long for the simple pleasures of running around on a rooftop, even if there isn't all that much to do once you're up there.
The game is saved, just about, by its cast. Sly, Bentley and Murray are – to paraphrase James Tiberius Kirk – some of the most human characters in gaming, a BFF trio that has stuck together through thick and thin in a series that isn't afraid to tug at your heartstrings now and then. The supporting cast of outlandish bad guys, and even more outlandish friends, is typically memorable and charming too – there's a reason the Sly series has such a dedicated fanbase.
Perhaps fittingly, Thieves in Time feels like a game out of time. It's an old-fashioned, kid-friendly action-platformer in a world of gory shooters, and while it's tempting to celebrate anything that stands apart from the current landscape, this is by and large the same game we were playing close to a decade ago, its flaws only heightened by the passage of time. There's a way to smuggle Sly Cooper into the modern era, but Sony and Sanzaru Games haven't found it yet.
Sly Cooper is developed by Sanzaru Games and published by Sony for the PS3 and PSVita
Watch the trailer for Sly Cooper