Chimerica, Harold Pinter Theatre |

reviews, news & interviews
Chimerica, Harold Pinter Theatre
Chimerica, Harold Pinter Theatre
Lucy Kirkwood's new thriller about culture and economics in the East and West dazzles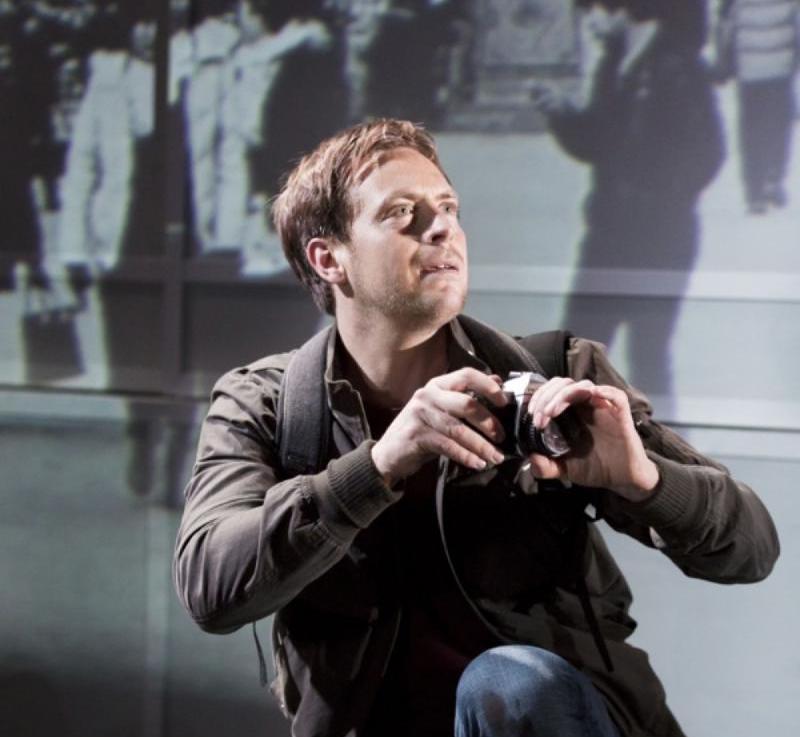 Life through a lens: Stephen Campbell Moore as Joe
It's as dazzling as a neon-lit cityscape and nearly as sprawling: Lucy Kirkwood's epic new drama is rich, riveting and theatrically audacious. A co-production with Headlong, the tirelessly inventive touring company founded by Rupert Goold, it feels like an early statement of intent for Goold's upcoming tenure as artistic director of the Almeida, which begins this September. Fizzing with wit and intelligent ideas, it's handled with impeccable flair by director Lyndsey Turner.
The results are stunning.
The play's title is drawn from Niall Ferguson's book The Ascent of Money, in which he considers globalisation and the uneasy relationship between behemoths China and the US. Kirkwood gives economic and cultural issues a human face – albeit one that shifts in and out of focus throughout the dragon's-tail plot twists of her riveting theatrical thriller. The non-stop action begins with an image: that of the famous 'Tank Man', the lone, slight figure clutching two plastic shopping bags, who stood defiantly in the path of the tanks during the Tiananmen Square protest of 1989. Joe Schofield (Stephen Campbell Moore) is an American photojournalist who snaps a picture of that historic moment. Twenty-three years later, with trade relations with China a major issue in the American election campaign, Joe pitches the idea of a story investigating what became of this nameless hero to his hard-boiled newspaper editor (Trevor Cooper), and flies to Beijing in search of leads. En route he encounters Claudie Blakley's Tessa, a British market researcher commissioned by a US credit-card company to find out what makes modern Chinese consumers tick.
Joe's source is Zhang Lin (Benedict Wong), an English teacher who was in Tiananmen Square that day and has a name to pass on. The trail leads Joe back to New York; and while he and his sandpaper-tongued writer-colleague Mel (Sean Gilder) scour the streets, stores and strip joints of Chinatown and beyond in search of Tank Man, Zhang's life grows increasingly terrifying. Through the paper-thin walls of his apartment he can hear the wracking cough of his middle-aged neighbour, once a propaganda poster girl for the Party, now a victim of 'Beijing Lung' – respiratory disease caused by smog. The authorities are suspicious of his involvement with Joe; and Zhang is haunted by the memory of his dead wife (Elizabeth Chan), a pale, wraith-like figure who materialises without warning, gliding through walls like a unquiet spirit from a Far Eastern ghost story.
The themes under consideration are thrillingly myriad. As well as the big socio-economic questions, Kirkwood's shutter clicks away on ideas of personal and political responsibility and the power of the image, particularly in the internet age, when cyberspace – subject to repressive state control in China – is beset by trolling and self-important white noise, when every story or picture can easily be manipulated and newspapers are in decline. As Joe's editor points out, no piece of journalism can run without space below for comments by "Assholes Anonymous" – "because God forbid an opinion should go unvoiced". Joe's photograph of Tank Man itself is ripe for exploitation, finding its way into Tessa's client pitch – "Look," she says, pointing out the figure's dangling plastic carriers, "he's been shopping."
Es Devlin's design conveys both the multiple locations and the layered complexity of the piece with slick skill. The set, a little like an oversized camera, is a giant rotating cube with sliding apertures; on to its sides are projected video images, by Finn Ross, that conjure scenes from both Beijing and the Big Apple with filmic detail and elegance, along with scores of reportage-style pictures on contact sheets – the kind of photographs from which the world creates its narratives and its history. This is theatre as epic in scope and visually impressive as the work of Robert Lepage – and if it's also as occasionally diffuse, it makes up for it with smart-talking, film-noirish style. Kirkwood, for some years a dramatist of perspicuity, has here created a work of real brilliance. Scintillating.
Chimerica at the Harold Pinter Theatre until 19 October