Behind the Candelabra |

reviews, news & interviews
Behind the Candelabra
Behind the Candelabra
Steven Soderbergh's farewell film marries two terrific star turns to an imperfect script
'Two major Hollywood names in head-turning form': Michael Douglas and Matt Damon in Liberace biopic
The party's over in more senses than one in Behind the Candelabra, the Steven Soderbergh film dedicated to the proposition that all that glitters is most definitely not gold. It charts the downward spiral of the relationship between the American king of piano-playing glitz, Liberace, and his onetime "chauffeur" and companion, Scott Thorson.
The movie finds two major Hollywood names, Michael Douglas and Matt Damon, in head-turning form, only to wed them to a drearily predictable and none-too-illuminating script that is itself as pro forma as the personalities it deals with are singular to a fault.
You could argue that the film's principal achievement is to take seriously an entertainer - namely, the late Wladziu Valentino Liberace - who was as dismissed by America's cultural elite as he was beloved by the adoring (and largely female) public that ensured his renown across a half-century or so. What happened away from the keyboards into which Lee, as he was known to his friends, would tear with overripe abandon? Therein lies the tale told by a Richard LaGravenese script that can't transcend its own banality, no matter how unusual it is to see actors of the stature of Douglas and Damon engaged first in connubial bliss and, after a time, galloping despair.
Made for the American cable channel HBO (and, hence, ineligible for Oscars), the film is based on Thorson's own, albeit ghostwritten, 1988 memoir, and that in itself may explain the feeling that Liberace sometimes seems a supporting character in this account of his own life. I say this notwithstanding Douglas's self-evident empathy with a figure whom the once-ferocious star of Wall Street here makes a softer, more physically slight presence than the showman I remember hovering on the fringes of my own adolescence. Douglas's eyes don't give off the scarily determined affect transmitted by the man himself, even if the actor's hair looks, aptly enough, as if this Liberace were forever on his way to, or from, a dog grooming salon.
The majority of screen time is saved for Damon, in near-peerless form as a buffed blonde who turns out to be made of sterner stuff - and sallower cheeks - than the inflatable sex toy that he resembles when the young Thorson, 18 at the time, is first brought into the jacuzzi-filled orbit of a self-denying gay man some four decades Thorson's senior. Hellbent on remaking the pumped-up Thorson in his own image, Liberace turns a shared odyssey in self-improvement into one of self-immolation, the narrative after a while resembling the sort of pulpy melodrama that you can imagine these two watching while they chomp vats of popcorn in their outsized bed.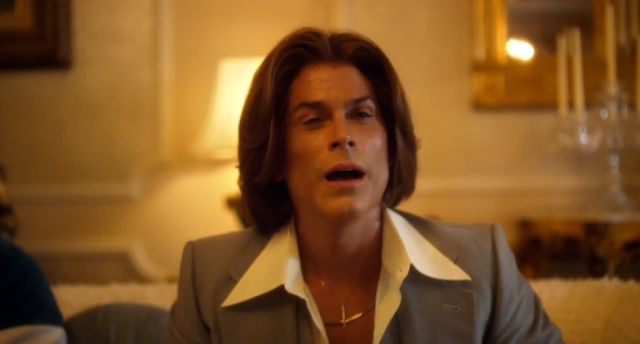 The rocky emotional trajectory is bumpily traversed by a script that reverses gears one too many times, just as Thorson's apparent emotional volte-face near the end doesn't tally with the bitterness that is seen more or less eating him alive earlier on. There are far greater surprises to be found on the film's periphery, starting with Debbie Reynolds (pictured up top) in scene-stealing form as Liberace's shy if slot machine-obsessed mum, Frances, and an uproarious Rob Lowe (pictured left) as a plastic surgeon who can barely open his own eyes even as his nips and tucks see to it that Liberace has difficulty closing his.
The film emerges as an implicit companion piece to Soderbergh's own Magic Mike, a comparable study in the distance between appearance and reality, between glistening pectorals and the toxicity of relationships gone to seed. As for reports that this is the director's farewell film, it's difficult to imagine Behind the Candelabra being the last word from a genuine maverick who has devoted his career to peeling back the facade in one way or another. If only his chosen script in this instance revealed more there.
Watch the trailer for Behind the Candelabra