theartsdesk in Istanbul: Art pours out of Gezi Park |

reviews, news & interviews
theartsdesk in Istanbul: Art pours out of Gezi Park
theartsdesk in Istanbul: Art pours out of Gezi Park
Protests in Turkey have fuelled artists, musicians, bloggers and satirists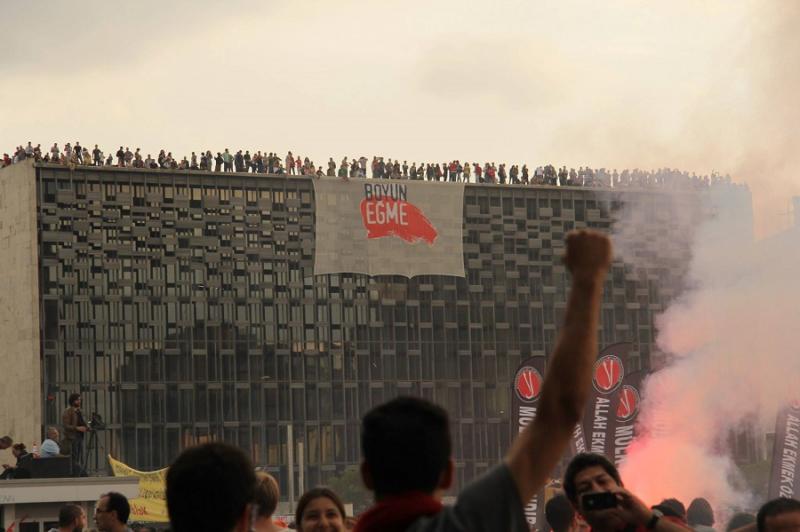 Immersive performance art? Protestors on the roof of the Ataturk Culture Centre
I can't wait to check out Istanbul's galleries in a couple of years. Already endowed with an exploding arts and design scene, with Istanbul Modern in its unique location hanging over the Bosphorus, the retrospectively-looking Santral half integrated into an Ottoman power plant, and the area around Tophane sprouting art boutiques and design outlets like nobody's business, its creative output has just been given a huge boost.
The boost comes thanks to, of all things, an ex-footballer Prime Minister who has overseen protests throughout Turkey not by trying to calm the situation but by toughing it out with police brutality and by polarising and misplaced rhetoric, including a piqued complaint directed against what he sees as pretentiously cultured protestors: "They think we don't understand/know anything about art and music. They think we're black." Words that were of course immediately thrown back in his face as racist.
Since the first day of the initially environmentally-oriented protest in Gezi Park I've been following developments in Istanbul on Facebook. Having a few hundred Turkish friends - with many in Istanbul, including music manager Lobna Al Lamii, who was critically injured by a gas canister on the second day of police action and is still in hospital - my Facebook experience changed overnight from cute cats and platitudes to pictures of acute gashes and practical information about imminent attacks, phone numbers of doctors and lawyers in the area, and instructions to demonstrators about how to carry out responsible protest.
However, what also soon became clear from my feed was that the unrest was galvanising a vast amount of creative talent, in images, words, music, dance and even sculpture, with a key theme being subversion, but also with an eye for the simply beautiful. And that is quite apart from the demonstrations, themselves a kind of huge work of immersive performance art. Some days in, protestors accessed the roof of the Ataturk Culture Centre, a concrete block on Taksim Square which some would say is not much uglier than the Royal Festival Hall in the bad old days. Fearlessly they dressed the building in banners and hundreds stood on the roof (main image), a row of tiny humanoid figures. It was an awesome experience for those on the ground and even more awesome for those looking down. In 2007 Anthony Gormley placed figures on London's skyline, including on the Southbank Centre, and his safety-netted One and Other on the Trafalgar Square plinth in 2009 had us watching a live feed of British folk standing up. Maybe this is what he was really dreaming of; I imagine him looking on rather envious of the lack of safety regulations.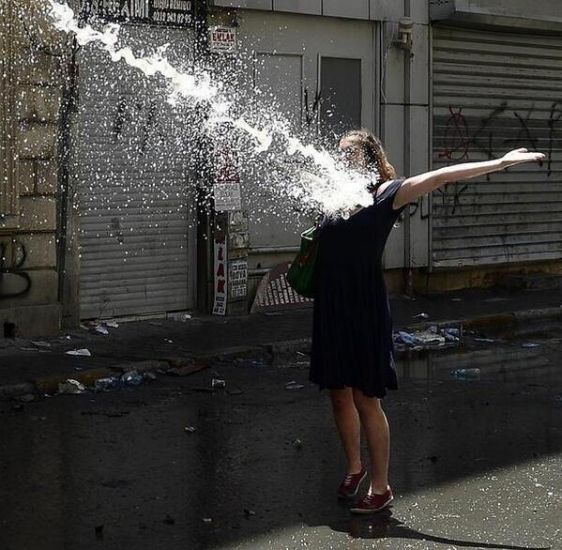 First came the images. Quickly Facebook decided which were the most striking. No need to phone in on a premium number, this was pretty instantaneous. The Gezi protests will leave us with an album of photos that are historically iconic, but also enduring art. The Woman In Red (pictured above right) has already been named, like some Impressionist masterpiece, omitting the pepper spray from the title in order to focus on the victim. Another young woman was captured arms outstretched embracing the full force of a water cannon (pictured above left), beautiful not only thanks to its meaning but in its composition. These are images to replace tired old Che Guevara on T-shirts and, in a world that no longer does posters on bedroom walls, Facebook profiles. Like a fairground gimmick, a sheet was quickly printed with a life-size Woman in Red, with a hole for your head for passers-by to snap themselves. From the US, designs were circulated for a sculpture based on the girl with outstretched arms.
Then came the words, mostly in Turkish of course. My Turkish is just good enough to grasp that rather than only angry sloganeering there was a lot of carefully crafted stuff being written. A poetic nation, Turks started to share old or freshly written poetry; a formal appeal to various interest groups such as demonstrators, nationalists, Kurds, the army and police to respect one another was conceived with poetic balance, though finishing in a bathetic message to the media: "You're a piece of shit!" A phrase from late leftist poet Nazim Hikmet - "One tree died, a nation woke up" - became a rallying cry. Blogging suddenly acquired added meaning, not only for the sharing of facts but also to explore personal reactions - and many were able to share in English.
As the mayor of Istanbul appealed to mothers to take their children from the square before the end of a 24-hour deadline implying increased violence, mothers instead gathered in the square to link hands to protect their children. At the time of writing this seems to have played a part in diffusing the threatened massive police clearout. This post from one Can Okar captures the emotion.
Continued overleaf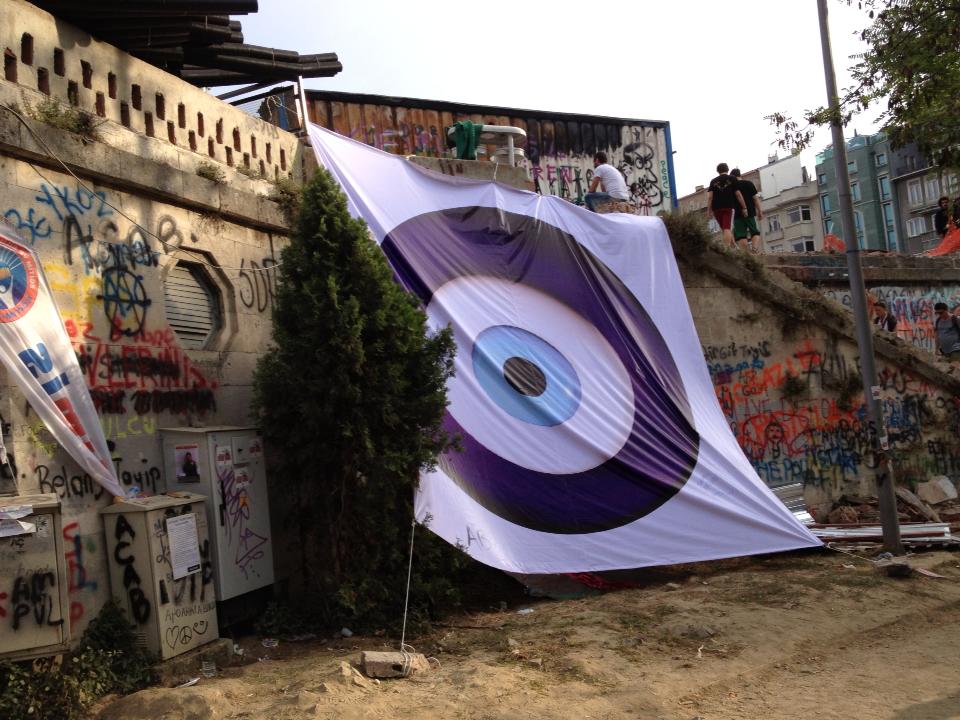 "So it was with a sense of foreboding that I entered Gezi and it was certainly very quiet. All around, people were handing out gas masks and the kind people at the LGBT Zone gave us sanitary pads with Vaseline on them to give the masks some extra protection. For the first time, there wasn't much music and there was certainly almost none of the party atmosphere that had previously typified the movement. Everyone was waiting for what would happen next and hoping that they would be able to stand up for themselves and for the Park and for their liberty with as much honour as possible. Personally, I was trying to keep myself calm but I kept on thinking about things, as you do - where I might go if the police attack from Divan, where I might go if they come from the square. Twitter was not helping, with people updating each other on police movements which sounded ominous.
"And then something happened. We were standing just behind the Park across from the Divan Hotel when we saw a line of middle-aged women, hand in hand, coursing out of Gezi. The line didn't seem to end and as it grew, the cries of 'your mothers are her' brought most of us to a stand-still. The Governor's call, the Prime Minister's threats had done the one thing you should never do - make a Turkish mother, any mother, fear for their yavru, their child."
This is crafted writing. I imagine the encouragement brought by immediate feedback to prose like this because of the poignancy of the content might lead bloggers like Okar to go on writing. The Turkish novel, already finding its niche through a handful of international names, might be about to flourish in new directions.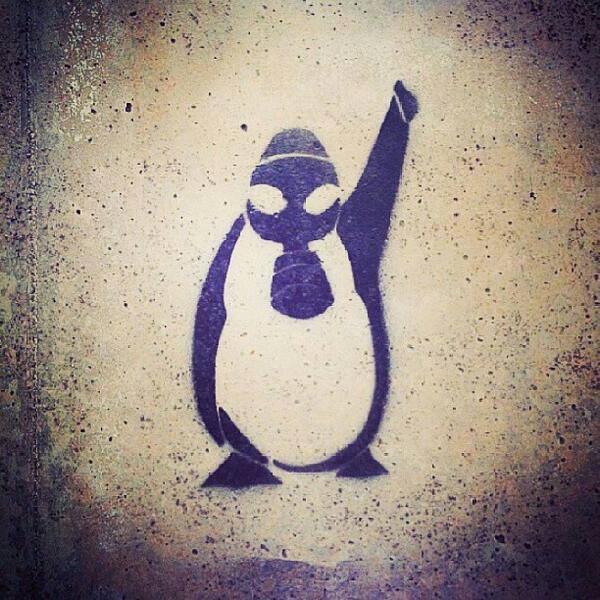 Above all there has been humour, not a national characteristic that first springs to mind when thinking of Turkey. Protesters discovered humour as a powerful weapon. Penguins were a trigger for the funny protest. In the first weekend of protests while the country was still in initial shock, CNN Turkey broadcast programmes about penguins rather than live news from Taksim. The next day images started appearing. Penguins laden with weapons marching on Taksim (maybe CNN would show that), penguins being water-cannoned, a penguin in a gas mask graffito. Turks had found a way to laugh at the danger and outrage, releasing them from fear and towards creativity. On the streets and in bedrooms, countless unknown people were producing countless creative responses. Graffiti has of been part of the "damage" done by the "looters and marginals" complained of by the Prime Minister. One such graffiti translates as "I've had enough, I'm calling the police". Funny in its succinctness, beamed around the world it gained even more street cred than graffiti inherently has. Erdogan would do better to worry that some profiteering art thief might hack it off the wall to sell in the US; the Ministry of Culture and Tourism ought maybe to be looking at how to preserve these future city attractions.
The subversion of official images and messages has been at the heart of the artistic protest. The word for "looter" – çapulcu - was adopted as a badge of honour. Even online you could sense the empowering buzz when protestors realised they had created something new, even just a simple word. As Patti Smith and Chomsky declared themselves to be one, "Are you a Çapulcu?" became an introduction question in interviews on Çapul TV, quickly set up as a protester's online TV channel. Facebook users prefaced their names with Çapulcu so-and-so rather than the recently popular republican signifier TC (Turkish Republic) that had started to be used in preparation for an already brewing constitutional war against Erdogan. In 24 hours the word went international. An early video showed a Turkish English teacher teaching the grammar of the word chapulling (see below). Within a few hours the word had been declined in French, German, Spanish, Russian, Hebrew and many other languages in a kind of international open-source in-joke. In a subversion of the physical, spent tear gas canisters have been used as plant pots or to serve cocktails in bars (pictured above left).
The grammar of chapulling
In another example, the language of ballet was used to describe actions featuring previously unseen Molotov cocktails that protestors considered to be by undercover police provocateurs: "A scene from the recent Government-commissioned street ballet 'TOMA Lake' performed this morning in Taksim meydanı, in which the huge area is regularly sprayed with water by police armoured units as hired dancers make protesting gestures and hurl fire. Production lasts over two hours." It's only a matter of time before an actual ballet called Gezi Park and the Penguins comes to pass. The creative response time has been immediate. Shortly after actor Necati Şaşmaz ridiculously implied that the country's misfortunes might be caused by an evil eye, a huge print of that most Turkish of symbols, a blue nazar boncuk (main image above), appeared in Gezi Park in gentle mockery to deflect the malign influences.
The first musical responses online were the inevitable mash-ups of existing music videos and scenes of police violence that young kids seem to be able to knock out quickly on their computers. "Everyday I'm Chapuling", based on "Party Rock Anthem" by American hip hop duo LMFAO, went viral in hours. This itself has produced spin-offs. More interesting was the original song "Tencere Tava Havasi" by folk group Kardeş Türküler, subverting Erdogan's statement that the pots-and-pans protest (a nightly occurrence at 9pm across many cities) was just the "same old noise". Skilfully filmed in an Istanbul backstreet with an audience of cats, accompanied only by pots, pans and kitchen utensils, with lyrics such as "We've had enough… we're really fed up… what arrogance, what hatred…" set cheerfully to music, it had a million views in two days.
Live music has happened in Gezi Park as it did in Tahrir Square, though on a more informal basis. Street bands marched, classical musicians formed ad hoc orchestras. A big celebrity concert in the park was, however, cancelled - it seems because protestors realised that it would not prove helpful, and maybe even with health and safety in mind. And whilst a Blur concert in Istanbul had to be cancelled due to the disruption, Istanbul a few days ago gained the most unlikely of live acts. Italian pianist Davide Martello drove his customised piano from Germany and smuggled it into Taksim Square in bits. With the instrument rebuilt, he has been soothing the crowds though the night with a non-stop tinkling of the ivories (pictured above left). Never before has such cheesy music sounded less cheesy. Context is everything. People fighting for what they sense is their humanity and - let's not forget – actual continuing violence out of Istanbul has meant that the smallest of creative acts have for a short time been granted meaning far beyond that which could be bestowed on them by a concert hall, art gallery or critic.
Finally installation and street art works started popping up. An upholstered and beautified bus stop, abandoned shoes arranged on steps (pictured right). Artists have taken ownership, if briefly, of public space - so much so that the whole notion of the Istanbul Biennial, to open its 13th season in a just few months and which is known for the public contemporary art displayed throughout the city centre, has been challenged. Some are questioning the need for such an organised corporate-driven event when, according to one, "this kind of stuff is happening so naturally and quickly that nothing they can put in the Biennial can top this." The art of the protest has been dubbed the 1st Istanbul Direnali, direnmek meaning "to resist", used in the slogan "Her yer Taksim, her yer direniş!" ("everywhere is Taksim, everywhere is resistance".) Whether or not the art of protest will serve to undermine or enrich the art of the Biennial will soon be seen. There is a danger that the protests themselves have put off international art-lovers from travelling to the city. For those who do attend, however, the 13th Biennial and what may well be sustained until then as the Direnali is sure to prove one of highly charged ideas and encounters.
When the tsunami hit Fukushima in Japan it was reported that artists found themselves blocked. The only response that made sense to them was to go and help shift rubble or volunteer in a shelter. Turkey's troubles are purely human. The most natural response seems to be creative, communicative and artistic. The potentialities of artistic expression have been sown in the hearts of hundreds of thousands of ordinary people who have not attended formal creative courses, not only those who have created but those who have viewed, read, reposted and retweeted. Things bode well for Istanbul's arts scene.
This kind of stuff is happening so naturally and quickly that nothing they can put in the Biennial can top this
Explore topics
Share this article