theartsdesk in Istanbul: East meets West at the Istanbul Music Festival |

reviews, news & interviews
theartsdesk in Istanbul: East meets West at the Istanbul Music Festival
theartsdesk in Istanbul: East meets West at the Istanbul Music Festival
A music festival that's Moorish in more ways than one
The call to prayer from the Sultan Ahmed Mosque is the true soundtrack to Istanbul life
There's a peculiarly boundless quality to Istanbul – a city where private domestic life sprawls publicly out across pavements and parks, the bustle of the city seeps out beyond land onto the commercial waterways of the Bosphorous, and cats stroll casually in and out of concert halls.
Borders here are porous, a symptom of those greater national divisions that set Turkey in an ongoing tug of war between Europe and the Middle East – a frontier territory, one of political, religious and cultural dialogue but also of conflict.
It's a dance enacted nowhere more vividly than in Istanbul's annual sequence of arts festivals. Running from the film festival in April through to the multimedia Biennial in September, these concentrated cultural events take in theatre, film, the visual arts and most recently design.
Each evening the ululating call of the muezzin enters into a strange, improvisatory duet with Liszt, Villa-Lobos or Beethoven
At the centre of these is the annual Istanbul Music Festival – an annual two-week celebration of classical music occupying that sweet-spot in early June when squally Turkish spring gives way to the beginnings of summer. The windows and doors of venues all across the city are spread wide, and each evening the ululating call of the muezzin enters into a strange, improvisatory duet with Liszt, Villa-Lobos or Beethoven.
Celebrating its 40th anniversary this season, the festival is young by European standards, but through the course of its short history has established a living and lively tradition of classical music in Turkey where none previously existed.
"When Istanbul Festival started 40 years ago visits from international artists and orchestras were almost non-existent," explains Artistic Director Yeşim Gürer Oymak (pictured right). So in 1973 when the Istanbul Foundation for Culture and Arts and the festival itself were founded, people were overwhelmed at the programme. To see that Yehudi Menuhin was performing several times, that a major ballet company was coming from London, it was something quite spectacular."
It's an interest, she stresses, that has only grown over the years, as festival statistics make clear. Some 3.3 million people – both locals and, increasingly, international visitors – have now witnessed artists including the Vienna Philharmonic, Kiri Te Kanawa, Emil Gilels, Gidon Kremer and Daniel Barenboim in almost 3,000 performances across Istanbul. But while audience numbers have risen, funding figures have predictably collapsed.
Supported entirely now by private sponsorship and ticket sales, the festival receives no government funding at all – a gesture of political abandonment that may have something to do with the catholic programming choices the event has always championed. But while major international soloists and orchestras will always form a key part of the festival's programme, there is also a newly growing focus on all things Turkish – whether in showcasing the nation's young musicians or commissioning its composers.
"You can offer fantastic programmes and invite fantastic artists to the festival," says Gürer Oymak, "and at the end of the day all that remains are the printed booklets. You have to think about your legacy and enriching the classical tradition. So in 2011 we commissioned works from two Turkish composers – one was 90 years old and the other was 30. This isn't something that is done a lot in Turkey, but it has been such a success that other private insitutions have started to do it, and it is becoming a new fashion."
Commissions have also taken on an international outlook, with celebrated Georgian composer Giya Kancheli premiering his In Memory of Benyamin Sonmez this year, and future seasons promising works from Alexander Raskatov and Peteris Vasks. Balancing East and West within the course of a festival is one thing, but another within a single work, as 2012 commission co-production between the Istanbul Music Festival and the Rotterdam Operadagen Say I Am You-Mevlana attempted.
Composed by America's Michael Ellison, the work is a chamber opera based around the life and writings of 13th-century Sufi mystic Jalāl ad-Dīn Muḥammad Rūmī – known to us simply as Rumi, and in Turkey as Mevlana. Exploring the relationship between Mevlana and his mentor Shams – a patriarchal God-figure in this interpretation – the opera's non-linear narrative is grounded by the film projections of Tessa Joosse. These colourful (and mercifully human) figures offer a guiding visual hand through the rather inscrutable aural journey of Ellison's piece.
Semi-staged under the darkly vaulted ceiling of the eighth-century Hagia Eirene (pictured left) – once an Eastern Orthodox Church, later a munitions store, and still framed within the walls of Topkapi Palace – atmosphere was here in abundance. It was a much-needed counterbalance but not quite compensation for the anonymous music itself.
Performed by Netherlands ensemble VocaalLAB and Turkey's own Hezarfen Ensemble under the direction of Lucas Vis, the polyglot musical language gained its dominant colours from instruments such as the ney (a Middle Eastern flute) and qanun (a zither-like stringed instrument). These however were restricted by Ellison's rigid, almost chant-like writing to mere atmospheric devices, never achieving either melodic or textural autonomy from the composer's unfelicitous and strangely non-vernacular translation. Orchestral colours were unvarying, leaving the singers to characterise this abstract parable as best they could.
Strong work came from Ekaterina Levental as Melike and Gunnar Brandt-Sigurdsson's Shams was terrifyingly brave, tackling successfully even the extremities of Ellison's vocal writing, but nothing could bring Ellison's muddled vision into focus, nor begin to touch the beauty of Rumi's butchered verses. It was a rare misstep for a festival whose fusion events take their curatorial responsibilities seriously, generating such intelligent concerts as this year's Gate of Felicity – a collision between Western and Ottoman renaissance worlds.
All charm and cheekbones, it's tempting to dismiss Montenegrin guitarist Miloš Karadaglić (pictured below) as just the latest classical pin-up du jour. A recital programme of Bach, Albeniz and Villa-Lobos in the hall of Istanbul University proved emphatically otherwise however. Softly and articulately spoken, this thoughtful delicacy also permeates Karadaglić's playing, which even made something rich and strange of Albeniz's hackneyed, busker's classic Asturias. Described by Karadaglić himself as "as close to flamenco as you get on the classical guitar", the fretful circling of the melody was interrupted by shattering percussive blows, achieving a dramatic scope that was also on show in the two sea-themed movements Carlo Domeniconi's Koyunbaba, based appropriately on a Turkish folk song.
A transcription of Bach's Prelude and Fugue BWV 997 for the guitar offered a tougher challenge, the clarity and balance of the writing struggling against the resonance of the instrument (so different in this respect from the lute). Karadaglić kept things engaging and plausible here, but with resources marshalled in so many different directions for the Fugue an occasional thinness did emerge in the timbre.
While the classical guitar offered a divertissement, the true hero of this year's "Hope and Heroes" festival was the piano, with two equally passionate but entirely dissimilar soloists.
France's Hélène Grimaud is a pianist of the Romantic repertoire, embracing its extremities and defusing its self-indulgent excesses with her technical sensitivity. In a mixed programme of Mozart, Berg, Bartók and Liszt we saw precisely those skills that make Grimaud so bewitching a performer in 19th-century music sabotage her foray into the 18th century.
Never has Schnabel's oft-quoted line about Mozart's music being "too easy for children, too difficult for adults" been more applicable. Tackling Mozart's Piano Sonata in A minor No 8 with splashy fervour, Grimaud massaged every simple melody into absurdly baroque curlicues, coaxing drama into each phrase and undoing the balanced purity of Mozart's lines in the process.
Yet minutes later this desire to search out melody, to animate the quietest of gestures came into its own, bringing rare humanity to Berg's Piano Sonata Op 1. But while both this and the rambunctious treatment of Bartók's Romanian Folk Dances that closed the evening were accomplished, it was Liszt's B minor Sonata – an epic arc of emotional intensity – that dazzled. From the Andante Sostenuto to the galloping Prestissimo, Grimaud held her audience captive, believing the story she told us with every note.
With an international career as both pianist and composer, Fazil Say is arguably Turkey's finest classical export. He is certainly their most opinionated. Never knowingly under-articulated, his social media outbursts have become legendary, drawing down the wrath of the Turkish government upon him and his provocative, anti-religious views. Such attacks have only endeared him to audiences however, with ovation after ovation greeting the world premiere of his second "Mesopotamia" symphony (and self-described finest work to date).
While far from symphonic in the structural sense (Say's work embraces the contrasts of Sonata Form while rejecting the equal-and-opposite role of organic thematic development), it's a piece with a great deal of colouristic vigour and charm. Defined most strikingly perhaps by the eerie voice of the pitch-bending theremin (played here by Carolina Eyck), the work charts the bloody history of Turkey, calling out explicitly for peace and resolution. The Tigris and Euphrates rivers bookend the programmatic form, the playful rippling of the smaller Tigris growing through human conflict into the majestic Euphrates.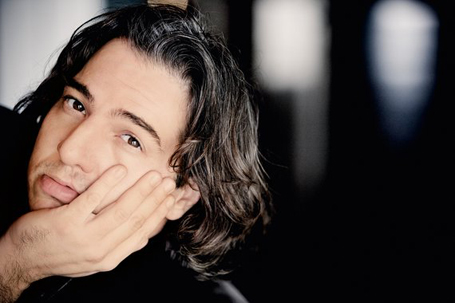 Say's (pictured left) harmonic language is that of the late 19th century, coloured by the odd moment of bluesy prescience. It's appealing, colourful and far more diverse in its palette than his previous works (shaped by the dominantly mournful character of traditional Turkish music), but it's also hard to reconcile within current compositional practices – a statement of national significance (as the cheering crowds recognised) rather than one of international relevance. Perhaps this is what Say wants. As a pianist he certainly stands apart from the herd, as he demonstrated in a fairly outrageous rendering of Beethoven's Piano Concerto No 3.
There was energy here, passion even in the distended and disembowelled phrases of Beethoven's Allegro con brio, but a staggering lack of charm. The technique is solid enough, but its deployment was brutal at best and wilfully self-reflexive. Only in the humour of the Allegro's coda and in the cadenza – an Eastern-inspired gem composed by Say himself – did some affinity between performer and material emerge, and then only because Beethoven stepped aside to allow Say to discourse on his favourite subject: himself.
Single-minded stridency doesn't seem a mode particularly well suited to Turkey; its polyphonic, side-alley character only truly emerges through an indirect haze – the sum of the fragments of noise, colour and activity that fill any street scene in Istanbul. The babel of the Istanbul Music Festival's programming goes a long way toward recreating this, its cultural collisions reflecting those tussling, irreconcilable elements that animate the Turkish nation more vividly than any more overtly nationalist approach could. Turkey's musical culture is inherently plural, it speaks as clearly in the voices of a Bach fugue or the contrasting moods of a Bartók folk suite as it does in the call of the muezzin and the chime of catholic church bells on crowded Istiklal Avenue.
Atmosphere was here in abundance - counterbalance but not quite compensation for the anonymous music itself
Explore topics
Share this article