theartsdesk in Reykjavik: A New Musical Landscape for Iceland |

reviews, news & interviews
theartsdesk in Reykjavik: A New Musical Landscape for Iceland
theartsdesk in Reykjavik: A New Musical Landscape for Iceland
A festival of contemporary music sending shockwaves through Iceland
Harpa: Reykjavik's glittering new concert hall is the home for a new era of Icelandic music-making
It's 11pm on a Thursday night. The kind of weather that makes balloon animals of umbrellas, that raises a tsunami in a bird-bath, is raging outside. Inside the Harpa concert hall some 300 people are gathered in attentive silence while five musicians, each sat at a brightly-coloured piano barely two feet tall, play hairdryers, flippers, and drop small change from boxes onto the floor, in a solemn performance of John Cage's Music for Amplified Toy Pianos.
Only in Reykjavik; only under Ilan Volkov; only as part of the Tectonics festival.
When youthful maverick Volkov was appointed Music Director of the Iceland Symphony Orchestra in January 2011 it sent out a signal to the world. After the solid tenure of Rumon Gamba, distinguished chiefly by recordings of Vincent d'Indy's complete orchestral works, this was a change of pace – a statement of intent.
It would be impossible to conceive Tectonics without Harpa. The festival flows freely through the building
Announcing his arrival in a scream of avant-garde electronica and the impassive minimalist shruggings of Cage, Volkov's inaugural Tectonics festival – three days of concerts curated by the conductor himself, devoted to contemporary music in all its diverse forms – made it clear that we weren't in Kansas anymore. Between the extraordinary programming and the extraordinary space of Reykjavik's new Harpa concert hall (with even more unexpected angles and sharp edges than the music), flying monkeys would struggle for attention here.
Gamba's time with the ISO may have been the boom years for the Icelandic economy, but little of this wealth was devoted to the orchestra, who were exiled to an ex-cinema with all the ambience of a commuter train and about as much acoustic potential. An ambitious redevelopment project for the city's eastern harbour put plans in motion for a new purpose-built concert hall, sound-designed by the mighty Artec – creators of some of the best classical venues in the world. Then came the crash.
In a decision that has divided Iceland's citizens, the government decided to go ahead with the £90 million project, and the result is a space that shares something of Volkov's unconventionality, as well as his energy. Designed by Danish-Icelandic artist Ólafur Elíasson, Harpa is unquestionably contemporary – a twisting, geometric maze of a space. But most striking is the sense of visual fluidity; the glass walls are made up of cell-like, organic shapes, as though a single architectural cell had spontaneously multiplied and generated the building.
It would be impossible to conceive Tectonics without Harpa. The festival flows freely through the building over its long weekend, inhabiting not only the two recital halls but also the cavernous foyer. Tourists strolling in for coffee and a browse in the gift shop are liable to find themselves suspended in the sonic embrace of Berio's Accordo for four brass bands, or John Cage's Fifty-Eight, its many solo players distributed sentinel-like among Harpa's galleried central hall.
With film-screenings blurring into chamber recitals, and each evening divided into a series of of episodic concerts-in-miniature, Tectonics is a festival at its most free-form, inviting audiences to graze and sample at will. Those who commit to the full experience however (15 concerts, and around 150 performers), find a carefully structured programme that this year developed through days devoted to the music of John Cage and Iceland's own Magnus Blöndal, to culminate in a final day of living composers – bringing the festival completely up to date.
How often have you heard the music of John Cage (pictured left) in concert? This was the question Volkov put to his audience during the festival's opening evening. A fixture of musicology reading lists, a touchstone of contemporary cultural awareness, there's no doubt that Cage's music is more often discussed than performed – a phenomenon that speaks as much to the practical difficulties of his prepared pianos and unconventional "instrumental" ensembles as their aural challenges.
In programming a full day of Cage's work, Volkov offered his audience a rare chance to hear this music not as a novelty concert opener, or a contrasting amuse-bouche in an otherwise conventional line-up, but to really commit to this sound-world on its own terms. He also offered this music the home its composer intended. So much of Cage's music is designed to inhabit a space, to be sonically "staged" in a way that immerses or confronts the audience. The kind of fringe venues that typically mount this work rarely have the acoustic possibilities the music thrives on, and to hear the Concerto for Prepared Piano and Chamber Orchestra or the uncanny Improvisation III (for cassette players) in a 1,800 seat hall like Harpa's evocatively-named Eldborg ("fire-city") is an experience as strikingly theatrical as it is musical.
There's wit and even aggression here, but both Volkov and Tilbury insisted on Cage's infinite lyricism
After the foyer warm-up of Fifty-Eight, planes of sound shifting and catching the ear just as Harpa's glassy architectural planes catch the shifting lights of the city, we moved to the red lacquered belly of Eldborg. Soloist John Tilbury joined the orchestra for the first of several festival performances, opening Tectonics with classic Cage – a musical whimper with more impact than any bang, the j.
A delicate, calculatedly tentative start from the ISO beckoned us into Cage's textures, preparing the ground for Tilbury's solo voice to creep mossily in – a husk, a ghost of a piano. There's wit and even aggression here among the alarm sounds, sheet metal hiss and voices, but both Volkov and Tilbury insisted on the infinite lyricism that underpins those showier episodes. Wilfully non-developmental, this is music that demands a different kind of listening; if a symphony proposes a dialogue with the listener, Cage's music is a monologue, demanding surrender. Fight it and you're lost, give in and you're transported.
Improvisation III (for cassette players) constructs a joyfully low-fi mesh of sounds around the audience. Five performers distribute themselves around the edges of the hall (as instrumentalists do later for Music for 13), each with a tape-player. Sitting in the stalls, we twitched at the sudden proximity of a child's voice singing as the performer walked past with his "instrument" – an early precursor to the current trend for "found sounds" among electronic and progressive classical composers. Elsewhere, over on the other side of the hall (pictured above right), or out in one of its winged side-sections the textures will have been completely different; as an audience member you find yourself unwittingly contributing to the aleatorics of the performance, even the most sceptical of listeners suddenly complicit.
While Improvisation III is Cage at his most ideogical, interrogating the contentious relationships between noise, music and sound, Experience No. 2 for solo voice dares the audience to complicate its apparent simplicity. Lights extinguished entirely, the singer (an amateur as specified by Cage, in this case distinguished performance artist Ragnar Kjartansson) delivers a strophic, folk-like melody. Without the nuance of technique or the visual distractions of performance the piece is intimate, a point of reference and human contact among the evening's more confronting works.
Cage's self-reflexive humour emerged more clearly as the evening progressed and the toy pianos came out, along with bicycle bells and frankly rather rude trombones. But while the composer's mixture of pared-back lyricism and unpretentious fun is beguiling, it never distracts from the seriousness of the music. There is a musical grammar here – a recognisable language that has its cadences and dramatic arcs, despite its distortions.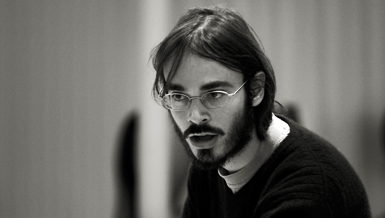 The role of the performer, the responsibility taken by players for shaping Cage's abstractions into musical specifics is also crucial, as was elegantly demonstrated in the evening's final concert. Programming Cage's Five twice, once performed by five vocalists with microphones and once by five instrumentalists, allowed us to witness the difference between the point at which Cage's scores finish and the point at which the music itself is complete.
Among so much musical stimulus, so many new sounds and unfamiliar experiences, there is inevitably a retrospective blurring. Yet there is one festival concert that remains unmuddied in the memory. In an evening of John Cage this was the sole major foray into new music, a world premiere and musical experiment led and curated by Volkov (pictured above) and electric guitarist Oren Ambarchi. The ISO returned to stage – a stage clean of all music stands – to follow a conductor stripped of his baton. Eyes on Volkov the musicians raised their instruments for that most inconceivable of things – a full orchestra improvisation.
Sustained over some 40 minutes, the work saw the orchestra respond to Ambarchi's (pictured below) gestures on guitar, which was hooked up to an electronic mixing desk. Using a series of pre-determined and spontaneous gestures, Volkov signalled to his musicians the reactions he wanted, drawing jagged streamers of sound from both solo instruments (some particularly eerie blown effects from the flutes) and whole sections. The result was unlike anything, carried by the energy of its live composition, and further animated by the trust and communicative intensity operating between Volkov and his players. The conductor later admitted that rehearsal time had been severely limited, and I can't help thinking it was the better for it.
Day two saw a change of pace, exploring the bafflingly diverse music of Magnus Blöndal. Born in 1925, the composer may be best known as the figurehead of the Icelandic avant-garde, experimenting with dodecaphony, minimalism, and also with electronica when it was still a matter of physically cutting and pasting sounds together, but Blöndal also enjoyed a mature period of neo-romantic lyricism. This late style offered a gentle introduction to the composer, in the form of his Pourquoi for solo violin and orchestra (soloist Sigrun Eðvaldsdottirr), and his Adagio for strings.
Here, among familiar melodic lines rather than "event clusters" we got a better sense of the ISO as an orchestra. Still finding their feet in their newly resonant hall, the richness of the brass sound occasionally gave way to harshness, but the pay-off is a directness to the quality of sound that works well with Volkov's precision. Here surging brass were matched by generous gestures from the strings in a rare moment of tonal release, that charmed but could do little more.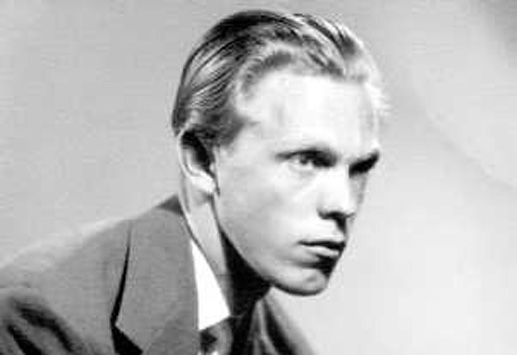 More interesting were the composer's early chamber and electronic works – his Dimension for solo violin and Solitude for flute – which exposed his progressive approach to minimalism (Solitude, performed expressively here by Ashildur Haraldsdottir, tackles a single note, a musical phrase reduced to its smallest component part, revisiting it in a host of textural ways before collapsing into little arcs of melody). Representing Blöndal's (pictured left) electronica was Samstirni, a painstakingly remastered piece of early electronic collage, rendered here in unsettling stereo sound. I will confess myself defeated by some of the contemporary electronic homages that followed it, disturbed by the deliberate sonic ferocity of much of it, but what it did make clear was that even among the most abstract, most unmoored of music, there are still markers of quality. Blöndal's early work, while pioneering, is perhaps most interesting for the musical intelligence and sense of internal logic that it reveals.
There can be few places more suited to the brave, contemporary gesture of Tectonics than Reykjavik – a city with barely any buildings that pre-date 1900, whose aesthetic tastes are reliably spare and sharp-edged. The future of the festival here is assured for at least another two years, but from 2012 Volkov has plans to extend the seismic reach of his project. A sister festival is already planned for the conductor's old home-town of Glasgow, with new commissions from the likes of Frank Denyer in the works. Each subsequent year however Volkov hopes to find a different city host, making use of their local musicians and national composers to create a festival truly plugged into its community.
It's a bold experiment, and one Volkov is tackling with characteristic energy. No one witnessing his hands-on approach at Harpa could doubt his determination; no one watching him conduct and interact with the ISO could doubt his affinity with the players. The musical tremors of this new appointment have begun, and if Volkov has anything to do with it the ensuing earthquake will top the Richter Scale.
Blöndal's early work, while pioneering, is most interesting for the musical intelligence and sense of internal logic that it reveals
Explore topics
Share this article