Museum Hours |

reviews, news & interviews
Museum Hours
Museum Hours
Jem Cohen's two-character drama locates the same everyday beauty in Vienna's streets as it does in a magnificent art gallery
Friday, 06 September 2013
Guardian angel: Bobby Sommer as Johan in 'Museum Hours'
How we look at and value art, the stuff we accumulate around us, and our daily surroundings; how we look at and communicate with each other (or avoid doing so in the digital age); and if we do or don't see: these are some of the themes explored in Museum Hours, an immersive docufiction made in Vienna by the experimental, socially progressive Brooklyn filmmaker Jem Cohen.
Just as João Rui Guerra da Mata and João Pedro Rodrigues's The Last Time I Saw Macao investigates the former Portuguese colony via a thin neo-noir tale about a search for a gang-targeted drag queen, Museum Hours deploys a MacGuffin to ease the audience into its essayistic ideas, but its story is affecting.
Adolescents take interest only in works with sexual or horrific content
Middle-aged Anne, who survives on poorly paid part-time jobs in Montreal, is summoned to Vienna to attend the bedside of an estranged cousin, another woman with no immediate family, who is comatose in a bed in St. Joseph Hospital. Struggling over a city map in the Kunsthistorisches Museum, the uncertain Anne is guided to the hospital by Johan, a museum guard who oozes equanimity. As a platonic friendship develops between the two, he becomes her guardian angel for the duration of her stay. She is played by the publicity-shy Canadian singer-songwriter and occasional actor Mary Margaret O'Hara (pictured below as Anne), he by non-professional Bobby Sommer. The latter is a promoter and Viennale guests relations worker whose experience as a late Sixties rock roadie informs the anecdotes Johan shares with Anne: touchingly, they have a mutual affinity for Aussie heavy metalists AC/DC.
Johan is also the film's narrator, who, as the low-key drama unfurls, ponders his cautious befriending of Anne and his "why not?" approach to becoming her Viennese escort, from which he derives satisfaction by getting to see the city anew: his own loneliness is indicated by his telling Anne he no longer knows who his best friend is, and by his admission that his off-duty norm is being alone and online at home. Cohen gently dabs the film with instances of technological mediation that breed isolation and disengagement: Johan's kindness to Anne, which requires no reciprocation, is humanism in action.
Johan also reflects on his job watching the museum's visitors, most of whom approach the paintings and sculptures without cultural high-mindedness but, confronted by nudes, a degree of shame. Adolescents, who allay their boredom by sending text messages, take interest only in works with sexual or horrific content or oddities like Arcimboldo's "Summer" man with his fruit and veg profile. Johan notes how one youth hangs back behind his schoolfellows to contemplate a male statue's buttocks. Mostly everyone, he says, is moved by the headless Venus statue with its gossamer veil-like garment.
He recalls an art student who worked at the museum and disdained many of the paintings, particularly Dutch still lifes, as displays of nouveau riche acquisitiveness akin to rap-star videos bulging with emblems of success (Rolexes, champagne, flat-screen TVs). Though he suspects the kid was inculcated with this kind of cynical thinking at university, he recalls him with affection because he was "a punk" like he himself had been. He refuses to judge people, though isn't beyond sending obnoxious toilet-seekers on the bladder-testing "scenic route". Johan and Anne's own conversations about the pictures are characterised by what they find pleasurable or stimulating in them. Johan delights in finding previously unnoticed details: a figure with a frying pan sticking up from its head in one picture that inspired him to look for eggs in others.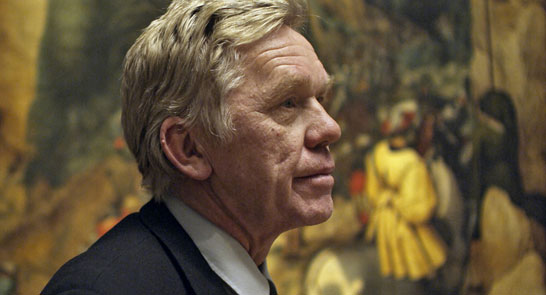 The amusement he finds in this prompts a reading of Museum Hours as anti-intellectual: the commentaries listened to by visitors on their museum-provided tape devices come across as white noise. However, Cohen is less interested in deflating serious art criticism than in democratising art. The film was inspired by the museum's unparalleled Brueghel room, chock full of the Flemish Renaissance painter's masterpieces combining peasant rituals with the fantastical and unexpected. In a mesmerising 10-minute sequence, the visiting art lecturer Gerda (played by Ela Piplits) undermines the received, sceptical opinions of a group of spectators by showing them how Brueghel's swarming decentered panoramas emphasise the humble, the humorous, the earthy, the everyday.
In keeping with this, the anonymous street photographer and videographer in Cohen punctuates the museum scenes with myriad shots of workaday Vienna and its people, rigorously framing each image into an exquisite artwork. Scaffolded buildings, bus stops, weighing machines, and a field on the city's outskirts take precedence over monuments; softly falling snow and the winter light invest the movie with lyricism. The same weight is given to a box spilling teen comics, a discarded soft toy, and a winded pair of shorts at a flea market as it is to a blue-black shadow on a Rembrandt and ancient sculpted heads, poignantly disfigured, in the museum.
Images of workers, skateboarders, a family with scuffling kids on a pavement, a dad carrying a toddler, middle-aged folks on a night out in a Serbian bar with a dance floor reverse the notion of Vienna as the city of the Hapsburgs, Mahler, the Strausses, Klimt, Freud, Schiele, and Schnitzler. At the end, Johan steps out of the film to comment on it himself, warmly appreciating a series of such ordinary urban views, such as a shot of an old woman determinedly ascending a hill beside a busy ring road. It sounds simplistic, but Museum Hours pulls off the feat of rediscovering the life in art and the art in life.
Overleaf: watch the trailer to Museum Hours
Cohen is less interested in deflating serious art criticism than in democratising art
rating
Explore topics
Share this article