DVD: High Sierra |

reviews, news & interviews
DVD: High Sierra
DVD: High Sierra
The gangster film that gave Bogart his first role as an existentially cursed anti-hero
Friday, 13 September 2013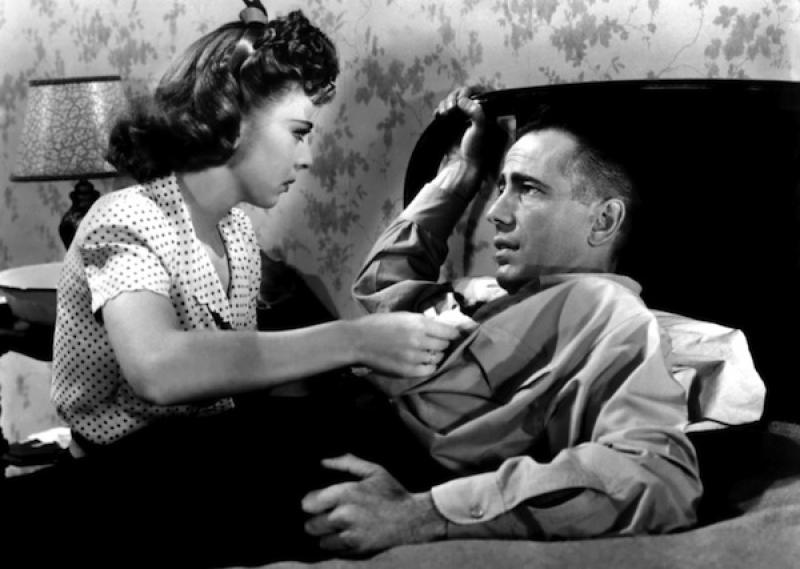 A kind of loving: Marie Garson (Ida Lupino) and Roy Earle (Humphrey Bogart)
Raoul Walsh's 1941 High Sierra, a late entry in the Warner Bros gangster cycle, made Humphrey Bogart a star. It was adapted by John Huston from the novel by WR Burnett, who was also the author of Little Caesar and one of Scarface's screenwriters. A fatalistic character study of a Dillinger-like bankrobber with a craving for domestic bliss, the film indicates that human striving is a fool's errand.
It thus augurs film noir – notwithstanding Tony Gaudio's gleaming black-and-white outdoors cinematography (surely influenced by Ansel Adams). Huston and Bogart's next collaboration,
The Maltese Falcon
(1942), would be the real deal.
Greying con Roy Earle, planning to "crash out" out of prison (the phrase acquires a mystical resonance at the end), is sprung instead by his old boss (Donald MacBride). He is duly sent west to rob a resort hotel. En route, the hard man shows his soft side. A visit to the Indiana farm where he grew up gives him pause; entering California, he befriends an old man (Henry Travers) and his beautiful grand-daughter, Velma (Joan Leslie, pictured with Bogart below). He determines to pay a surgeon to operate on her club foot, but it's not merely an act of kindness: he wants to marry her. That doesn't stop Marie Garson (Ida Lupino), the unworldly dancehall girlfriend of one of the hotheads in Roy's crew, from attaching herself to him.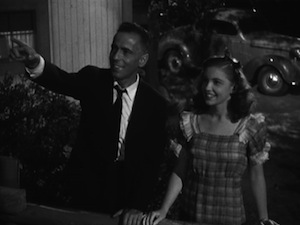 The film's streamlined centrepiece is the heist, less because it forces Roy to make drastic decisions than because it reveals his inability to question his execution of it, or his unsuitability for Velma. When he next talks to her, newly healed with his help and newly obnoxious, he realizes that the family that's been slowly forming – he, his fellow misfit Marie, and his dog ("played" by Bogart's dog) – is what he has sought all along. But one illusion replaces another. Roy is eventually pursued by cops to the Sierra Nevada, the cars hurtling along alarmingly in a kinetic classic-era Hollywood chase. 

Paul Muni had refused to play Roy. George Raft was offered the part, but Bogart convinced Raft not to take it, so he could. Playing a professional who can't restrain his lethal impulses or alter his destiny, but just gets on with the job, he started to hone his existential persona in this film. The terse mobster scenes, which partnered him with hardboiled old pros MacBride and Barton MacLane, are flavoured with cynicism: death stalks everyone. Walsh had previously directed Bogart and Lupino (with Raft) in the wildcat trucking drama They Drive By Night (1940), another proto-noir where they were beautifully matched again. Believing Roy has arrived at a state of grace, the tough British actress suggests a shopworn but extra-beatific Lillian Gish. But Marie's going nowhere good.
Ida Lupino suggests a shopworn but extra-beatific Lillian Gish
rating
Share this article