Pires, Orchestra Mozart, Haitink, Royal Festival Hall |

reviews, news & interviews
Pires, Orchestra Mozart, Haitink, Royal Festival Hall
Pires, Orchestra Mozart, Haitink, Royal Festival Hall
Italian youth, Dutch experience and Portuguese virtuosity combine for a Beethoven triple-header
Wednesday, 02 October 2013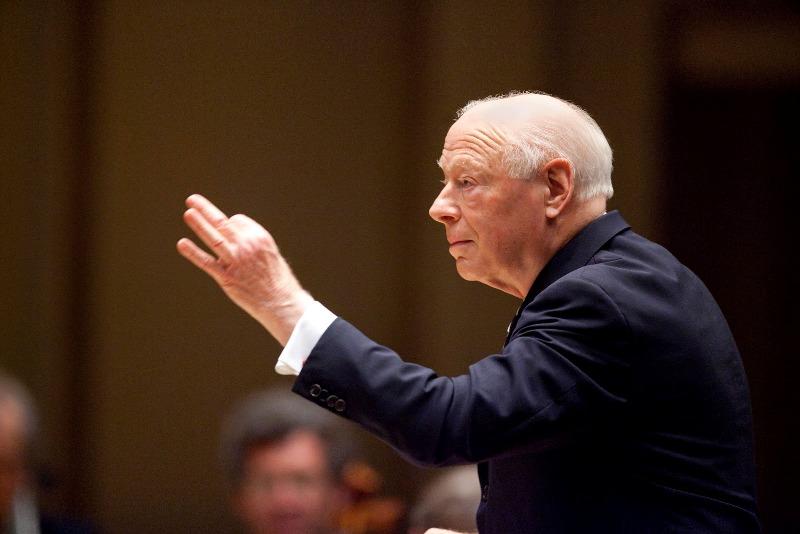 Bernard Haitink: absence of histrionics
Calixto Bieito's fantasia on Fidelio may be lording it on the other side of the Thames but Orchestra Mozart, on its first-ever visit to London, was happy to place its trust in what Beethoven actually wrote.
As if to prove that wild-child provocateurs don't own the playground, traditions were reaffirmed at the Royal Festival Hall last night in this urbane and civilised concert led by two of music's grown-ups, Maria João Pires and Bernard Haitink – late-notice super-subs for the advertised but dually indisposed Martha Argerich and Claudio Abbado. The Bologna-based band is evidently formed of young musicians who still believe that with age comes wisdom.
The change of artists led by circuitous means to a modified programme, so out went the advertised Haydn symphony and Mozart concerto as the concert became an all-Beethoven affair. The trio of chosen works are thoroughbreds without being warhorses; whether by accident or design they all have a touch of the Cinderella about them, with none enjoying quite the popularity of their differently-numbered counterparts.
As Haitink enters his mid-eighties he has grown ever more frugal of gesture
The Fourth Symphony, the only item to survive the reshuffle, found Haitink in clear-eyed form as he drew back the curtains on the opening movement's trompe-l'oeil Adagio and ushered in a flood of pre-Schubertian sunshine. The orchestra brimmed with energy and articulated the Allegro vivace with heady eloquence, its players' very instruments seeming to smile. This euphoria was sustained into an unexpectedly brisk second movement whose mosaic of finely-wrought phrases – dominated by the silken clarinet of Alessandro Carbonare – melded into a rapt whole. Orchestra Mozart's youthful instrumentalists relished the sophisticated game of musical tag that dominates the Allegro vivace third movement, its melodic scherzo fragments passing seamlessly from section to section before giving way to a finale that Haitink delivered in ebullient but perhaps over-assertive fashion, brooking no dissent and double-underlining the conclusion.
The two works in the first half of the concert are both designated "No 2", yet each was the first of its group to be written. The Leonore Overture No 2 (intended, of course, for the first incarnation of the opera that became Fidelio) is shaped like a tone poem with its vivid colours and progressive sense of drama, and Haitink struck an ideal tempo right from the first iteration of the Grand Tune. He rushed nothing yet there was no hint of sluggishness, nor indeed stateliness. The Dutch maestro's baton technique has always been marked by an absence of histrionics, and as he enters his mid-eighties he has grown ever more frugal of gesture; the playing, though, had air and energy to spare. How did he do it? It's no snub to Haitink to say that part of the secret lies with his splendid orchestra, its middle-sized complement of strings an ideal counterweight to the wind and brass, and its members drawn from orchestras across Europe.
Haitink's attention to internal balance was hard to miss in the Second Piano Concerto, as several string desks had to be vacated before Maria João Pires took to the platform. The Portuguese pianist has fingers that dance across the keyboard, not delicately or gracefully but with the muscle control of a titan, and in a mesmerising traversal of Beethoven's deceptively long musical phrases every note was spick and span – wholly at one with Haitink's clean lines and no-nonsense phrasing. Though it seems churlish to say so, a touch more pizzazz from both soloist and conductor might have helped build some élan; for that sensation we had to await the eight or so minutes it takes to despatch Beethoven's Egmont Overture, the aptly-chosen encore. Played with scintillating flair, unbuttoned yet refined, it was in its way the highlight of the evening.
Orchestra Mozart and Maria João Pires (with conductor Diego Matheuz) perform Mozart and more Beethoven at the Queen Elizabeth Hall on Thursday 3 October
There was no hint of sluggishness, nor indeed stateliness
rating
Explore topics
Share this article