theartsdesk in Dublin: Noh way |

reviews, news & interviews
theartsdesk in Dublin: Noh way
theartsdesk in Dublin: Noh way
International theatre festival projects a mood of desperate optimism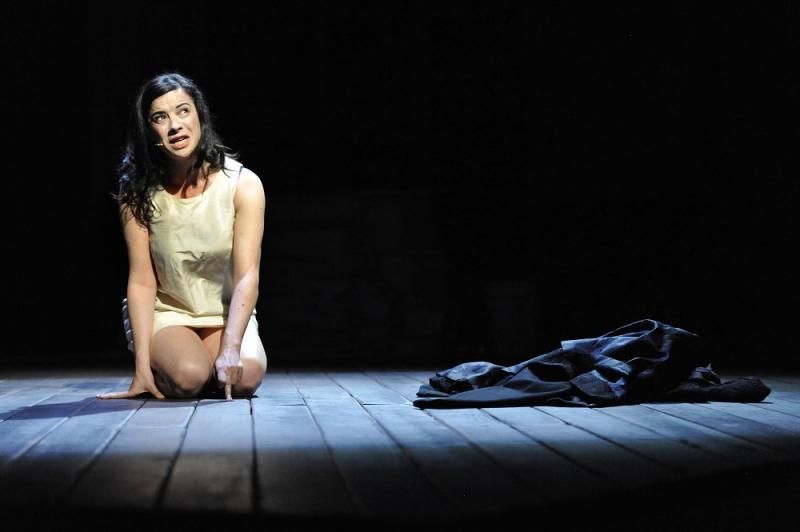 Camille O'Sullivan performs The Rape of Lucrece
"Come out to play" is the tagline for this year's Dublin Theatre Festival, and a great deal of the work presented in the programme manifested suitably playful exuberance. Running over 18 days, and featuring 27 productions, the 56th Festival highlighted the breadth of contemporary theatre and performance from around the world, programmed by artistic director Willie White.
Definitions of "theatre" seemed deliberately capacious: musical theatre, dance-theatre, film-based and multimedia performances came under its umbrella.
From a musical adaptation for the Royal Shakespeare Company of Shakespeare's epic poem The Rape of Lucrece by Irish chanteuse Camille O'Sullivan, to a new production of Brecht and Weill's The Threepenny Opera and A Feast of Bones, an adaptation of a Brothers Grimm fairytale by Theatre Lovett, live music took centre stage. In David Greig's The Events, a choir performance was an integral part of the production, while Olwen Fouéré vocalised the musical phrasing of Joyce's Finnegans Wake in her mesmerising solo performance, Riverrun. In Tom and Vera, a new play by London-based Irish duo Christine Molloy and Joe Lawlor, an entire aria from Wagner's Tristan und Isolde was performed halfway through.
The title of Molloy and Lawlor's theatre company, Desperate Optimists, aptly characterised the mood of many of the productions. Some difficult and dark subjects were probed – from mass killings to the aftermath of earthquakes, war and nuclear disasters – with enormous commitment and creative vision, as if these theatre practitioners seemed to be stressing the importance of art in times of chaos and uncertainty.
One of the most impressive international productions, Ground and Floor (pictured right), from Japanese company chelfitsch, is set in the near future, among young Japanese characters haunted by the dead – victims perhaps of an un-named disaster, possibly Fukushima. Facts are not spelled out, but remain open to interpretation. This fascinating work, simply staged by director Toshiki Okada, unfolds in six phases. Performed with precision to an original score composed by Tokyo ensemble Sangatsu, its dance movements are drawn from the ancient Noh tradition. The characters choose between exile or remaining in an increasingly isolated Japan, now under threat of war with China, with Japanese becoming a minority language. The living negotiate with the dead, and with their past, while trying to conceive of a new future.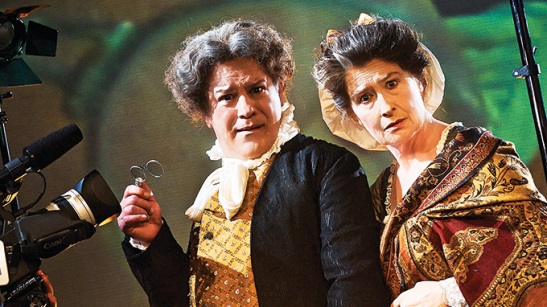 Questions of inheritance from earlier generations, whether in the literal sense of property and possessions, or in the form of memory or cultural legacy, recurred throughout the festival. Rough Magic Theatre Company engaged with Dublin's rich theatrical history in a staging of Sheridan's satire, The Critic. Shifting from an archly comic 18th-century opening scene (pictured above left) to the present day, incorporating a play-within-a-play and references to 19th and 20th century Irish history along the way, this production was ambitious in concept, but cumbersome and lacking in subtlety in execution.
In the Corn Exchange Theatre Company's production of Eugene O'Neill's Desire Under the Elms, three sons are in psychological deadlock with their father for possession of the family farm, in mid-19th century America. Director Annie Ryan's staging emphasises the mythic dimensions of O'Neill's intense drama from 1924, which manages to roll Oedipus, Phaedra, Hippolytus as well as Medea into this primal battlefield. While her stripped-back production, performed in strong Ulster accents, exposes the play's rather dated style and form, it also roots it powerfully in a tradition of Irish theatre that is obsessed with land ownership and father-son conflict – a tradition that O'Neill, the grandson of Irish immigrants to America, had fully absorbed.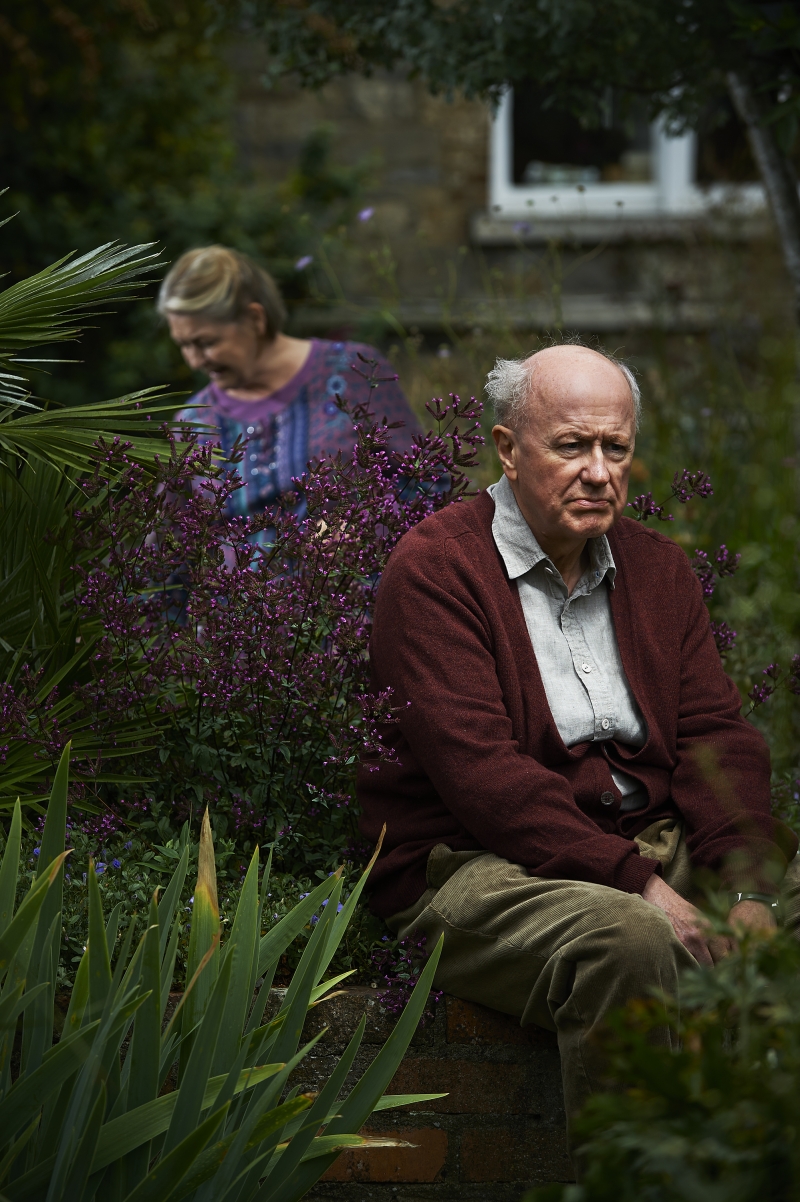 It is a strand of dramatic writing that has clearly influenced Frank McGuinness also, whose first new play for many years, The Hanging Gardens (pictured right), is being staged by the Abbey, Ireland's national theatre. In this case it is King Lear rather than Greek myth that provides a thematic reference, as the adult children of an ageing novelist, Sam (Niall Buggy), gather around him in the isolated house and gardens over which he presides. His powers failing, and succumbing to dementia, he attempts to manipulate them, telling them stories and twisted versions of events from their childhood, confusing fantasy and reality. For their part, his sons and daughter seem unable to become fully adult as long as they remain in his shadow, and as characters they seem underwritten, despite the attempts of the always-impressive actors Declan Conlon, Marty Rea and Kathy Belton to invest them with emotional depth. They circle around their father, while McGuinness's play also seems to hover uncertainly, with little dramatic momentum.
Of the Irish productions, only Tom and Vera directly addressed current social and political themes, in a portrayal of a married couple driven to violent crime in Dublin by the pressures of the ongoing recession. While certainly topical, this underdeveloped production seemed hastily put together, and in need of refining and re-working.
Some of the leading Irish theatre companies – Pan Pan, ANU Productions, and Brokentalkers – showed work in progress to small audiences this year, rather than finished productions, in a strand called "In Development". This proved disappointing for anyone waiting expectantly to see, for example, the next instalment of ANU Productions' superb cycle of immersive, site-specific work, The Monto Cycle, set in Dublin's north-inner city and tracing the area's history, but audiences were assured that this will be presented at next year's festival, along with the first three instalments, pending funding decisions.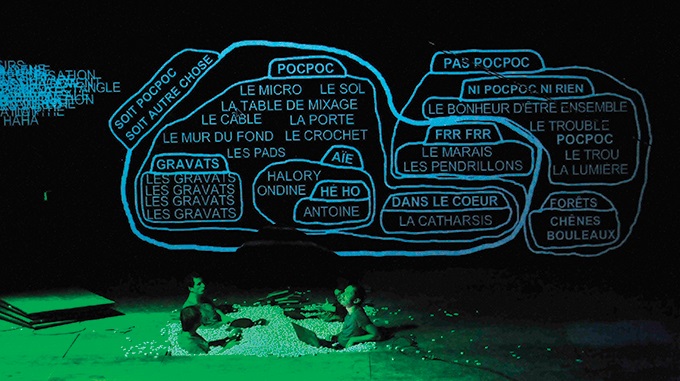 In order to make funds go further and increase access to international productions, Dublin Theatre Festival has recently become part of a European network called NXTSTP, which is a project to facilitate international co-productions between eight European festivals. One of the fruits of this was a superb production, Germinal (pictured above left), created by French theatre artists Antoine Defoort and Halory Goerger, who combine visual art, music and multi-media performance.
This ingenious piece managed to present the development of human evolution and consciousness in a bare, black-box space, using microphones and basic recording devices initially, then computer-generated imagery – and pickaxes. A group of actors begin to improvise with the tools at their disposal, devising ways of creating language, then speech and sound, then patterns of meaning, then categories and taxonomies of knowledge. As it went along, the performance itself embodied the philosophical themes they were exploring, presented with irresistible wit.
As with Ground and Floor, and a small-scale, intriguing Polish production called Margarete, the impulse to interpret and tease out meanings became paramount, using every tool and communication medium at the theatre-maker's disposal – from music and song to choreography, from text and dialogue to digital projection and 8mm film reel. This was theatre interrogating its own processes, not in some drily meta-theatrical way, which can lead to a cul-de-sac, but in a spirit of bold enquiry: asking not only how it is made and for whom, but, more importantly, why it is made.