10 Questions for Phil Campbell of Motörhead |

reviews, news & interviews
10 Questions for Phil Campbell of Motörhead
10 Questions for Phil Campbell of Motörhead
Long-serving guitarist talks Johnny Cash, Hawkwind and, of course, Lemmy
Wednesday, 23 October 2013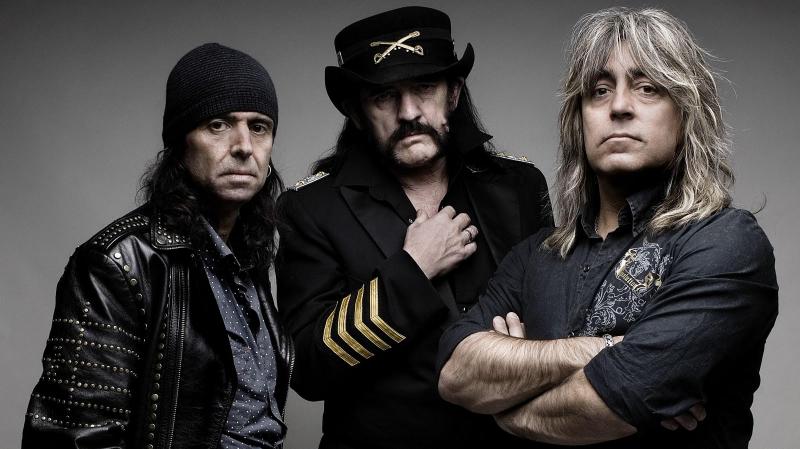 Phil Campbell, left, with Lemmy and drummer Mikkey Dee
Phil Campbell (b 1961) has been guitarist with Motörhead since 1983. That's four fifths of the band's 38 year existence. His have been the dirty great riffs at the core of classics such as "Killed by Death", "Flying to Brazil", "Eat the Rich", "Stone Deaf in the USA", "Rock'n'Roll" and multiple others.
He has appeared on 15 of their 21 studio albums, including
Aftershock
, their latest, which initially comes cover-mounted on a special edition of
Classic Rock
magazine, but receives a full release in late November.
First turned onto the guitar by listening to Jimi Hendrix, Campbell grew up in Pontypridd. He briefly met Motörhead's Lemmy Kilmister at a Hawkwind concert in the early Seventies, when he was a boy and his future frontman played bass for the band, but Campbell's own first outfit of any note was Persian Risk, minor players in the British New Wave of Heavy Metal. He joined Motörhead after an audition which also saw another guitarist, Wurzel (Michael Burston), become a member, despite the fact Lemmy had only been looking for a single player to replace departing ex-Thin Lizzy slinger Brian Robertson.
I feel sorry for Lemmy all the time because he's such a recognisable chap
This August Campbell debuted the Phil Campbell All Star Band at the Bloodstock Festival, but he will be back to his day job when Motörhead tour in November. Campbell still lives in Pontypridd, from where he spoke to theartsdesk by telephone. He has a strong Welsh accent and a quietly infectious sense of humour.
THOMAS H GREEN: What do you reckon to that shrill, high-pitched voice so many heavy metal singers use, the one that sounds like Led Zep-era Robert Plant but even more screechy?
PHIL CAMPBELL: It's time to go and make a cup of tea then, isn't it. I'm not keen. I like a good tone. Just because you're hitting the high notes, well, some dogs might like it. You might get a pack of dogs following you round. Some people like it too. I couldn't sing like that. I don't think many people can sing like that. Those that do, and with so much ease, they think it's really cool but it's not for me. I'd rather listen to Johnny Cash. He wouldn't have been into the screamers, would he? He'd probably have just taken a gun out and shot them. He wouldn't have put up with that bullshit, anyhow.
What's a normal day at home in Pontypridd for Phil Campbell?
Well, I didn't get up until ten today but sometimes I'm up at six. I just can't sleep. I usually get up and walk my dogs, three Bichon Frisé called Ozzy, Angel and Leah. Then I might plod a bit on the guitar, have a read – at the moment I'm reading Heaven and Hell, the autobiography of Don Felder of The Eagles. I read a lot of rock biographies. Then I'll do a bit of cooking, maybe go for a game of snooker with my brother, then walk the dogs again. Nothing too exciting then.
How do you feel about having your album given away with a special edition of Classic Rock magazine?
We did it before [with previous album The World is Yours] and it's fine. Well, I don't have any problem with it anyway. Classic Rock's a great magazine, one of my preferred reads because it's kind of my era. I just hope people like the record.
Motörhead perform "Killed by Death" at the Wacken Open Air Festival 2009 with guest vocals by Nina C Alice from the band Skew Siskin and fire-dancing from semi-clad female circus troupe The Fuel Girls
Do you prefer playing Motörhead's thrashier, more metal songs or bluesier numbers such as "Lost Woman Blues" from the new album?
Both really. I wouldn't want to play all one type. I wouldn't want to play all mental stuff. You need a nice balance. We got 14 songs together for this record which is more than we've ever done before. That's quite surprising for three old geezers but we took our time on it, wrote some songs early last year, wrote a few bits touring, then had time to reflect and record it properly. There were no major problems. Everyone knows what they're doing and what needs to be done.
How was filming that Kronenberg ad where you did an acoustic version of "Ace of Spades"?
I wouldn't mind doing a few more acoustic bits and pieces. That Kronenberg ad they mocked up a French bar on the outskirts of LA. It was a good laugh, guys wearing berets, and only took one day's filming.
Do you ever get sick of Lemmy being the focus of the band, the one all the media want to speak to? Do you ever wish the spotlight swung your way?
It doesn't bother me, actually. I feel sorry for Lemmy all the time because he's such a recognizable chap. He can't really go anywhere without people staring at him, asking him things, shouting "Ace of Spades" in his face. We split everything three ways but I get to sneak around most of the time largely unnoticed which suits me fine. Lemmy's a legend and he can cope. He's used to it all by now.
He's had well-documented health problems over the last year. Is he all right?
He's just building up his stamina. He's moved into a new house in LA. After a nice summer break we're all getting ready for the tour to start. He's moved out of the cramped flat which was featured in the film Lemmy. He's keeping that for storage as his new place is down the road on the same street. He's keeping the old place for some of his memorabilia. He'll have two places but you couldn't even fit a Rizla paper in that old flat anymore, it was that jammed. It was a mess in 1990 when he moved in. Imagine what it's like now. He put a train set up in there last year - that must have been fun, but it never did one full lap of the track.
What's your favourite Hawkwind song?
"Psychedelic Warlords" from The Hall of the Mountain Grill. I like the way the riff starts up, a little bit of delay on it. I aways get excited about that. That album was the tour I first saw Hawkwind and met Lem when I was 12, like.
My favourite Motörhead album is 1916. How was it to make?
We did it in Music Grinder in Los Angeles. That was the last one with Philthy drumming [original Motörhead drummer Phil "Philthy Animal" Taylor]. Peter Solley produced it and did some great work. It was the first album we made when we'd all moved to LA, a lot of fun and a sparkling sharp attacking sound. I was talking to someone the other day and he said that if you listen to each track in alphabetical order it works even better. So you listen to "Angel City" first and so on. He reckons that's amazing… well, it's something to do when you're at a loose end, eh. I spent a couple of years off and on in LA but I'd rather be back here. When you're Welsh, you're Welsh, innit. Never stray far from the valleys.
Do you concur with Lemmy's anti-religion stance?
Well, it's all bullshit, innit. I don't believe any of it really. It just causes trouble all the time when you take religion too seriously. Turn on the news any day and you see what happens.
This year is your 30th anniversary in the band - what have three decades in Motörhead taught you?
Don't let the bastards grind you down.
Watch the video for new single "Heartbreaker"
We got 14 songs together for this record, more than we've ever done before - quite surprising for three old geezers
Explore topics
Share this article