theartsdesk in Amsterdam: Club Culture Overdose |

reviews, news & interviews
theartsdesk in Amsterdam: Club Culture Overdose
theartsdesk in Amsterdam: Club Culture Overdose
How much house music can one critic handle?
Now this is what we call a work conference
The thought of attending a dance music conference in Amsterdam frankly gave me the creeping horrors. I'd never been to Amsterdam Dance Event before, and the combination of DJ egos, business hustling and relentless partying through hundreds of club venues in a renownedly liberal city presented so many opportunities for both boredom and complete catastrophe, it just seemed like a fool's errand. But this, of course, wasn't fair.
The dance music business is far more interesting than rumour and memories of the ego-bloated nineties superclub era would have it, and Amsterdam is a delightful place to hang out in any context – given the right balance of self control and gung ho attitude, that is.
Those DJ (and other) egos were there, though. As I milled around the Amsterdam Dance Event conference venues in the daytimes of the five-day marathon, pushing through crowds with Paul Oakenfold bantering away just here, Nile Rodgers (pictured below right) holding court just there and a ripple of whispers as Richie Hawtin comes in somewhere over yonder, it could seem hideously staid and staged. Something like 98 percent male, overwhelmingly over-35, and slightly over-reliant on expensive hair-care products, the attendees milled in and out of panels and presentations, droned on at one another about territories and market share, looking over one another's shoulders for the next person to pounce on, and generally just reminding me how quickly my younger, drunker, punkier self would have been thrown out of any such establishment for winding people up.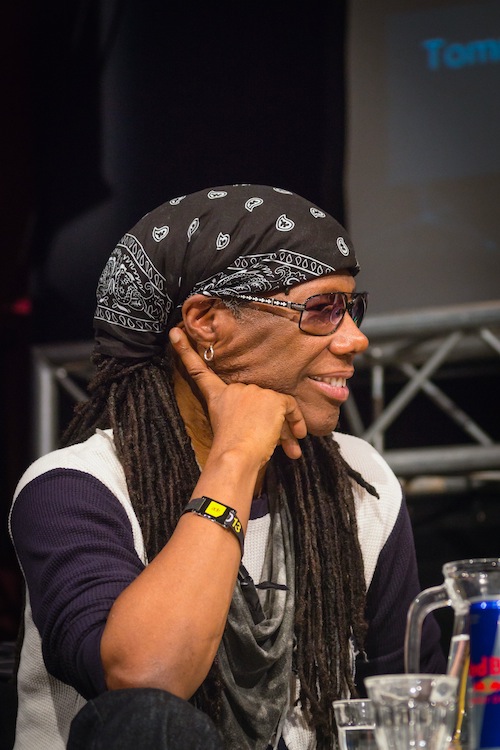 Thankfully, though, there was plenty to distract me among the blather and keep the devil on my shoulder at bay. Even the biggest music corporations still employ serious music lovers, and there were old friends to see, gossip and laughs to be had and surprisingly edifying conversations about music and how it's consumed to be had even in the casual smalltalk between meetings. For every hectoring presentation by Beatport or some huge new American "EDM" promoter where they laid down the law as to how music would be made and used, there was a conversation that affirmed that the structure of this event, and the whole of dance subculture, where the line between punters and industry has always been thin, was made of personal relationships as much as it was of business ones.
And slightly aside from the standard music biz machinations were odd and fascinating people and innovations. I met a man whose company helps young labels - even seemingly uncommercial ones - create beautiful visual identities, and I checked in with Red Bull Music Academy who are running a radio station throughout ADE. I am still reeling now from the discovery of Paul Oomen and his 4D Sound (see video below), a vast set of pillars in his out-of-town studio that can literally make sounds fly around a room like phantasmagorical artefacts. This thing is to surround sound what surround sound is to a wind-up phonograph, a development in sound art and music as transformative as the shift from black & white to colour. And the young lads from wemakeawesomesh.it, who who have made an immense success making everything from quirky online campaigns to video games to enormous rickety real world Rube Goldberg machines – simply because, well, they like "making awesome shit" – renewed my faith that there are people in the media world who are driven less by ego and greed and more by the desire to create and connect.
See Paul Oomen's 4D Sound in action
The evening entertainment itself – with tens, maybe hundreds of thousands of punters from around the world flooding around hundreds of clubs to hear thousands of DJs – was overwhelming. For all the rise and fall of fashionable, interesting and/or innovative genres, this was a reminder that the beating heart of nightlife, now as two decades ago, is house music. Deep house, electro house, vocal house, tech house... all still house. And throughout those hundreds of venues across Amsterdam the boom-boom-boom-boom of the kickdrum pulsed all night every night in as many permutations as there were DJs. At times, as the inevitable weariness washed over me, it was very easy to slip into hearing it all as one undifferentiated throb, as it was easy in weak moments to see the constant traffic through the clubs as a slightly horrific Burroughsian vision, an unending circulation of undifferentiated flesh and capital.
But this was no place for weariness. The pleasures of nightlife require stamina, the repetitions of the music only bear fruit through immersion, and the casual observer – the wallflower – will literally never see the core of what is happening on the dancefloor, let alone understand it. So we girded our loins, made sure we were well fuelled with rich pancakes and brown beer, and sallied forth to take in as much house as we can as participant-observers. And once we were in the thick of it, far from being undifferentiated, the most striking fact was exactly how multivariant the clubs, crowds and sounds were, with seemingly minute differences in the arrangement of those house beats signifying enormous cultural differences.
So a trip to see the "Nu Disco" – essentially another strand of house music – of a load of bearded DJs from Norway and New York threw us into the middle of a smiling, mobile party crowd, made up of well over 50% girls, in stark contrast to the "sausage party" of the ADE conference. The easy-going feel of the crowd was matched in the music, which was rich and sweet, with multiple influences and samples of old music, and rippling layers of synthesizer and acid house gurgling folded expertly together into chunky, reassuringly solid grooves. It was downright cosy in fact, to the point of seeming over-safe on occasion, but worked wonderfully as a reminder of how sophistication in clubbing need not be cold or alienating to the casual participant.
Contrast that with the night run by AtJazz the following night: AtJazz aka Martin Iveson is a British producer in multiple genres, but best known for deep house, and particularly revered for this in South Africa where the house scene is one of the biggest in the world. His party was thrown in an upmarket restaurant with the tables taken out; the high ceilings, all white walls and fixtures, and relatively bright lighting were all perfect to showcase the high-class crowd. It was the most diverse ethnic mix I've ever seen in a club – not just Africans and Brits of various shades, but a veritable United Nations of well-dressed clubbers.
It included a fair number of individuals who looked very wealthy indeed, in a rather more interesting sense than the trashy rich you often see in the VIP areas of mainstream house clubs – these were people who looked like they had real stories to tell. But it was extremely hard to draw class boundaries of any kind, as whether people were suited and booted or in streetwear, all were groomed, poised, polite and locked into the music. There was almost none of the surging crowd movement of the previous club, but in keeping with the immaculately constructed house rhythms that are rooted in a long, deep history of black music people grooved elegantly with some incredible retro jazz-dance moves on display in places.
In contrast to THAT, the Hessle Audio night that we went onto from there felt almost like a student disco: the crowd here were hip, certainly, and younger – but they couldn't compare to the AtJazz elegance. Mind you, we were put off instantly by a frankly rubbish set in the venue's bigger room from young man of the moment Joy O, who milked his big, clunky house instrumentals for all they were worth, making it feel as if he was dictating reactions to the crowd rather than playing a part of the wider experience as a great DJ does. This, sadly, put my friends off, leaving them without the necessary patience for the awesome Omar S, whose style works through a hypnotic accumulation of what sound like tiny loops from soul records; they dragged me away just as I began to zone out on it, and the party never got the chance to redeem itself for initial poor impressions.
On our final night, we went to a night run by the German label Exploited. Tired and overloaded with four-to-the-floor rhythms, I was not looking forward to it at all, as their records have never really done it for me, being extremely simplistic "electro house", light on funkiness and heavy on obviously signposted dynamics. I very quickly found myself ready to eat my words, though, as when we got in there was something so honest and direct about the crowd (funkily but neatly dressed, perhaps tending to the lower-middle class), the delivery of the music and the music itself, it was hard not to get drawn in.
Of all the clubs we'd seen, this seemed to be the most obviously ecstasy-fuelled: intensely sweaty with the crowd packed tightly in, making shapes with their hands and making a lot of noise – and the DJs were as one with the crowd, seemingly having just as good a time. Their records were oddly similar to Joy O's the night before, but rather than letting them play on ponderously, teasing the audience with the promise of release, they kept on mixing, aiming for and delivering maximum bang-per-buck from the source material. It's unsophisticated, but by gosh it worked. And to see all these people so fiercely focused not on their phones or cameras, not on where they needed to be or what they needed to do next, but on their own bodies together in the room and the immediacy of sound and movement, was a refreshing reminder of important lessons that club culture still has for the wider world.
We did take one diversion from the four-to-the-floor kickdrum, walking around the corner to the Melkweg venue for a drum'n'bass night. There the hosts, Rotterdam trio Noisia, were delivering a right royal racket to a vast, fist-pumping, brilliantly uncool audience – but it was in the smaller side-room that we found the most fun. There a young US duo Carvar & Clock, whose look and mannerism marks them out as born heavy metallers, were piling on a glorious car-crash of genres. The kind of screaming, crashing dubstep that's long since fallen from fashionability; the "trap" beats of southern states gangsta rap; the apocalyptically religious fury of Jamaican dancehall of the "fyah bun Babylon" school; the vast arpeggios of commercial trance music; the grind of metal itself: all flooded out of the speakers in non-stop pursuit of intensity of experience. If the Exploited DJs were about prolonging the peak experience, this was a never-ending heart attack. A row of Dutch lads headbanged in sync on the balcony above the dancefloor, while down below, sweat-drenched party people danced, laughed and drank to this preposterously improper sound barrage.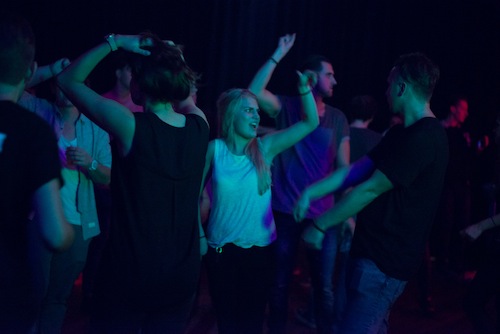 40 minutes of this was enough for our old bones, though, and finally we headed back to the Exploited party, which now felt a little tamer in comparison. For a minute we checked out a man in beaked carnival mask, black suit and white gloves, playing an oddly sub-aquatic and melancholic strain of vocal deep house in one room – before realising that we were perfectly timed to catch Joyce Muniz, the Brazilian-born, Austrian resident DJ/producer, who it transpired was playing perhaps the most perfectly pitched set I've seen all week. She's best known for "tropical beats", uptempo fusions of South American and Caribbean styles with European dance music, but here she was playing – you guessed it – straightforward house rhythms, albeit heavily flavoured with the classic techno sound of Detroit.
Perfectly matching the op-art pattern on her dress, she played dizzying games with the simple geometry of the four-square rhythms and metallic riffs, showing as well as anyone all week how these most basic of patterns can still be a vehicle for personality and passion. As 4am rolled around, she injected new energy into the Exploited crowd, and it was clear they'd still be going right into Sunday and perhaps beyond. We were really feeling old by now, though, but at least we could retire to bed having not only survived the relentless onslaught of house but found something new and exciting within it. The relentlessness of ADE inevitably took its toll on all of us – but for all its overload, for all its blarney and guff, for all the odd cultural conservatism of a lot of the scene, its ability to draw one in to a fascinating web of international connections proved to be still quite amazing – and as a catalyst for discovery and re-ignition of musical passions it takes some beating.
The boom-boom-boom-boom of the kickdrum pulsed all night every night in as many permutations as there were DJs
Explore topics
Share this article