10 Questions for DJ/Producer Richie Hawtin |

reviews, news & interviews
10 Questions for DJ/Producer Richie Hawtin
10 Questions for DJ/Producer Richie Hawtin
How is the techno elder statesman feeling about stepping into Lloyd Wright's space?
Richie Hawtin, in two minds about his alter-ego
Richie Hawtin (b 1970) is no stranger to the art world, nor to working on a monumental scale. The British-born Canadian techno producer/DJ did, after all, collaborate with Jeff Koons, Jean-Luc Godard, LaMonte Young and Anish Kapoor for the French millenium celebrations.
But his Dior-sponsored show at the Guggenheim Museum in New York this week may carry an even greater weight of expectations than that; techno and electronic dance music ("EDM" as its commercial form has come to be known in America) have never been bigger, and rather than a collaboration, this will be all his (well, and his technical team's): an audiovisual performance in his Plastikman guise tailored for the Guggenheim's space and acoustics.
The Plastikman concept has evolved over the years, to become a vast son-et-lumiere show in the round, with the starkest, boldest possible application of strobes and black, white and red pattern projection to illustrate and extend the harsh percussion and fluid acid house synthesiser lines of his music. In his previous interview for theartsdesk, Hawtin said "my job with Plastikman live is to bring the weirdest possible show to the most people", and looked forward to a revamped "version 1.5", and then in 2012 a completely new "version 2.0". This latter never came about as planned – but in fact, it transpires that this Guggenheim show, of necessity, could be considered "Plastikman 2.0". This interview took place two weeks ago in Hawtin's spacious and extremely tasteful hotel suite at the heart of the ADE conference in Amsterdam.
JOE MUGGS: Are you thrilled to be playing in that building? As an architecture fan it must be exciting.
RICHIE HAWTIN: Well, I'm an architecture and art fan, so the Guggenheim resonates on a number of levels; I'm also a fan of having the chance to do a gig anywhere strange, or which takes you out of the context of the club. You start with different perceptions and preconceptions about what kind of music should be played there, and it just allows us to play and experiment. Even taking a normal DJ set into a place like that is going to be perceived as something different. So we're playing with all those possibilities right not with the design and the idea of the show.
What do you gain most from stepping into that rarified world of expectations?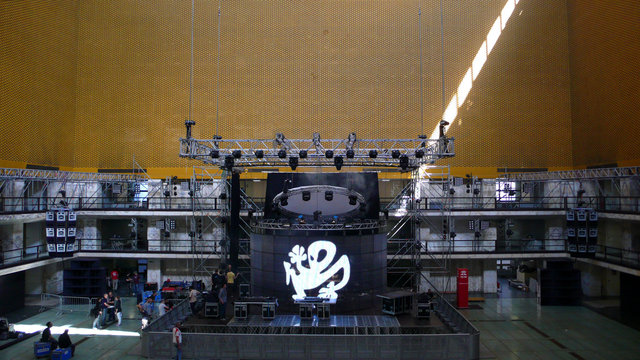 You always have the gain of potentially touching people who've never heard of you or listened to music and just bringing them closer in to electronic music in general. And for the greater mass or scene of electronic music, it helps bring another type of legitimisation to it, and adds to the tapestry of what electronic music has been, or is, or can or should be. It's still very easy to relate electronic music to dark nightclubs or the hours after midnight, but bring it into that context brings out a dialogue with a whole history of art and also I suppose is intellectualising a little bit the whole scene of music that we do.
So it's not just a profile boost for you but a vindication?
Yes, but not only that, it's stimulating. I'm not necessarily the one to play in the art-music playing field all the time – you have people like Carsten Nicolai [aka Alva Noto, sound artist and co-founder of the Raster-Noton label] who are very comfortable in that zone, but then it's equally important for Carsten to do his Sónar festival gigs and straight clubbing gigs as it is for him to do his installations I that world. We need to go back and forth to show diversity and challenge ourselves, and for me one of the great challenges in doing this is to get my Plastikman hat back on, re-look at what we did a couple of years ago, and what we can update and change right now. And this has reopened a whole discussion between me and my team, about what is available right now in software and technology for what we can do.
And what do you lose in stepping out of those dark, post-midnight spaces?
Well, you lose the comfortability of being able to walk into just about any club in the world with no preparation and have a great potential of rocking it [laughs], so it's a step out of the comfort zone. I mean somewhere like the Guggenheim, though, there is actually the potential for people being more open minded than the crowd in the average club, so although there's a risk and although it is that step outside the comfort zone, there's a more open playing field. I guess that's it though, part of the risk and what's scary about the project is that I spend so much of my time in clubs that I don't have to think about what I'm doing when I play those gigs, and probably when I don't think is actually when it's at its best. Here I have to think a lot, not only in terms of the preparation, but it's also going to be quite intense during the show to find my way through a new and different type of performance. When we did the new Plastikman shows for the first time, three or four years ago, we built a whole new system, we were going on the road – still in nightclubs or festivals, but it was a totally new type of show that we had to grow into, my team an I. So this is taking what we've learned from that, trying to take it out of the club, put it into a new context and hit the ball out of the park in only one night. So what do we lose in taking it out of the clubs? We lose a big safety net!
Is there a precedent for you in taking this kind of risk?
Yeah, we had a similar situation to that in 2004 when we did the old Plastikman live show at MUTEK [festival in Montreal], we did a lot of preparation for one show, it didn't go as well as it could, and it was not only disappointing for how the show went, but disappointing in that we didn't have the possibility to do more shows [like it] to realise what we had planned.
Watch a trailer for the Plastikman 1.5 shows in 2001:
One of the key things about the Plastikman show is that you try and inhabit the entirety of a room with sound and visuals – the Guggenheim is a complex space to do that with, so how are you approaching it? It must play on your mind a lot!
Sure, it does! We flew to New York just to get another feeling of the space physically walking through it. We had originally thought about putting the circular Plastikman structure inside, and really that's why they originally approached us, they thought that looked good and would fit perfectly in there – actually the structure was really too massive, and because it was so big it started to fight with the architecture of the room. Once you start fighting that that you're in a losing battle; you need to make something that works within the context. So we decided to change the design of the whole show and come up with something that was purposely designed to occupy the central point of this axis that goes all the way up and would find a balance with the architecture – more so than our pre-existing set up, anyway.
The dialogue between art and electronic music is not new, of course; do you feel like you have to live up to achievements of the past, whether that be Stockhausen or John Cage or whatever?
I do think there is a responsibility for those of us who've been into the [techno] scene for quite a while to spread our wings and try to challenge ourselves in going in different directions. Right now the whole world is so focused on club and EDM and electronic music that it really feels like it's being pigeonholed back into one very specific thing. I would even say that the artform and artistry of electronic music is on that precipice of being homogenised too much. So it's an interesting time for me to try and reflect on what people like Stockhausen or even Kraftwerk have done in the past and for me to try and open up to a public with certain expectations what is actually possible now.
A lot of what you're saying suggests you see yourself as an ambassador for a particular culture – is that fair?
I've always felt that it's a little bit my responsibility specifically because I've usually been at a kind of large point of popularity within the scene over the last 20 years, and that popularity has been based upon straightforward dance music – whether that's the Plastikman thing or my DJ gigs – and there've been a large number of people who are prepared to listen or come and see a show. So I like to then throw them a curveball and hopefully have at least part of that crowd be inspired by that new direction. Even if it's just one moment, one album like Consumed, the Concept series [a set of hyper-limited 12" singles of extremely stripped down music Hawtin put out in 1996], or one show like this, and even if some people scratch their heads, it's showing it's not just DJs out front pumping their fists – which I also do! So it's important for the scene, it's important to me to keep my balance, to appreciate all the differences that can come from different contexts for the electronic music scene.
Who of the current generation of higher profile club artists do you feel are also leading by example in this way?
Well Kraftwerk have done an incredible job in the last two or three years revitalising themselves and their scene – their whole idea of doing very specific shows in galleries, while still doing festival shows. Carsten is a really good example as I say. I find there's actually more people pushing into the electronic scene from the art world than the other way around, though. You've got, as an example, Lesley Flanigan and Tristan Perich and that kind of group in New York doing experimental stuff who seem really inspired by the club side of things right now. But then Jeff Mills [Detroit-born veteran DJ, producer and founder member of Underground Resistance] is one person, you've seen have a lower profile the last couple of years in the club world but a rising profile in the gallery, art world. But then Jeff's always been inspired by that, his taken on the techno scene has always been conceptualist in any case, so he fits that very well.
You must have to push against commercial forces, though, to do these more interesting, or arty shows?
Yes! For all of us, it's been such a high octane growth since the mid-2000s of minimal and techno and house again and Ibiza, and the explosion around the world of EDM, the growth of places like South America... as things have stayed pretty good in Europe, other parts of the world have just exploded – so even more of our time throughout the year can be taken up by traveling around the world playing clubs. We used to often have December and January off, but now people want you to go to BPM festivals, to Punta del Este [Uruguay] because it's their summer, and now there's bigger things going on in Australia – so with all this, there's not even much time to think about the other sides of electronic music... And I'm just hoping, hoping that this can be brought a little more into balance!
What do we lose in taking it out of the clubs? We lose a big safety net!
Explore topics
Share this article