How To Survive A Plague |

reviews, news & interviews
How To Survive A Plague
How To Survive A Plague
Compelling documentary charts the onset of the AIDS epidemic in all its rage, pain and grief
Thursday, 07 November 2013
Life during wartime: a potent reminder of the pain and passions in the early years of the aids crisis
What happens when a citizenry marginalised by society and weakened by an illness that could well be fatal are also called upon to rise up to demand the treatment, not to mention the civility and compassion, that are their due?
The answer is on often grievous yet ultimately heartening view in
How To Survive A Plague
, David France's immensely stirring chronicle of the activism - spawned in New York and then spun out elsewhere - that accompanied the first decade or more of the AIDS crisis.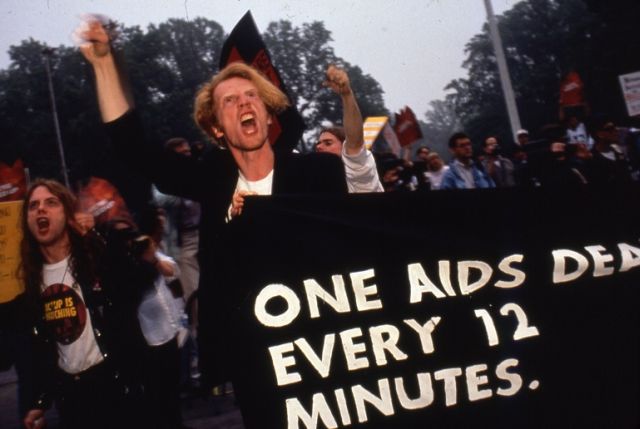 Nominated this year for an Oscar, journalist France's thoroughgoing record of events at first stirs ever-painful memories of an age when swathes of men were finding their lives cut grievously short in shocking, scary numbers. And while the gay community in and around the film's Greenwich Village epicentre does of course have allies, it also regularly encounters hostility, fear, and worse. New York's then-mayor, Ed Koch, dismisses his own city's burgeoning AIDS activists as "fascists", the community hospital (St Vincent's, which has since closed) contains its share of bigots, and national politics offer little succour in the personages of Jesse Helms and George Bush, the one questioning the very viability of the word "gay" while the other would simply prefer to play golf.
On a purely medical level, the outlook is comparably bleak. Those hospitals that will accommodate AIDS patients can offer little by way of pharmacological hope, and prospects are scarcely brightened by the arrival on the scene of AZT, at a cost of $10,000 a year per patient. The result is a busy black market on medicines imported from Europe and Japan amid the ongoing contemplation of how we continue (or begin?) to live as a "decent society" at a time of escalating panic when anxiety ramps collective concerns even higher. (There's a thunderous moment when the playwright Larry Kramer silences a fractious gathering by reminding his audience that they are living in times of "plague" - the word roaring forth with chillingly volcanic force.)
As the years pass, France reminds us via ongoing digital displays of the ever-accumulating death rate, even as he sharpens his focus to a handful of men who made of a possible death sentence a rallying cry that itself functions as a bracing study of activism in action. Rather than succumb to what many deemed the inevitable, there were those who found within themselves an entirely unsentimental heroism fuelled largely by anger. "I'm going to die from this," one of the most articulate and quietly impassioned of the men, a former bond trader called Peter Staley (pictured above). remarks. The fact that Staley doesn't - and hasn't - helps account for the shift in tone of a film that breathes a sigh of relief once monotherapy gives way to the combination therapy that continues to this day.
One could imagine Hollywood getting its mitts on this very saga, and something of the same terrain propels this season's Oscar hopeful, Dallas Buyers Club, though from an entirely different vantage point. As it is (and despite the film's oddly rushed finish), France and co-writers Tyler Walk and T. Woody Richman remind us anew of the human capacity under unimaginable duress for self-education and self-empowerment. "Will the last person alive in Chelsea please turn out the lights?" or so one of the men is heard mordantly to comment. That those lights still shine is a truth celebrated by a film that also reminds us how close we all came to being overwhelmed by darkness.
Overleaf: watch the trailer for How To Survive a Plague