Jumpers for Goalposts, Bush Theatre |

reviews, news & interviews
Jumpers for Goalposts, Bush Theatre
Jumpers for Goalposts, Bush Theatre
Tom Wells's new play about a genderbending football league is both tender and uplifting
Beautiful losers: Matt Sutton and Andy Rush in "Jumpers for Goalposts"'
You can see why sport makes for good drama: it has competition, conflict and clashes of ego. It delivers a result, and it has a touch of glory. At its best, it can send you out of the theatre singing with joy. Or it can be a bit bathetic. Tom Wells, whose award-winning The Kitchen Sink was at this venue in 2011, returns with another small slice of life, this time about amateur Sunday footballers in Hull.
Will this be a metaphor we can all relate to, or just a tale of cranky losers?
And, believe me, they are losers. Even their name is a giveaway: Barely Athletic. The chief motivating spirit is thirtysomething Viv, who is in a permanent strop, and who once played for one of their regular opponents: Lesbian Rovers. Her brother-in-law Joe, unfit and almost forty, is a stolid widower whose wife was Viv's sister. Then there's Beardy Geoff the busker, twenty-five and a victim of gay bashing, who has a particular thing about playing in his lucky woolen hat. The youngsters are Danny and Luke.
Any hopes of romance lie with Danny and Luke
The little five-a-side genderbending league they play in has comic team names — the others are Tranny United and Man City — and the competition lasts six weeks, during which the four teams play each other twice. At one point, Viv produces a helpful table of results. It's not really necessary, however, as Barely Athletic keep losing, and losing, and losing. But will they be more successful in love? Somehow, both Joe and Beardy don't look like romantic material, although the latter does play the field.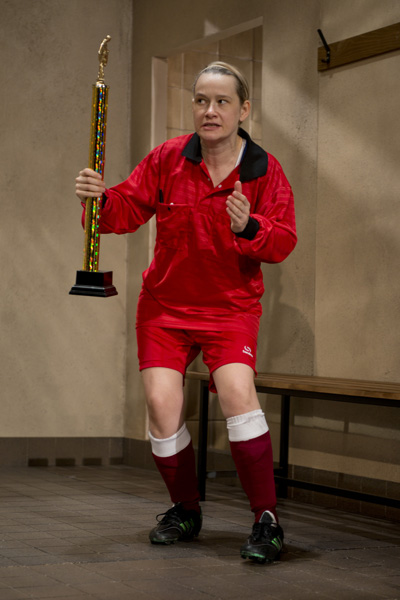 So any hope of romance lies with Danny and Luke. But although Danny is quite experienced sexually, Luke is a very shy 19-year-old who lives at home and works in the local library. Gradually however the two boys get together, and although the path of puppy love rarely runs smoothly, there's a refreshing blast of emotional honesty that blows away the dirty cobwebs of the changing-room set — designed by Lucy Osborne — where the action of this 90-minute play all takes place.
Wells's writing is beautifully observed, gently humorous and full of feeling. His picture of young love is nicely balanced by the more experienced, and cynical, older members of the team. And Viv's observations about team spirit, loyalty and finishing the job have a wider resonance. Rooted in a fine sense of place (you can almost see the lights over the Humber), this is a story that delicately teaches you about the transformative nature of experience. It also evokes an image of the nation as eccentric hobbyists, rather than efficient sportsmen and women, self-deprecating Brits who are openly emotional and amusingly stoic.
Although I do miss the big ideas, the ethical dilemmas of today, in Wells's writing, I couldn't help but warm to the ache of loss and the tingly warmth of desire that he and his director James Grieve create in this show, aided by a lovely cast: Vivienne Gibbs as Viv (pictured above right), Matt Sutton (Joe), Andy Rush (Beardy), Jamie Samuel and Philip Duguid-McQuillan (Danny and Luke). They may be playing losers, but the audience leaves the theatre with its head held high.
It evokes an image of the nation as eccentric hobbyists, self-deprecating Brits who are openly emotional and amusingly stoic
rating
Share this article