The Kitchen Sink, Bush Theatre |

reviews, news & interviews
The Kitchen Sink, Bush Theatre
The Kitchen Sink, Bush Theatre
A touching slice of Yorkshire domestic life that bubbles but never comes to the boil
Thursday, 24 November 2011
Singalong with Dolly: Ryan Sampson in 'The Kitchen Sink'
This play has a deliberately evocative title: not only does it suggest overabundance ("everything but the kitchen sink"), but also a whole genre of playwriting (Kitchen Sink Drama). At the same time, the kitchen is the heart of family life.
In fact, the title also has a more literal meaning: with a plot involving a blocked plughole, Tom Wells's new play, which opened last night, gives us a chance to see how this venue's much-lauded new premises suit the small family dramas that worked so well in its previous location.
This family drama is typical of one strand of British theatre at the moment. Its quiet domestic setting, in an ordinary household in Withernsea, Yorkshire, is gently symbolic. The town is "knackered and funny and falling into the sea" and this family isn't doing so well either. Kath, a mum and school dinner and lollipop lady, and hubbie Martin, who is a milkman, are contemplating the shrinkage in the market for delivered pints. They worry about the future; they worry about their kids: Billy is obsessed with Dolly Parton and Sophie loves ju-jitsu.
Kath joins Billy in a singalong to Dolly Parton's 'Tennessee Homesick Blues'
When Sophie brings her nervous boyfriend Pete, a young plumber, home, and Billy goes to art college in London, this study of character deepens. Underneath her strong exterior, Kath is very worried about their job prospects; Martin is tough and a bit emotionally autistic, but he is also determined to resist change; Sophie is very vulnerable despite her athletic and uncaring demeanor; Billy is gay and his art is naively camp; Pete just longs for a little bit of tenderness. In fact, all of them do.
There is also a neat streak of sheer eccentricity in this portrait of obscure lives: Pete's 83-year-old gran smokes weed, Kath joins Billy in a singalong to Dolly Parton's "Tennessee Homesick Blues", and she bakes muffins stuffed with courgettes. Each character takes an unexpected turn: at one point, Sophie packs a punch, Martin manages to give up the thing that's dearest to him and Kath turns to drugs. Even Billy realises that his heart's desire is not what he first thought.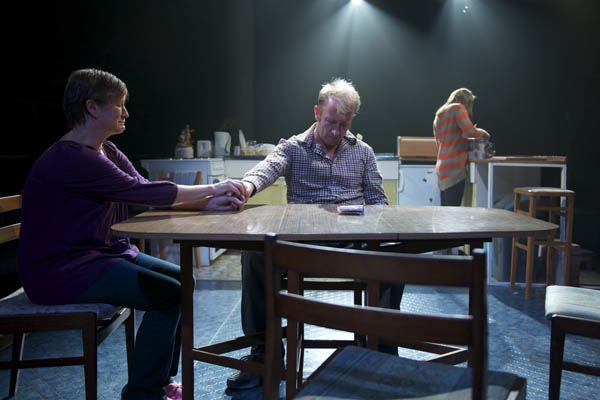 The blocked sink quickly becomes a metaphor for all the emotional repression of this one family, aptly likened to a group of hobbits. Wells writes with enormous empathy and clear-sighted observation, but there is something relentlessly old-fashioned about this kind of gentle slice-of-life play. There are moments of fine poetic writing, but the general atmosphere is quite miserable, despite the jokes and the larks. There is not much plot to this piece about a year in the life of the characters, and their little world acts like an echo chamber: minor setbacks become emergencies and small tiffs become tragedies.
Of course, there is a great deal of integrity to Tamara Harvey's heartfelt production, and Wells provides some touching moments when all you want to do is get on the stage and give the characters a hug. But the central idea of small changes, and the stoical idea of just managing, at its best seems to me a compensation for failure and, in the end, emotionally untruthful. In this fictional world, everyone is a bit too nice. At its worst, the story seems to offer only a counsel of despair. At a time when the world is crying out for big changes, the idea of small ones feels really out of touch.
Still, it's hard to fault the finely nuanced performances of Lisa Palfrey and Steffan Rhodri as Kath and Martin (pictured above right), and the youngsters are equally convincing: Leah Brotherhead lends Sophie an icy standoffishness while Andy Rush's Pete is hilariously gawky; Ryan Sampson's Billy mixes northern provincialism with a dash of camp. On Ben Stones's open set, which is a monument to kitchen-sink and peeling-lino realism, this is a play whose kettle often bubbles, but never really comes to the boil.
There are moments of fine poetic writing, but the general atmosphere is quite miserable
rating
Explore topics
Share this article