Sixty-Six Books, Bush Theatre |

reviews, news & interviews
Sixty-Six Books, Bush Theatre
Sixty-Six Books, Bush Theatre
Sixty-six writers, 23 directors and 130 actors launch the new Bush Theatre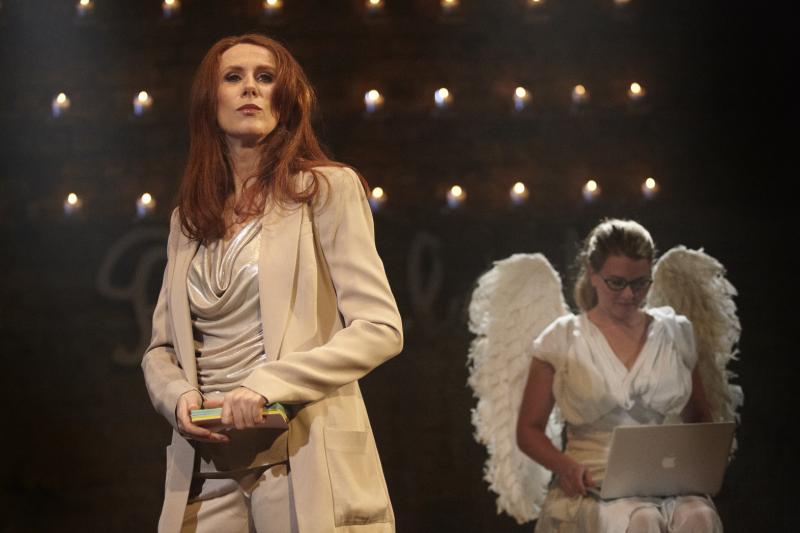 Catherine Tate as God in Jeanette Winterson's 'Godblog' kicking off the Bush's 24-hour relaunch. An angel looks on
Sometimes theatre people do mad things. Like stay up all night and the following day to "celebrate" the King James Bible and a theatre's house-move to new premises. Its 400th year has been a good year for that collection of stories currently being advertised elsewhere as "the book that changed the world".
And for the Bush Theatre's outgoing artistic director Josie Rourke, having moved into John Passmore Edwards's elegant Victorian Library round the corner from its old Shepherds Bush Green stamping ground this weekend, "There's no finer act than to open a new theatre - it's the single most beautiful thing I've done in my life."
The Bush went for broke for its relaunch opening night - nothing less than a 24-hour theatrical binge, starting at 7pm on Friday night and going through non-stop till Saturday evening at 7pm with 66 new plays "responding" to all 66 books of the King James Bible. Sixty-six writers, 23 directors and 130 actors are the awesome statistics.
I have to fess up to only joining the gallant band in the late morning. By that time, they had been through the night with the Old Testament, starting with Jeanette Winterson's Godblog with Catherine Tate, were well on their way through the New Testament and were lining up for the final stages. I had missed the gospel band brought in around 4am to rally flagging spirits and the Archbishop of Canterbury, Rowan Williams, tussling with Lazarus. I joined at Paul's Epistle to the Ephesians, decanted by none other than the writing comedy duo of Marks (Laurence) and Gran (Maurice), late of Birds of a Feather, Rik Mayall's The New Statesman and many more TV hits. It was a gentle introduction. The title, Ephesus-Schmephesus, tells you all you need to know. A deliciously comic take on St Paul envisaged as a slightly camp Damascean convert, trying to explain his Christian conversion to his very Jewish mother and local rabbi.
With such a welter of writers and styles, these modern equivalents sometimes baffled, sometimes moved me and one or two simply didn't work
No time here to run through the highs and lows and the specific spills and thrills of the other 17 plays that passed before me in the following seven hours. With such a welter of writers and styles in short 15-minute-or-less slices, plus my own barely glancing acquaintance with the later stages of the Bible (Thessalonians or Philemon anyone?), some baffled me, some stood on their own as pungent emotional or psychological snapshots, and some didn't quite work. All were brilliantly performed.
Re-reading in the early hours the original Epistle of Paul to the Philippians on which Chris Goode had based his response, The Loss of All Things, I am still puzzled as to the link between the two, other than the line, "I count all things but loss for the excellency of the knowledge of Christ Jesus my Lord; for whom I have suffered the loss of all things." Nonetheless Goode's piece, involving a teacher keeping a couple of gay schoolboys in detention, haunts me still, troubling through the Philip Ridley-like darkness of its imagery and the intensity of its subversions.
Anthony Weigh's The Middle Man (Hebrews) was another gay-themed play that showed how much today's writers are drawn to taking on the issue, homosexuality, over which Christians (and other religions) continue to tie themselves in knots. Weigh's play parallels Hebrews, chapter for chapter, but transfers it to a gay pick-up between a married man, Timothy (Shaun Dingwall, pictured right), contemplating suicide because his wife has discovered his bisexuality, and a young black cook, Paul (Syrus Lowe, pictured behind Dingwall), working in a monastery. Undeniably ambivalent in tone, still there's no missing Weigh's celebratory, guilt-free approach.
I absolutely loved the South African writer Zukiswa Wanner's Uncool Religion (Colossians), a savage personal upbraiding to the Apostle Paul, delivered by Rakie Ayola with grace and cool anger. Written from an African perspective, Wanner's weapon is a steely irony and understatement. "Women should submit to their husbands," goes the scripture. "Really, Paul?" replies Wanner, describing how in Africa when dutiful wives submit they become infected with Aids from their husbands returning to their villages from working in towns and sleeping with other women. Point taken.
Other highlights included Christopher Shinn's Falling Away (Thessalonians 2), Anya Reiss's fiery sermon on hypocrisy, Titus Sermon (Titus), in which a modern vicar admonishes his congregation for hounding his colleague, the most saintly, kindly and genuinely Christian of men found downloading questionable pictures at home. And Helen Mort's poignant, short, sharp homage to a traumatised squaddie returned from Iraq, Snow in Sheffield.
In Falling Away, Mark Bonnar and Indira Varma struggle to define the morality of love. Anna and Tom love each other, but Anna is married to an (unseen) increasingly depressed, out-of-work artist. Can Anna leave him for Tom, who expresses the certainty that he and she could make a good life together? Anna forgoes it because her underlying belief is that life is about "commitments and love and care". In an age given to instant self-gratification, Shinn gives us a wonderfully subtle example of a biblical teaching that carries recognisable contemporary moral force.
On a different tack, David Edgar's Concerning Faith (Timothy 1), meanwhile, goes the historical route. Brief, succinct and very telling, he gives us a reminder of the cost of believing in the then heretically regarded New Testament through accounts from three 16th-century English bishops: Latimer, Tunstall, Parker. Being burnt at the stake. That's where pursuing truth could sometimes lead you. If this extraordinary project has anything to teach us, it is about the changing nature of the interpretation of that truth, and the gap between the reality of goodness and the doctrines laid down by institutionalised religion.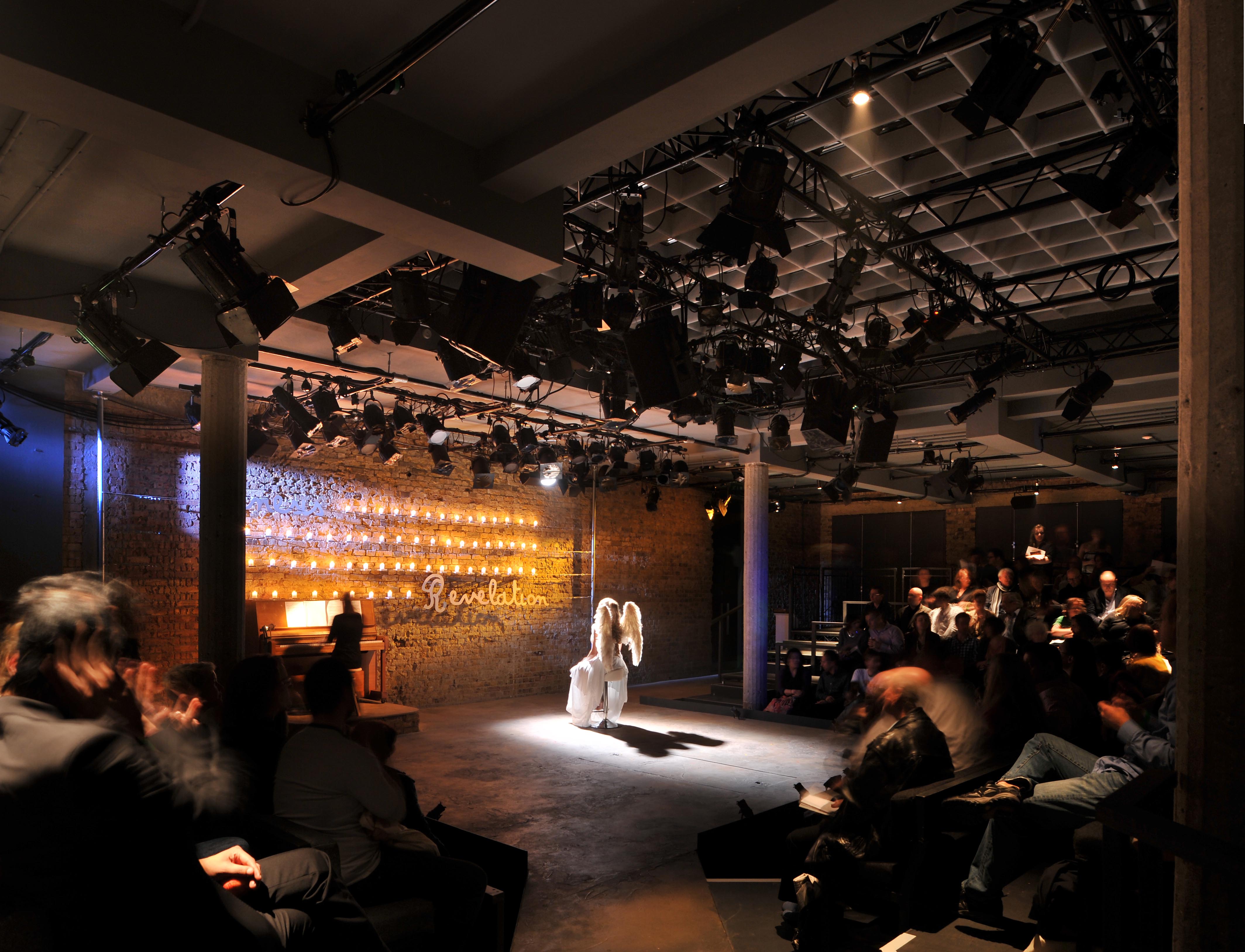 More can so often be too much. But I came away marvelling at Rourke's chutzpah to launch a new building with all guns blazing and the success of the conversion with its open-to-all friendliness (auditorium, pictured left © Philip Vile). As Rourke remarked, in 24 hours we had seen more writers, directors and actors pass through the stage than we would see in four years. Seeing only one play in a night is going to seem very small beer after this.
Sixty-Six Books continues at the Bush Theatre, 28 Uxbridge Road, London, until 29 October with 24-hour performances on 14 & 28 October. Westminster Abbey event on 21 October
There's no finer act than to open a new theatre. It's the single most beautiful thing I've done in my life
rating
Explore topics
Share this article