Peter O'Toole dies at 81 |

reviews, news & interviews
Peter O'Toole dies at 81
Peter O'Toole dies at 81
A late encounter with the epitome of screen beauty who was nominated for eight Oscars
'An optical illusion, eyes': Peter O'Toole as TE Lawrence
Perhaps 20 people in thick puffa jackets and clumpy boots crouched behind a wooden sea wall on a shingle beach in Whitstable. Or Islington-on-Sea, to give it its modern name. The north coast of Kent glittered in the sun. Across the Medway you could see the contours of Essex in stark outline. The shelled-out husk of a matinee idol, silver mane flying wildly in the bitter wind, hobbled to his mark on the other side of the sea-wall. He was on crutches after breaking a hip in a Christmas tumble.
When the first AD called "Action!", Peter O'Toole began to play out his last scene on the last day of the shoot in what turned out to be the last great leading role he would ever have.
The film was Venus, and it told of a beautiful actor growing undignifyingly old. In an idealised story of O'Toole's life, this would the natural terminus to a career that began 44 years earlier with that prophetic credit, "and introducing Peter O'Toole as TE Lawrence". He carried all before him in the 1960s. But until Venus came along, he had won the last of his seven Oscar nominations in 1982 for My Favorite Year, in which he played a washed-up swashbuckler who can't be trusted to turn up on set sober. His most successful role since then – as the celebrated tippler in Jeffrey Bernard Is Unwell (pictured below) – also played on the common knowledge that he too was fond of a drink.
When O'Toole reprised the part at the Old Vic in 1999, it was his way of bidding farewell to the theatre, and laying to rest the ghost of his infamous Macbeth on the same stage, which even he conceded was "one of the great great first night disasters. Anything that can go wrong in that play will go wrong and did for us. There's a whole school of thought that I did it deliberately. But in JB Is Unwell I was able at the end of the 20th century to do a formidable part that was full of energy, full of diction, full of movement, full of everything that I used to be able to do. I don't want to shuffle onstage as a butler."
For O'Toole's admirers, their favourite year will always be 1962, when he embodied in Lawrence the fascinating ambiguities of a man terrified by his own moral passion. Who would have thought that he could still hold together a movie in 2006? Only himself. Three years previously, when the Academy of Motion Picture Arts and Sciences chose to confer on him an honorary Oscar, initially he turned them down. "I'm still in the game" was his magnificent retort. After all those near misses, to pass up on the offer of a free statuette – this showed the steely resolve of a high roller refusing to lose faith in the dice. His last truly great performance in a film was in The Last Emperor (pictured below) in 1987. Since then there had been emperors, plus kings, dukes, lords and knights. But his turn in the spotlight seemed to have been and gone. Troy was still to come, but O'Toole ruefully admitted that it was a rotten effort. "Good script," he said, shaking his head. "Badly made."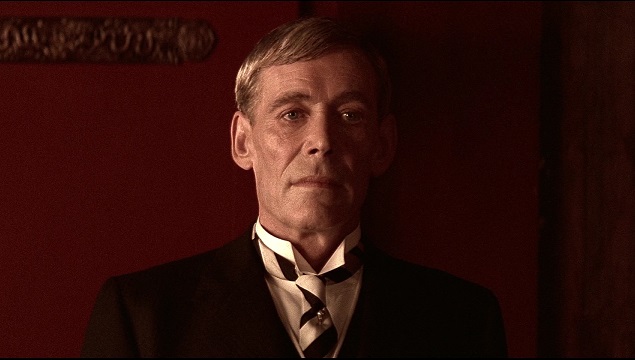 In the end he went to the Oscars anyway (see video overleaf). "It was all right," he recalled. "I enjoyed it, and my children with me. The only thing that wasn't enjoyable was in the green room prior to going on. I said, 'Can I have a drink?' 'We have lemon juice, apple juice, still or sparkling.' I said, 'No I want a drink… No drink?' I said, 'All right, I'm fucking off. I'll be back.' A man with earphones said, 'No! No!' Eventually this vodka was smuggled in to the green room. I had to turn it in for a while and cut down considerably. I still like a drink."
Then he was sent a script about an old actor who refuses to accept the dying of the light. It could have be written for him. In fact it wasn't, although he was mentioned in dispatches early on by writer Hanif Kureishi and director Roger Michell. Their previous film, The Mother, portrayed an older woman's affair with a much younger man. Although a much warmer work, Venus was its photographic negative. It chronicled the curious, tender, almost wholly platonic romance between Maurice, a jobbing thespian who has been reduced to playing corpses in cheap television dramas, and Jessie, a slovenly 21-year-old northern girl played by Jodie Whittaker (pictured below).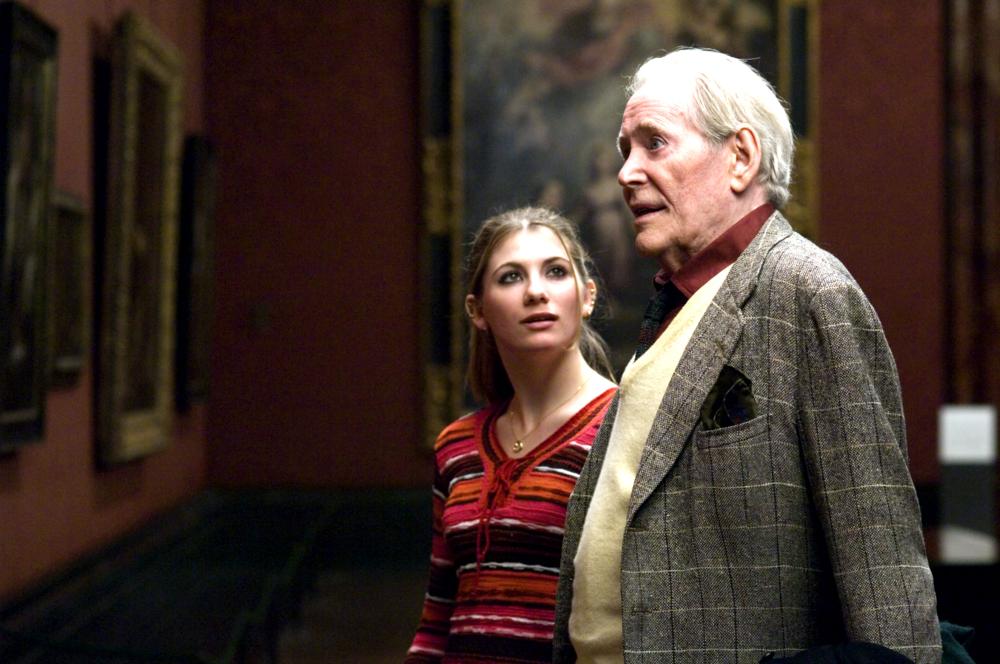 "I've not been in anything quite like this before," O'Toole told me many months later. "As a study of humans cavorting with a finite limit, the script is superb. I thought, wouldn't it be wonderful if someone really had a go at it? Because these anarchic arbitrary sexual urges are disturbing things and one copes with them. No one better for a dirty old man who falls for a sluttish young woman."
Venus was the antidote to all those market-driven Hollywood films which posit as entirely normal the idea of a pensioner copping off with a woman young enough to be his granddaughter. Inevitably some didn't like the sheer honesty of it. "The film," said its star, "is an examination of whatever statement anybody may make about that."
I meet O'Toole at a publicity photoshoot for the film. I asked him if in real life he were to meet a 21-year-old… "I've done that," he interrupted, and slipped wistfully into Shakespeare. "In delay there lies no plenty,/Then come kiss me, Sweet and twenty,/Youth's a stuff will not endure."
Of course nobody knew this better. He and Richard Burton once went to see Becket "to watch ourselves 20 years after the event. Richard said, 'We want to watch the disintegration of our flesh.' That's what you start doing if you start making movies in your 20s. Lawrence of Arabia, for example: I was 27, 28 when it began and 29, 30 when it finished. Two years is a long time. So I can see the decomposition of the flesh. You can't see it, but I can."
But Burton died before he could entirely wither. In Venus, Kureishi and Michell made capital from the collective memory of O'Toole's stolen beauty. "My God how handsome you were," says Vanessa Redgrave, playing his ex-wife, when one of Maurice's old films comes on the television. Coincidentally How To Steal A Million was on soon after I met him, and even in a frothy romantic comedy opposite Audrey Hepburn, William Wyler knew exactly how to introduce his leading man: with a close-up of those preternaturally blue eyes. They were the only remnant of the Adonis who freed Arabia, and their owner was inclined to make light of them.
"An optical illusion, eyes. The sun is amazingly powerful, the pupils shrink to tiny little pinpoints, like a cat. And if you've got dark all round it, which one is in the sun, you've got these terrible old things glaring at you. They look as if they've doing deep and penetrating and mystical and strange thoughts but in fact they're thinking about maybe a touch of claret about sevenish and a piece of haddock." I half suspected him of choosing the rather garish sky blue slacks he changed into after the photo shoot as a sort of visual pun on his famous peepers.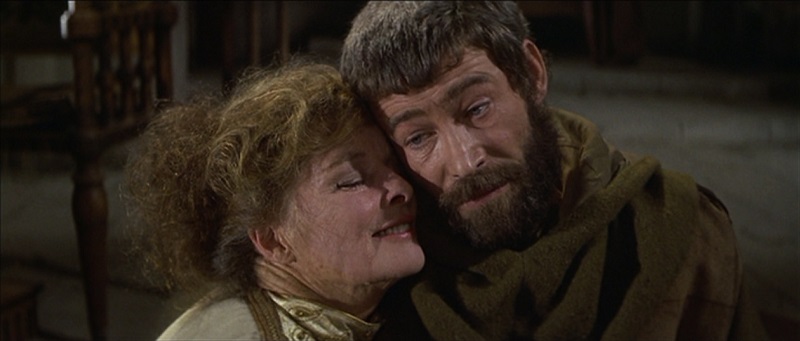 Unlike some actors, he seemed quite happy to watch his old films. "I invited myself along to a showing of Lawrence of Arabia at the Imperial War Museum." As for The Lion in Winter (pictured with Katharine Hepburn), he watched it "from time to time. I saw it a few years back and the print was off so I left." He caught a bit of My Favorite Year (pictured below) on television "and it's very good". Did it not feel like having his life flash in front of him? "No it doesn't work like that at all," he said. "You learn very early or you learn never if you're at an actor. You sit in front of that mirror at the Theatre Royal Bristol in 1958 and learn that that is the meat." He pulled at his face. "You can't be self-conscious about it. If you are you're dead. The rest is self-consciousness and nightmare. I've watched actors who I know - who are not really actors but they get by with it in the movies - and they spend their life not being able to bear their profile, poor sods. It's the vain who get fucked up. I've never thought about it."
Peter O'Toole was not an easy man to talk to, at least about himself and his work. He was not prone to self-analysis, and resistant to the idea that he and Maurice had much in common. "In what regard? We obviously do the same job." A refusal to grow old? "I am old! I know my age, I know my limitations." All right then, the positive outlook, the sunny disposition? "No, that's not me. I'm a ratty old bugger."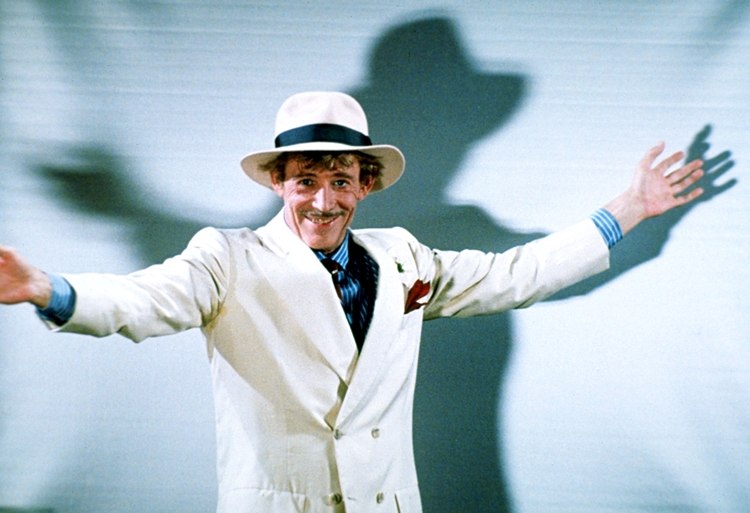 He was mistrustful of the idea that Venus could in any way be seen as a landmark in his career. "No no," he said. "It's another good job. Last year I played a blinder on television in Casanova. And I do movies. That's not bad." But the extraordinary daring of Venus felt like the perfect bookend to his golden-haired desert warrior, right down to Maurice's quotation from Macbeth ("Is this a dagger…").
His producer Kevin Loader drew me aside and said he was "not sure if Peter understands that nowadays winning an Oscar is like running for office". I pass this on to O'Toole. "They always were!" he says. "Always. Don't forget the best thing if you want to know who's going to win the Oscar is ring the Las Vegas bookie, because there are 100 members of the Screen Actors Guild who back horses. It's what I've done since 1962." Did he ever put a bet on himself? "Only once, because I was favourite and I thought I might do it. I've always been an outsider."