Devil's Due |

reviews, news & interviews
Devil's Due
Devil's Due
The debut from Radio Silence is a film about the horror of pregnancy that fails to deliver
Thursday, 16 January 2014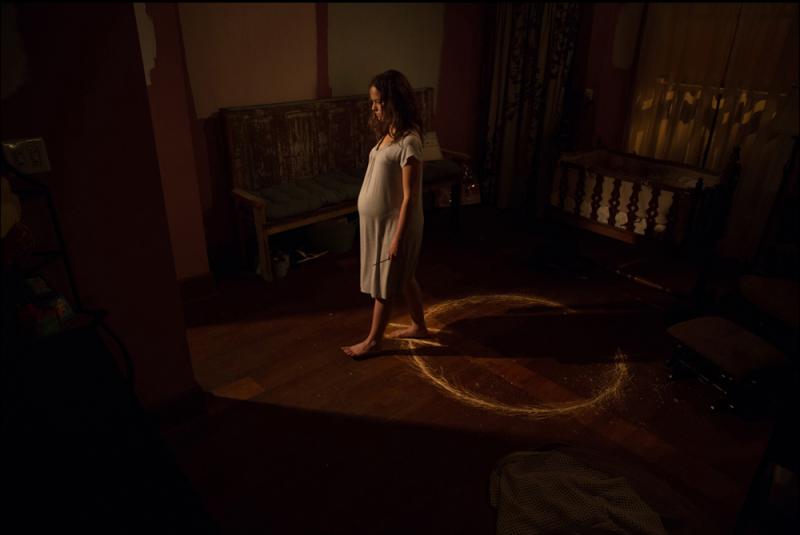 One hell of a pregnancy scare: Allison Miller in 'Devil's Due'
Filmmaking collective Radio Silence - who comprise Matt Bettinelli-Olpin and Tyler Gillett (who take on shared directorial duties for this film), Chad Villella and Justin Martinez (Devil's Due's executive producers) - shot to fame on the genre circuit in 2012 with the visceral and funny haunted-house sequence from found-footage anthology V/H/S. Presumably off the back of that they got a deal working with 20th Century Fox to make a feature-length horror film. Unfortunately, the final product is somewhat underwhelming, touted as the found-footage Rosemary's Baby, Devil's Due lovingly pays homage to Polanski's film but at the same time goes through every cliché you can imagine, making it feel as long and laborious as the gestation period of an elephant.
We meet Samantha and Zach (Allison Miller and Zach Gilford, pictured below right) on the eve of their wedding, mocking superstitious marriage traditions by spending the night together. But this isn't where their bad luck begins. On the last night of their honeymoon in the Dominican Republic (all shot on location) they are taken to a mysterious cavern club where, after passing out from an excess of booze, they are dragged to a satanic ritual and Samantha is impregnated.
There's no ambiguity in what has happened to Samantha, which was the key to Rosemary's Baby's creepiness, instead Radio Silence choose to explain exactly how she has become a vessel for the antichrist, leaving no mystery or tension. Rather the spotlight here is placed on Zach's increasing fear of Samantha's condition. The violent outbursts, mood swings, cravings and shifting shape all point to the reality of pregnancy, with the film mischievously turning the tables to focus on male isolation.
To their credit Radio Silence have made a skilfully shot found-footage film, only once dropping the ball when it comes to POV or camera placement, and when the final throes of madness hit it is just as entertaining as their sequence from V/H/S. But this only amounts to the last 15 minutes of the film. At times, scenes feel shoehorned in, working best as skits to show off visual effects rather than having any impact on story. One in particular, in which Samantha chows down on deer intestines, blatantly borrows from the far superior debut Chronicle as she shifts her victims across vast distances with great power. However Miller and Gilford as the newlyweds - taking a lead from the mumblecore school of filmmaking - do their best, turning in natural, believable performances.
Radio Silence are a talented bunch of filmmakers with a good sense of humour, but their debut feature can only be described as a premature outing which delivers titters rather than trembles. Their decision to pair mumblecore and found-footage horror doesn't work in their favour because, quite simply, we've been saturated with too much of both over the years for Devil's Due to have any freshness.