The Pass, Royal Court Jerwood Theatre Upstairs |

reviews, news & interviews
The Pass, Royal Court Jerwood Theatre Upstairs
The Pass, Royal Court Jerwood Theatre Upstairs
Russell Tovey in a career high as a footballer at odds with his sexuality and himself
Out and about - or maybe not: Russell Tovey and Gary Carr in John Donnelly's multi-layered new play
You don't have to know the difference between Dennis Wise (who is referenced during it) and Ernie Wise (who is not) to be immensely gripped by The Pass, the scorching new Royal Court play that traffics ostensibly in the world of football only to widen out into as corrosive a study in psychic implosion and self-destruction as the London theatre has seen in an age.
Factor in a star performance from onetime
History Boys
student Russell Tovey that this actor's career to this point has in no way suggested, and one finds an early candidate for both the most surprising production of the year and surely one of the very best, as well. All this, and in January, no less? Leave it to Tovey, author John Donnelly, and a peerless director in
John Tiffany
doing his best work since
Black Watch
to make the dog days of winter suddenly feel like spring.
Donnelly's text could be titled Three Hotels had the American author Jon Robin Baitz not got there first with a play seen some while back at the Tricycle - and if the pun so teasingly implicit in a title like The Pass weren't deftly wedded to the work at hand. The first scene, indeed, is an extended tease that finds two 17-year-old footballers, Jason (Tovey) and Ade (Gary Carr), sharing a Bulgarian hotel room on the eve of a career decision that is most likely to see one of them left by the wayside. The two, clad only in their underwear, banter and horse about and never get into their single beds when they can leap on top of them with much the same tetosterone-fueled abandon with which they seem innocently to come on to one another: a prolonged vignette that shows boys being boys - or possibly rather more than that, as well.
Come the second scene, we're in a Spanish hotel seven years later and Jason has become a sports star as well as husband and father, all of which hint at the ill-advised nature of his assignation with an English table dancer called Lyndsey (an excellent Lisa McGrillis, pictured right). At first sight, Lyndsey comes off as a hyper-talkative emotional and sexual pushover, but Donnelly's theatrical cunning has something altogether different in store. By scene's end, there have been so many reversals of power (with frayed nerves and flared tempers to match) that violence seems the only possible outcome. In fact, actual GBH is reserved for the third and final scene after the interval by which point Jason is an arrogant and cocksure 29-year-old who has returned home to an unnamed, deeply swanky London hotel - the sort where you find the sort of capacious TV affixed to the wall that, if you're Jason at his most heedless, you can't wait to disconnect so you can send it hurtling on to the pavement many floors below.
What's led to this aberrant behaviour? Think of it as the love that dare not speak its name in a play in which it takes the lone female figure to first use the word ("gay") that Jason won't sanction no matter who voices it. Indeed, the character at one point gets the best I-sleep-with-men-but-I'm-not-gay outburst since Tony Kushner's comparably defensive Roy Cohn in Angels In America, and Tovey at every acutely judged turn shows the cost to Jason's own buffed but damaged self of inhabiting a lie that he knows to be not just wrong but toxic, both to himself and to those who fall prey to his most abrasive ripostes. The performance opens a window on to a living death that comes with a darkness no less profound (and, arguably, more immediate) than the one unfolding nightly on the Court mainstage in the Beckett triple-bill.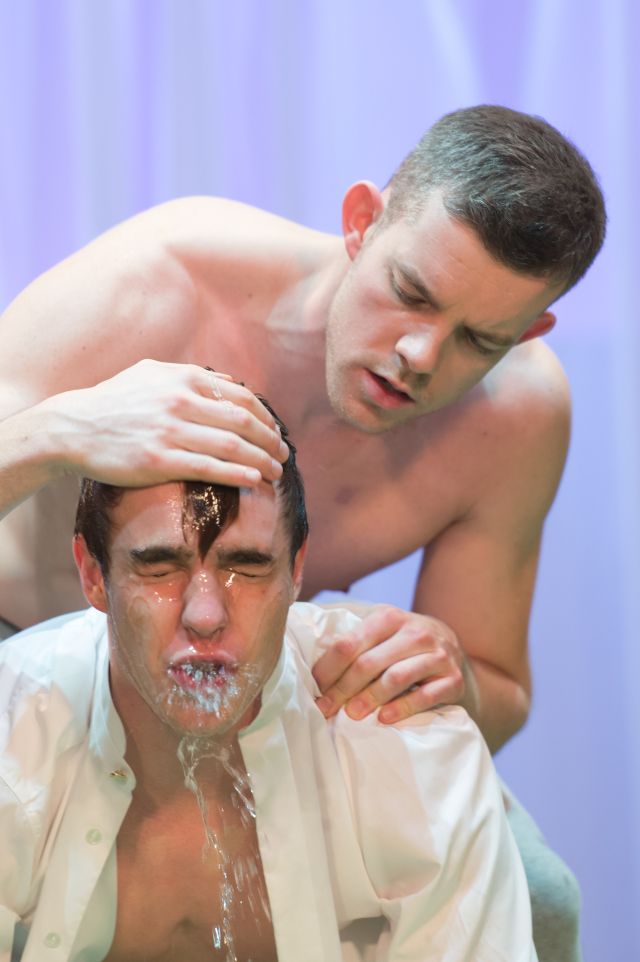 Donnelly's concerns at the same time extend beyond sexual self-denial, as evidenced by a highly disturbing last half-hour that introduces a fourth character (newcomer Nico Mirallegro, pictured left with Tovey, in fine form as a bellboy whose determined good cheer is sorely tested) that tilts the play in the direction of Laura Wade's Posh. Summoning to his suite his onetime pal Ade, who has since chucked in football and found a - yes - boyfriend, Jason offers up a shared vision of a new life for him and Ade that is clearly not to be, prompting a vision of himself as the hollow man that leads directly to a laying waste of the world around him. Ratcheting the tension up yet further, Tiffany's razor-sharp production saves the final sting for the last line, not to be revealed here. Let's just say that in Jason's cosseted world of high-end celebrity, a seemingly innocuous offer can mark the most wounding of all blows to the heart.
What's led to this aberrant behaviour? Think of it as the love that dare not speak its name
rating
Explore topics
Share this article