Blurred Lines, National Theatre Shed |

reviews, news & interviews
Blurred Lines, National Theatre Shed
Blurred Lines, National Theatre Shed
Nick Payne's new play explores gender — but what does a man know about being a woman?
Thursday, 23 January 2014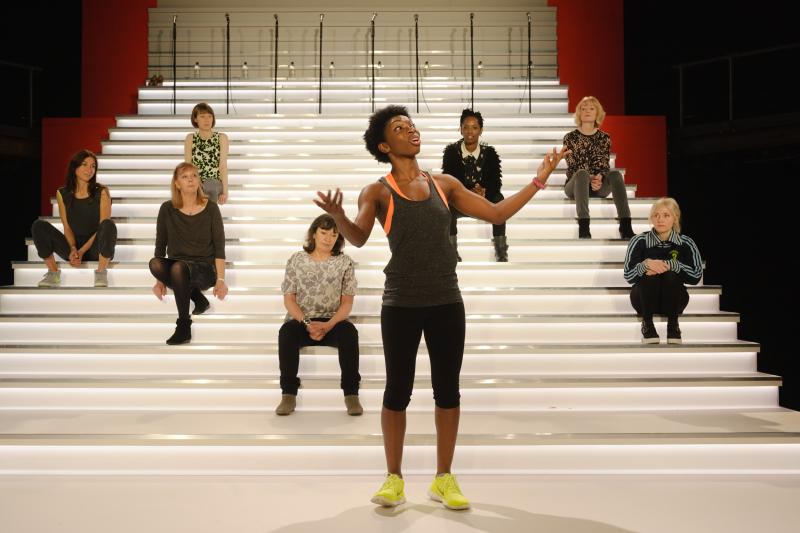 Steps to liberation?: the all-female cast of 'Blurred Lines'
You can't accuse Nick Payne of being fainthearted. His new play explores what it means to be a woman and it features a wonderful all-woman cast. But wait a minute: isn't he a man? And what do men really know about being a woman? You see what I mean about needing courage for this project? The good news is that this is a experimental evening based on a good idea. But what's it like as theatre?
The play conveys no sense of lived female experience
Inspired by his reading of books such as Kat Banyard's The Equality Illusion and bell hooks's Feminism Is for Everybody, Payne has created a piece of collaborative theatre with director Carrie Cracknell, and an all-woman creative team. The title comes from Sexist-of-the-Year Robin Thicke's much-criticised song and video of the same name, and explores themes such as stereotyping, media images, sexism at work, men buying sex, and domestic violence.
A series of quick dialogues, parodies of pop culture and videos, plus dance moves that turn into fights (pictured below), and a dazzling array of quick quotations and allusions create a sense of confusion and loss of control. Things get serious. Then things get really serious. An incident of teen rape is recounted, whose consequences involve the girl's mother and the boy's mother. Yes, home can sometimes be the most dangerous place on earth.
A lot of these sexist targets — from Thicke to Country and Western lyrics, and from soaps and serials to high heels and fashion — are pretty obvious, and the show really lacks a strong message. For most of its 70 minutes, it feels entertaining rather than incisive. It tells us what we already know. More seriously, and unlike the genuinely feminist plays of the 1980s by playwrights such as Caryl Churchill and Timberlake Wertenbaker, Blurred Lines conveys no sense of lived female experience.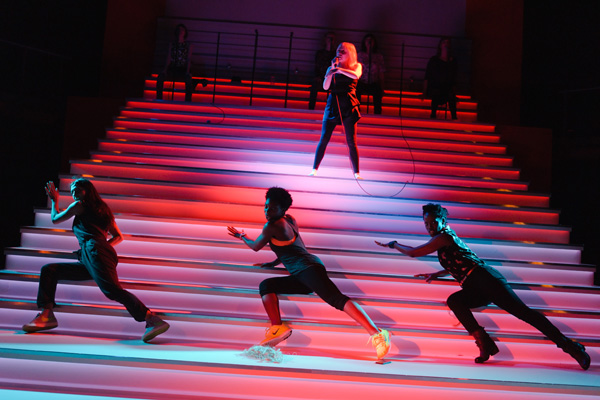 In fact, the show is rather depressing. Not because it delivers the truth of discrimination against women, but because once again here is a man speaking on behalf of women. Although this is parodied in an aftershow Q&A, the pervasive tone of irony and knowing insight panders too much to the short attention spans of the digital generation. Somehow, I can't see irony sparking off another wave of feminist contestation.
And where's the anger? There is also a complete lack of any sense of history (er, haven't there been women's movements in the past, and don't you think we could learn something from them?). It's left to the programme notes to deliver the shocking facts about porn and abuse, and this results is a show that feels trite, lazy and superficial. Sure, it's fun, it's flashy and it's sometimes funny, but where's the cry for change?
Director Cracknell has chosen a committed cast — Marion Bailey, Lorna Brown, Michaela Coel (who also contributes some poetry), Bryony Hannah, Sinéad Matthews, Ruth Sheen, Claire Skinner and Susannah Wise — and they do their best. But the most striking bits of writing feel derivative — lots of echoes of Martin Crimp — and the absence of female experience is a real problem. Basically, the show's a mess. If there really is a resurgence of feminist antagonism out there, I'd love to see a play that truly articulates this. Sadly this is not it.
Sure, it's fun, it's flashy and it's sometimes funny, but where's the cry for change?
rating
Explore topics
Share this article