Hole, Royal Court review - anger is not quite enough |

reviews, news & interviews
Hole, Royal Court review - anger is not quite enough
Hole, Royal Court review - anger is not quite enough
Short new play from actor Ellie Kendrick is full of ferocity, but lacks originality
Thursday, 06 December 2018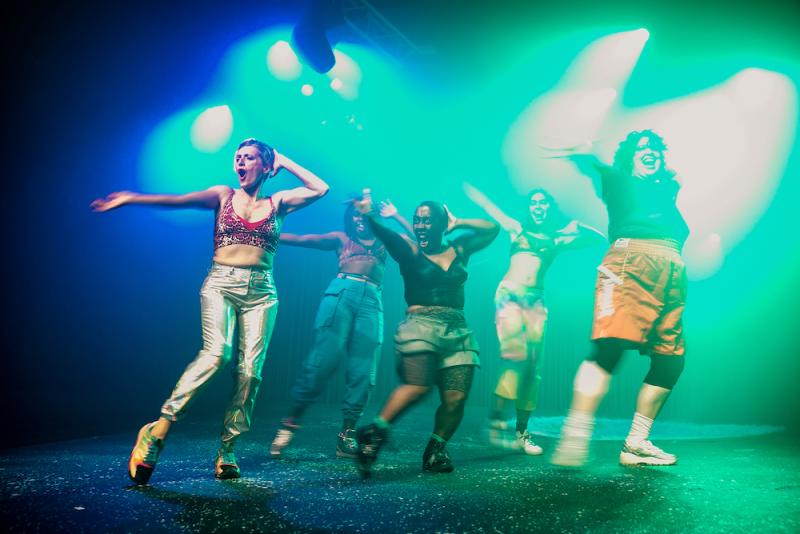 Grind, baby, grind: the cast of 'Hole'.
Actor Ellie Kendrick is a familiar face on television, but it's only as a writer that she reveals the depth of her rage against the world. At least, that's what it feels like.
After starring in the BBC's
The Diary of Anne Frank
while still at school, she's gone on to act in
Game of Thrones
,
Vanity Fair
and Mike Bartlett's
Press
, a BBC series where she played the junior reporter on the
Guardian
-style daily paper. But there's nothing junior about her debut play, whose title is the same as the name of Courtney Love's 1990s alternative rock band, and whose performance at the
Royal Court
is often almost as abrasively punky as the group's early work. But that's exactly what you'd expect from a howl of anger. Nevertheless, is emotion, however strong, enough?
Beginning with a series of fragments in which each of the five-strong all-woman cast tries to tell a story, but experiences a sudden silencing, to the sound of a talent show buzzer and a quick ejection from the stage, down a black hole, Hole throws up a dozen tableaux of uncompromising womanhood. It's a short 60-minute flash, which is made up of bits and pieces. Some bits are speeches, some pieces are songs, and some of both are music and dance. Influenced by Beyoncé's Lemonade, and then some, there's a fierce antagonism that deliberately makes the audience uncomfortable. Very near the start, we are literally shown the exit door, and told not to interrupt: "You have been warned." A bit excessive perhaps, but you can soon see that rage takes different forms.
Some bits are speeches, some pieces are songs
So. So there's a bit about body image which begins with the assertion that "We are big; we take up space; there are more of us than you!", quickly followed by some rules: "Do not try to reduce us." Then there's a great bit with some grinding and dancing and singing. Then there's a piece about the Medusa and another piece about Pandora's Box, which voices a feminist critique of the sexist violence of ancient Greek myths, followed by another bit about the male gaze. I remember bits about blood and cannibals, and another piece lit up with twinkling stars. A bit about cosmic black holes, a piece on a swing and then the final line: "I need you to listen."
Although rather too reminiscent of RashDash's 2015 show We Want You To Watch and even Nick Payne's Blurred Lines from the year before, Hole has a raw energy and coherence that makes it more than just an angry slap in the face of complacency. Although it is that as well. This is gig theatre which entertains with slogans, songs and music while giving the audience the experience of a truly deep sense of rage. The effect is shockingly powerful, menacing and occasionally disturbing. The evening's sensibility is deliberately uncompromising and provocatively outrageous. It is in-yer-face, a touch transgressive and very proud.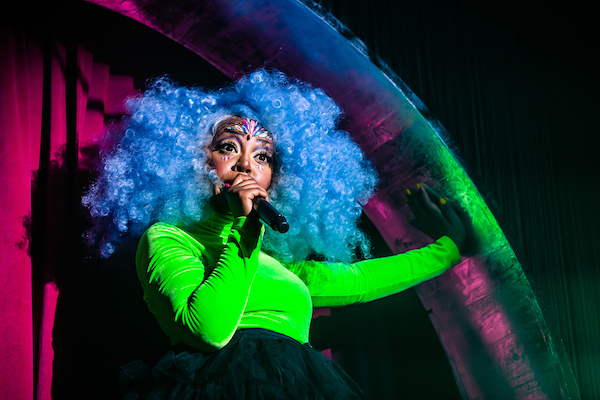 At the same time, Kendrick's play is also – dare I say – derivative and a bit banal. The use of cosmology, with its black holes and singularities, as a metaphor has been done before, and with greater intelligence, by playwrights as diverse as Simon Stephens, Nick Payne, Charlotte Jones and Atiha Sen Gupta. And when the cast unzip their bananas, you cringe at the gesture's banality. More confusingly, the various iterations of the image of a hole, whether as an orifice, a shelter, a grave or the human condition of being buried by oppression, are vivid, but in the end don't go much beyond being an expression of ferocity. Still, if you respond to the rage, if this is how you feel, then you are probably a woman – and this play will speak directly to you.
Directed with vigour and pace by RashDash's Helen Goalen and Abbi Greenland, on Cécile Trémoliéres set (which features a huge furry pink hole), this show has some lovely moments, when sequined lights dazzle the eyes or strobe dancing lifts the spirit, and the music by singer Ebony Bones (pictured above) has a charm all of its own. Above everything else, the fully committed cast – Ronkẹ Adekoluẹjo, Alison Halstead, Rubyyy Jones, Cassie Layton and Eva Magyar – are all marvelously expressive and powerful on stage. As well as portraying anger, they are clearly having fun too. If it is churlish to point out that this holler of discontent lacks grace and originality, and that we still await a great #MeToo play, perhaps that's just missing the point. The point here is to be female, and to be heard. And Hole certainly delivers that.
It has a raw energy and coherence that makes it more than just an angry slap in the face of complacency
rating
Explore topics
Share this article