Grand Theft Auto: San Andreas |

reviews, news & interviews
Grand Theft Auto: San Andreas
Grand Theft Auto: San Andreas
A classic game delivers a deep mobile experience
Grand Theft Auto: San Andreas - a wide world to explore
For lovers of PS2-era games, the conversion of titles like GTA 3 and GTA: Vice City to mobile platforms has delivered a welcome dose of retro-gaming thrills, but for real fans of Rockstar's crime epics, a visit to San Andreas is the one they have been waiting for. The eighth game in the GTA series was a big step forward in terms of the explorable area and the sheer number of things you could do in the game.
From the slums of Los Santos to the gambling palaces of Las Venturas (the game's equivalent of Vegas),
GTA: SA
feels like a living world and one where you could happily spend hours explolring without ever bothering with the supposed plot of the game.
San Andreas is the story of Carl "CJ" Johnson, a former gang member who is forced to return to his old Los Santos stomping grounds after his mother is murdered in a drive-by shooting. As CJ you must perform criminal acts to win the respect of your former friends, as well as appease the corrupt police officers who threaten to frame you for the killing of one of their own. By re-entering the criminal world you will eventually uncover the real truth behind your mother's death.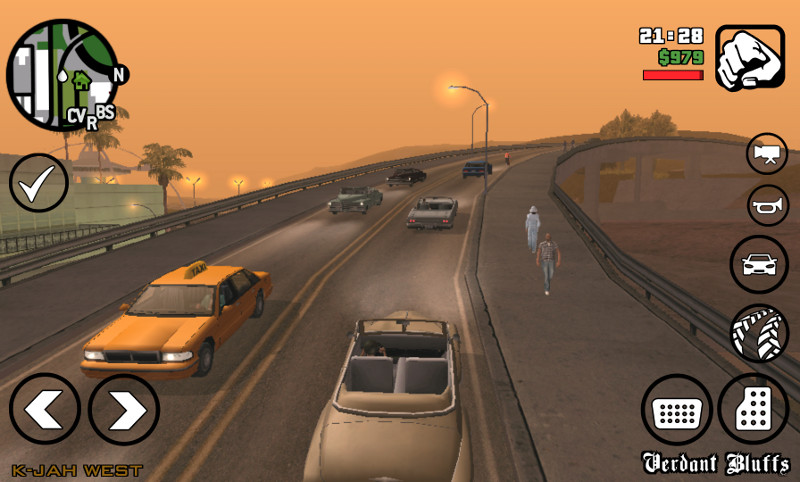 If you have never played a GTA game, this means performing missions like vehicle theft, assault, graffiti, illegal racing, gun running and straight-up murder to advance the plot, and also just tooling around the enormous 3D environment and partaking of a little... vehicle theft, assault, graffiti, illegal racing, gun running and straight-up murder. You can also learn to fly a plane, perform death-defying stunts, muscle in on rival gang territory and even visit strip clubs, play basketball or go on dates. There are many different vehicles to steal, each with its own handling and quirks, and you can spend hours maxing out your character's stats by exercising in the gym or practising one of the many in-game activities.
Rockstar have done a great job of converting the game to use onscreen touch controls rather than a physical gamepad. The usual issues with the lack of physical feedback mean that controlling a vehicle is slightly harder using the onscreen controls, but you can tweak the button layout and the game is good at subtly compensating for the lack of accuracy in some areas. Riding a motorbike at speed is still a royal pain but no more so than on the PlayStation 2, unless our memory is playing tricks.
This game is now almost a decade old, but parts of it still feel fresh and it is as fun to play as ever. On mobile you will be hard pressed to find a bigger and more absorbing game that combines a strong, mission-based structure with the freedom to explore its sandbox world. If you have never played it before then this is a must-buy.
Grand Theft Auto: San Andreas is out now on iOS and Android, published by Rockstar

This game is now almost a decade old, but parts of it still feel fresh and it is as fun to play as ever
rating
Explore topics
Share this article