1984, Almeida Theatre |

reviews, news & interviews
1984, Almeida Theatre
1984, Almeida Theatre
Headlong's adaptation of George Orwell's novel is a theatrical coup
Mark Arends' Winston Smith (centre, front) should watch out for Big Brother
Winston Smith is alone. Isolated in a pool of light, with an anglepoise lamp at his shoulder, he is about to pen the first entry in his private diary. But he is, of course, being watched. Mark Arends' Winston is, after all, living in the nightmarish superstate where Big Brother keeps every citizen perpetually under surveillance, even when they don't know it.
In this impressive, disturbing dramatisation of 1984 – Headlong's experimental adaptation of George Orwell's novel (originally published in 1949) – Arends' Winston believes he has found a nook that's unobserved. However, as he feverishly starts scribbling down his hatred of the regime which employs him as a civil servant in the misleadingly named Ministry of Truth, the audience sees the whole ceiling above his head flicker with film footage of each word he is writing – like CCTV on a huge scale.
Arends gives a superb performance as the skinny, fraught yet determined dissident. Co-created and co-directed by Robert Icke and Duncan Macmillan, this adaptation has a dreamlike quality too, as if it's impossible to keep a grip on reality in such a dystopia of "doublethink", where history is strategically rewritten, memories eradicated and individuals "unpersoned".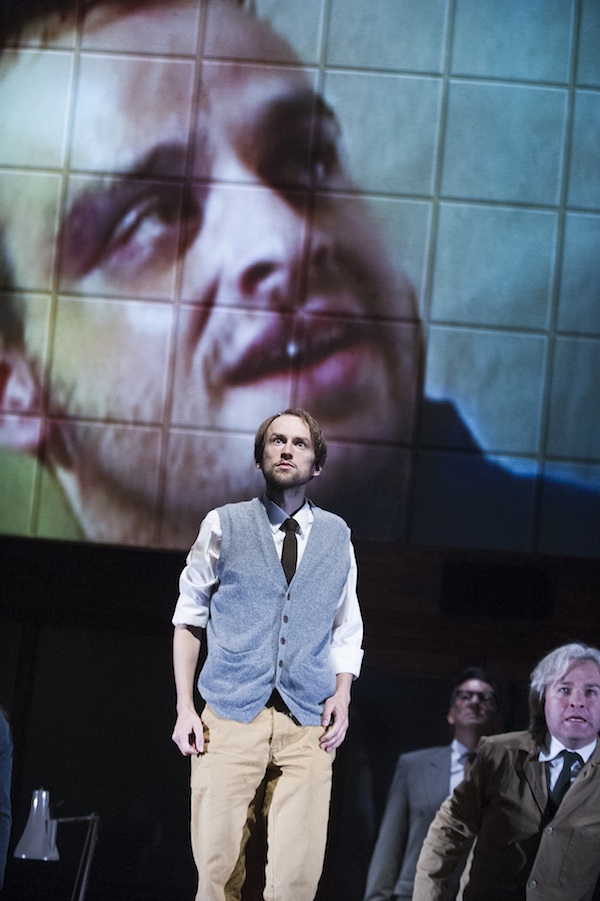 Winston's story of political resistance, closet love and entrapment is played out as a series of fractured yet fluid scenes. Startling trompe l'oeils are generated by the set and lighting designers Chloe Lamford and Natasha Chivers. So, one moment Arends is alone in an oak-panelled office then suddenly, in a blinding flash of light, an encircling horde of observers have materialised from thin air. Conversations with suspicious colleagues are played and replayed as well, with characters dropping out as if they've been purged or psychologically erased (pictured right: Mark Arends as Winston).
Just occasionally, the tension slackens. Perhaps Icke and Macmillan need to be more lucidly satirical as well, when framing the action with a committee of future readers who discuss the life-changing masterwork that Winston has left behind, in the manner of a faintly pretentious or indoctrinated book club.
Cavils aside, however, Hara Yannas treads a suspense-inducing, fine line between potential treachery and devotion as Winston's amour, Julia. Playing the top-level double agent O'Brien, Tim Dutton is all the more terrifying for dispensing torture in a nicely tailored suit without ever raising his voice, as if he were merely running some department at the BBC. The horrors Winston suffers are harrowing, almost unwatchable.
For sure, the fact that 1984 can be read and adapted without state censorship in today's Britain means that Orwell's futuristic vision hasn't come comprehensively true here. Yet his depiction of autocracies and ideological extremism seems at once timeless and topical. This production evokes the Fascism and Communism of his own era, but also many current regimes around the globe and worries closer to home – not least propaganda-hyped xenophobia, terrorism, and Edward Snowden's revelations about NSA and GCHQ's surveillance practices.
Nottingham Playhouse (recently threatened with funding cuts) and the Almeida deserve applause for co-producing this high-calibre touring show with Headlong. It'll also be fascinating to compare it with James Graham's Snowden-related premiere, Privacy, which opens at the Donmar in a two months' time.
ROBERT ICKE: HIS CAREER SO FAR
Boys. Ella Hickson's new play is fuelled by testosterone but floats on nuance
Mr Burns. A startling vision of a post-apocalyptic world dominated by The Simpsons
Oresteia. Lia Williams stands firm on the bones of Aeschylus in uncertain makeover
Uncle Vanya. Robert Icke's lengthy revival/reappraisal is largely a knockout
The Red Barn. David Hare's latest is a superb adaptation of a Simenon thriller
Mary Stuart. Juliet Stevenson and Lia Williams electrify as four Schiller queens
Hamlet Predictably unpredictable performance from Andrew Scott subject to Icke's slow-burn clarity
The horrors Winston suffers are harrowing, almost unwatchable
rating
Explore topics
Share this article