Decade, Headlong at Commodity Quay, St Katherine Docks |

reviews, news & interviews
Decade, Headlong at Commodity Quay, St Katherine Docks
Decade, Headlong at Commodity Quay, St Katherine Docks
Rupert Goold's superb ensemble of actors weaves a various tapestry of 9/11 playlets
Friday, 09 September 2011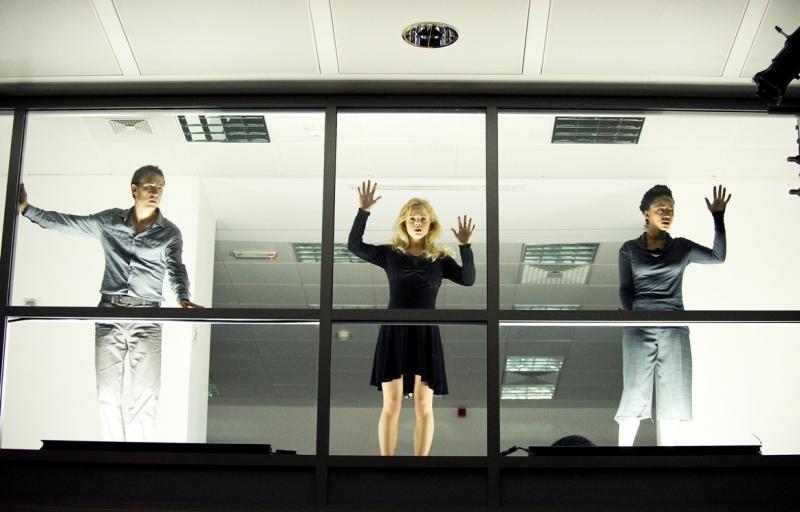 Windows on the world: Headlong's reimagining of 9/11
Ten years on from 9/11 and the polyphony of reactions will not, and should not, be stilled. Creative artists have had to tread carefully in what they amass, and how they present it.
Headlong theatre company's fresh-thinking artistic director,
Rupert Goold
, decided to let a babel of playwrights and speechifiers have their say, with no one monopolising the truth (Simon Schama, whose lecture stands out as so obviously his own, the exception). Threading it together, deciding what to include and discard along the way, can't have been easy, but a dedicated team of first-rate actors just about pulls it off.
The space works well for them, but once the initial shock has worn off it's more or less straightforward theatre-in-the-round stuff. Fabulous designer Miriam Buether has had less of a role to play than in, say, Goold's woefully undervalued ENO Turandot, suggesting views at either end of the long space out over Manhattan and that unforgettable 9/11 blue sky from what I'm guessing is an emulation of the World Trade Center's Windows on the World Restaurant. We're in there at first with the terrorised office-block workers who flail against the mezzanine glass to Adam Cork's ear-splitting soundtrack.
A moral? There isn't one, other than Schama's pleading for a big idea rather than more tall buildings
Prurient thrills? Perhaps. But they do set up the requisite knot in the stomach for what's to follow, actors speechifying from table tops and rushing up and down between the two levels. Apart from the central platform, there's the annual café meeting of Ground Zero widows in Matthew Lopez's The Sentinels, working its way backwards from 2011 to – well, before it all happened, with a slightly artificial coda added to the original script for finality's sake.
This is one connection, using one of the better scripts, which Goold engages to paste the good and occasionally the not so good together. The other is the dancing. You'll know roughly what to expect if you saw Goold's production of Enron, but there's fresh creativity here: Scott Ambler isn't a graduate of the Matthew Bourne Adventures experience for nothing. The actors break into rounds, rituals and frenzied pas de deux, boasting one asset not enough trained dancers have – the ability to project their own individual characters with their faces when necessary. And it's a heck of a lot better than the choreography for South Pacific over at the Barbican. Quirkiest, and queasiest, is the flight routine launching part two, which degenerates into panic to the strains of Rossini's Thieving Magpie Overture, as if no amount of calming steward shtick is going to save you if someone wants to blow you to bits.
All the actors work their socks off in a range of mostly convincing accents; it's not their fault if the material sometimes dips. The soft and low-voiced Emma Fielding wields her characteristic groundedness as the widow who's described by her fellows as bearing the burden Atlas-like or tries to push it uphill like Sisyphus; but she also has to deal with the most mannered of the playlets, Ben Ellis's Speed Date, as an eczema-ridden fast talker who's supposed to go through a kind of twin tower collapse. It doesn't work, but she does her best. And there's a piece of annoying American navel-gazing in which Tobias Menzies has to play her analysand, Christopher Shin's Everyone; better scripts than this in the published 20 didn't make it to the final cut.
Still, Menzies rivets our attention in the long and vivid monologue of World Trade Center worker Scott Forbes's reminiscences, balanced in the second half by the more surreal narrative of Charlotte Randle as Alexandra Wood's Tania Head. And one actor never wrong-footed by his material is the superbly adaptable Jonathan Bonnici. He does a lively double act with Arinze Kene in the vivid dialogue Lynn Nottage of Ruined fame sets up between a Yemenite shopkeeper and an African-American security guard.
Better still is the world of humour, pathos and slight stickiness young playwright Ella Hickson serves up for Bonnici as a World Trade Center gift-shop boy. Jason from Panama who passes as Arab gets to sleep with some of the tourists passing through, but they use him as much as he sneaks into bed with them, and, "Recently I try to slip one of the 'never forget' pins in their pockets, before they go. I think it's nice. They're not selling that well anyways." We needed a laugh, and here we got it, but this little scene is also very moving and human – finest of the bunch on a naturalistic level. It also taps into a frequent theme of the featured writers - that some of the survivors or the bereaved can get trapped in the retelling of their own stories.
There are ambitious riffs on the horror – Rory Mallarkey's Trio with Accompaniment for "Tube", "plane" and "bus" doesn't quite come off behind the mezzanine glass – and more real-life voices from muezzins to Barack Obama with his speech on the killing of Osama Bin Laden, one of those events which overtook the rehearsal process; Kevin Harvey veers between the two extremes with rich-voiced aplomb.
A moral? There isn't one, other than Schama's pleading for a big idea rather than more tall buildings. But the not always so small voice of humanity as executed by this superlative ensemble is what makes Goold's loosely woven tapestry so appealing. You may not like it all, but you have to see it.