The Machine |

reviews, news & interviews
The Machine
The Machine
Wildly ambitious, slickly stylish British sci-fi thriller hits buttons despite its bargain price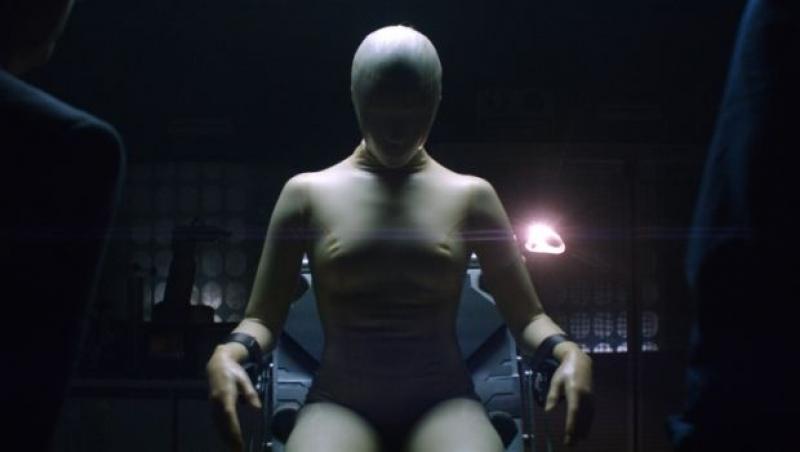 Pygmalion meets Blade Runner: Caity Lotz in Caradog James's The Machine
In a Q&A at the London Screenwriters' Festival last year, Welsh writer/director Caradog James and producer John Giwa-Amu already had fans. If that Q&A is any indication, the team at Red & Black Films have a brilliant career ahead of them, all thanks to The Machine, a dark science fiction tale of artificial intelligence and human scheming that is finally released this week.
Described by some as a 90 minute sci-fi
Pygmalion
, or a hybrid of
Blade Runner
and
Frankenstein
,
The Machine
is stylish and fantastic in the original sense of the word – slick enough to be impressive but not too far for its own good.
Despite enquiries, the precise budget is unknown but its small size is legendary (and something both director and producer are happy to teach you at a fraction of the cost via their travelling masterclasses). This forced both the director and producer to think way beyond the box. In some production elements, The Machine is a bit wobbly. In others, it's there already, sitting smugly and picking its teeth. Wildly ambitious, its impeccable cast – and I don't use that word very often – keeps an innovative story credible.
The less you read about The Machine the better it is
Looking like an affordable version of Damien Lewis – not a bad thing – is the handsome, solid Toby Stephens (pictured below). He is scientist Vincent McCarthy, a man developing implants to help badly injured soldiers recover. But that's only part of the story: he's also helping the war machine, run by evil smoker Tomson (Denis Lawson) as well as hoping his work will cure his ailing young daughter. To aid his development, McCarthy hires Ava (Caity Lotz), a young American woman who can't seem, at first, to act. Or maybe she purposely acts badly. Either way, this awfulness burns off like a fog at dawn, leaving Lotz as the perfect actress for her role's development.
The less you read about The Machine the better it is: I hesitate to tell you more. I would encourage you to experience the whole of The Machine as an innocent. For those, however, who must know, understand you are now reading past a SPOILER ALERT. For those who wish to keep the magic, skip the next paragraph.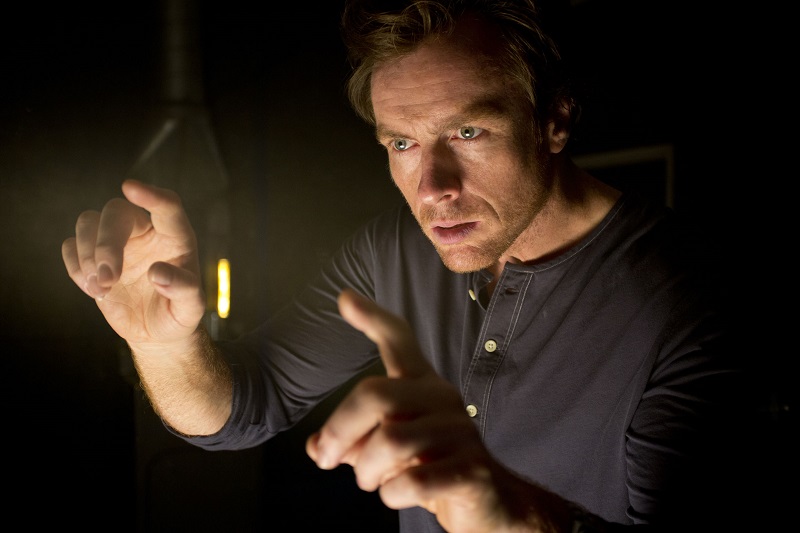 When Tomson has Ava killed, Stephenson makes his next generation robot/cyborg in her form. But, like a version of Spike Jonze's Her built by the lowest bidder, Ava aka 'The Machine' begins to have a mind of her own. While this seems like ordinary territory, the visuals and the clever way James and his team bring this to fruitition is not only visually arresting but enthralling.
Lotz has only been in a handful of things previously (an MTV comedy horror series and a film from 2012 called The Pact), but her physicality and smooth blonde looks make her more convincing as 'The Machine' than as the scientist she was at the start. The casting in The Machine is immaculate. Lawson is simply a wonder to watch - I feel personally robbed that he isn't in more films. Stephens too is perfect for the role as father/creator, handsome and rock-solid, not forced into any action - he doesn't need to be.
While The Machine is at times too dark - literally, sometimes you can't see a damned thing – the film itself is violent, intelligent and scary but never stooping to gore. It is crafted in the best tradition of science fiction and nominations and awards at Toronto After Dark, Raindance, Sitges FF, BIFA and BAFTA Cymru are indicative of not a perfect film but a well-aimed one: here, it's mood and feelings, not nuts and bolts.
Overleaf: watch the trailer to The Machine