The Past |

reviews, news & interviews
The Past
The Past
Asghar Farhadi delivers a typically thrilling family drama starring Bérénice Bejo
Haunted by what's gone before: Bérénice Bejo and Tahar Rahim star in 'The Past'
It's not often we're told to strap ourselves in for a drama - it takes quite some skill to make the everyday excite and to make ordinary lives seem extraordinary, but these are gifts that the Iranian director Asghar Farhadi has in abundance.
His talent for meticulously structured, thriller-tense narratives, for coming at stories from an interesting angle (conducive to creating and capturing emotional charge) couldn't even be ignored by the Academy, who recognised 2011's
A Separation
outside the (niche) world cinema category, with an Oscar nomination for its screenplay alongside the gong for Best Foreign Language Film. His sixth film,
The Past,
is in the neighbourhood of that masterpiece.
Farhadi is interested in the events that send us spiralling, events which are both entirely devastating and mundane: human weakness, accidents, misfortune and neglect. Moments of profound consequence that act like a fat stone dropped into a pond, sending out not ripples but waves of pain.
The Past is the follow-up to A Separation (2012's also-excellent About Elly was actually made in 2009). It's similarly low key but high impact, drip-feeding its drama to devastating effect. In Farhadi's last two films the pivotal, impactful events (a fall which may have prompted a miscarriage, and a presumed drowning) are imbedded within the narrative, with the mystery surrounding what exactly happened and who is to blame fuelling the remainder of what's seen. In The Past the pertinent disruption has taken place before we even pick the story up and it's allowed to hang over the entirety of the film.
So much of The Past's pleasure and suspense comes from the slow pulling back of the curtain - so I'll lay out just the early, bare bones of the story. The story sees Ahmad (Ali Mosaffa, pictured above right with Elyes Aguis and Jeanne Jestin) travel from Tehran to the Parisian suburbs to finalise a divorce from his French wife Marie (Bérénice Bejo), four years after their initial separation. Reunited, they quickly slip back into their old bickering rhythms yet, for an initially undisclosed reason, she's keen for him to bunk amongst her ramshackle brood, rather than staying in a hotel at a more appropriate, less horrifically awkward remove. Marie has remained in their old family home with her two children from an earlier relationship - the teenage Lucie (Pauline Burlet, pictured below left) and the younger Léa (Jeanne Jestin). Also residing there are Marie's new partner Samir (A Prophet's Tahar Rahim) and his young son Fouad (Elyes Aguis).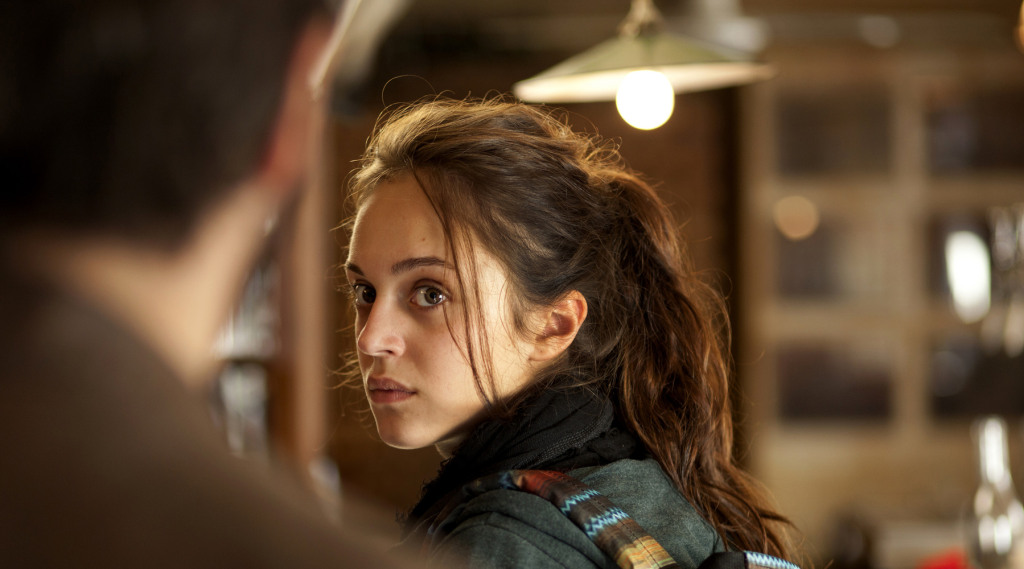 Ahmad - who radiates trustworthiness and dependability - finds himself an interloper in what was formerly his home, a stranger to some and a desperately welcome presence to others, particularly the troubled Lucie, who looks upon him as a father. But at first it's Samir who is made to feel like the outsider, who's ousted to make way for Ahmad's fleeting return and the men's discomfort around each other (mirrored by the irritable reaction of tiny Fouad) seems like it might be the film's primary source of conflict. However it transpires that Ahmad is merely a catalyst for the unearthing of unrelated secrets and lies and it's the more recent past that will prove particularly explosive.
Both Bejo and Farhadi picked up prizes at Cannes 2013 (Best Actress and the Prize of the Ecumenical Jury). The film's focus shifts between the members of the ensemble, giving it considerable richness and leading to fascinating and fully realised characters and, as ever, Farhadi's sensitive direction means his actors have room to breathe and grow. Of note is that The Past gives near-equal weighting to the kids and, for me, that's where its particular brilliance lies. Bejo's portrait of a guilt-ridden woman trying to be a mother to a traumatised boy and to hold two families together is remarkable and award-worthy, but it's Aguis and Burlet (who starred as a ten-year-old Édith Piaf in La Vie en Rose) as Fouad and Lucie who stand out - their hugely sympathetic turns linger long after the credits roll.
The Past is a mesmeric display of heart-wrenching humanity, a film made up of equal parts love and sorrow, where uncomfortable and sometimes surprising truths are delivered with maximum impact by an exemplary cast. For those reasons and many more you should probably buckle up.
The Past is a mesmeric display of heart-wrenching humanity, a film made up of equal parts love and sorrow
rating
Explore topics
Share this article