Much Ado About Nothing, Royal Exchange, Manchester |

reviews, news & interviews
Much Ado About Nothing, Royal Exchange, Manchester
Much Ado About Nothing, Royal Exchange, Manchester
Casting redresses male bias in 1945 setting for Shakespeare's merry war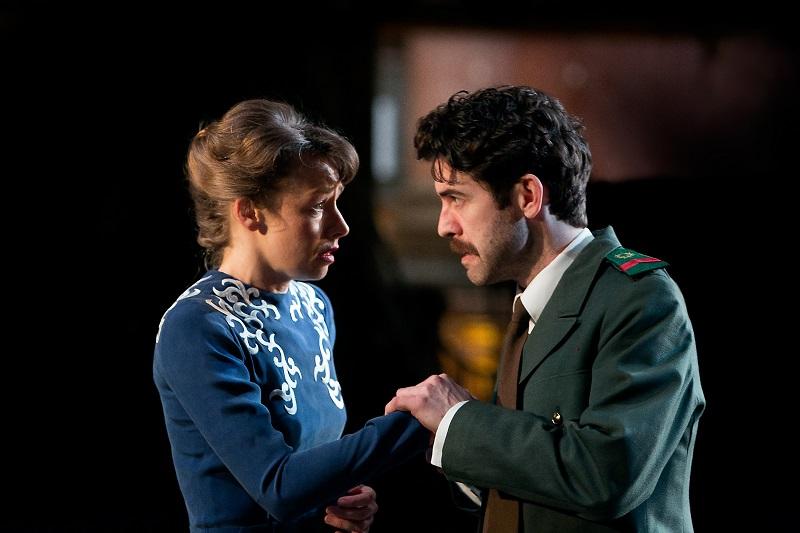 Merry warriors: Ellie Piercey and Paul Ready as Beatrice and Benedick
Swedish director Maria Aberg, making her Royal Exchange debut, sets Shakespeare's comedy in 1945 post-war Britain and strives to play in the effects of war on the home front, where women are in charge and have taken on men's roles. The same goes for some of the casting here. Gender-blind casting is apparently a mission of Aberg's, to redress a male bias.
So Leonato, still listed as the Governor of Messina, becomes Leonata, while Constable Dogberry and his sidekick Verges are played by women.
Aberg has previously concerned herself with Iraqi war veterans. War, military and civilian, being a running theme in the play, we are soon made aware of the "merry war" of words between Beatrice and Benedick, who "never meet but there's a skirmish of wit". As with any war, misreporting and misrepresentation, spying and intelligence, eavesdropping and ear-bending, tale-telling and tittle-tattle all have a significant part to play.
Aberg exploits the opportunities to the full, mostly in the cause of comedy: when first Benedick and then Beatrice overhear information about their secret love for one another, they employ the old gag of mingling with the audience and rolling on the floor. Always good for a laugh, but in this case overdone. The masque scene, meanwhile, becomes a big band dance under a huge chandelier and coloured streamers, with the actors wearing giant heads, permanently open-mouthed, funny and grotesque.
The action is played out on a minimal set, centred on a shallow square platform of plain wooden planks, yielding little sense of place or atmosphere. This is especially true of the crucial church scene, where a militaristic wedding between Claudio and Hero turns into the ill-founded vilification of the innocent bride. Gerard Kearns's Claudio (pictured right) is so apoplectic as to be almost incoherent. In fact, there was considerable mangling of lines especially in the first half, though this should improve as the production moves forward. As Hero, Becci Gemmell catches the primness and hurt of a bride so cruelly stood up at the altar (not that there is one here).
Ellie Piercy and Paul Ready are spiritedly matched as Beatrice and Benedick. From the start, the be-trousered Piercy is sparky, angular and forward. Ready is a jack-the-lad cheeky chappy who engages with the audience. And they each modulate their manner and speech as they reluctantly admit their love for each other. Her challenge to him to "kill Claudio!" is played for laughs rather than intensity. At least, it got a big laugh here.
In their clowning double act Dogberry and Verges, Sandy Foster and Beverly Rudd worked hard to entertain, with funny costumes, a musical helmet, silly accents, funny walks and musical accompaniment from Wagner to TV theme tunes. Sadly, it didn't work for me – again, overdone. In one genuinely touching (and welcome) scene, Claudio puts flowers on the grave of the "dead" Hero, before unexpectedly ripping up the planks in his anguish and converting the setting for the sentimental ending.
In the end, of course, Beatrice is still mouthing off, but now Benedick shuts her up with a kiss before Aberg concludes with a jolly folksy song from the ensemble about love. But I was left questioning the real value of Aberg's post-war setting and the constant effort to amuse. I would have appreciated more subtlety and restraint. Is there a danger of trying too hard to make everything fit? After all, the title speaks for itself. It's all about codology.
Leonato becomes Leonata, while Constable Dogberry and his sidekick Verges are played by women
rating
Explore topics
Share this article