theartsdesk at The Inntöne Jazz Festival |

reviews, news & interviews
theartsdesk at The Inntöne Jazz Festival
theartsdesk at The Inntöne Jazz Festival
A bucolic setting, but the expert, eclectic programming is the secret of this extraordinary event's success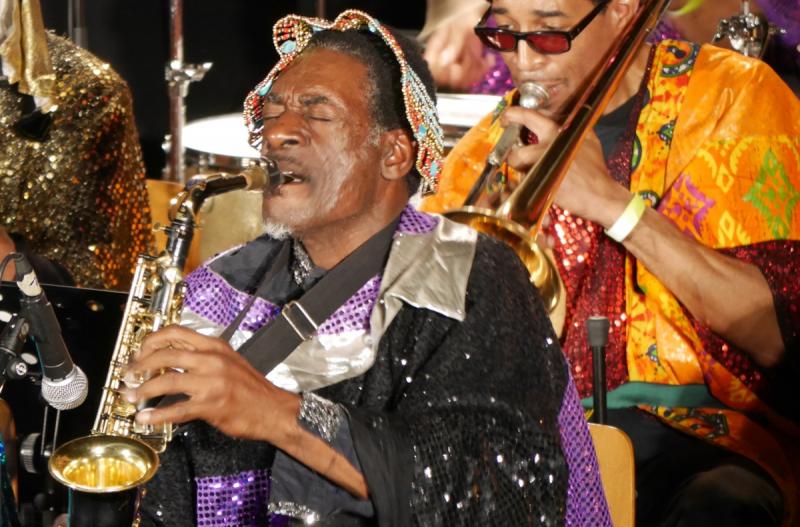 The Sun Ra Arkestra: from Saturn to an Austrian pig farm
New Orleans. New York. Kansas City. Chicago. These are the places where the soul of jazz breathes free. In London, you'd head to Soho. Dalston, or Camden; none of these places have a blade of grass to share between them. Jazz must be one of the most determinedly urban genres of music. Even rap these days has flirted with country music. (Look up Spearhead's entertaining "Wayfaring Stranger" if you don't believe me.)
So when I heard about an Austrian festival subtitled "Jazz am Bauernhof", which literally means jazz on the farm, or jazz in the farmyard, the very idea of reconciling this musical essence of troubled urbanism (and urbanity) with such a smelly, practical place as a farmyard, was baffling. Perhaps it was some kind of abstract joke – jazz isn't known for its literalism, after all. An all those obscure, obscene euphemisms and etymologies that emerge from words for sex. Even the clean language often makes little sense: why the hell is one of the most frequently performed pieces in the repertoire about the humble peanut? And then there's scat...
But the Inntöne Jazz Festival is three days of real jazz (all right, with some blues thrown in too, which does sort of belong in the countryside), on a real farm, with real pigs. Perhaps not as many pigs as there once were, given the quantity and variety of pork schnitzel, cutlets and roast joints being consumed over the weekend – that's a definite plus of a rustic location.
The festival is a fantastic example of one man's artistic entrepreneurship, of the kind that in these days of big sponsorship, and multi-layered bureaucratic support programmes, is generally thought to be harder than ever. Paul Zauner, who owns the farm, and has been running this festival in some form for 29 years, moved the event to his own property in 2002. There are the practical advantages of total control, of course, but it's also a question of bringing his beloved music home, to share with friends, family, and a region not otherwise known for jazz.
As well as running this festival and his farm, Zauner is a jazz trombonist, and also runs a festival of baroque music in the local church in Diesbach, renowned for its acoustics. Combining a bluff affability with steely focus, his enterprising, renaissance-man activities, and commitment both to music and to caring for his land (he farms organically) have made him something of a local celebrity, and in January he was nominated by a regional newspaper as a candidate for Upper Austrian of the Year. And he combines both sides of his life by sharing his love of music not just with the local population, but also with his pigs: he plays them live music, which he claims relaxes them. Calypso, he told me, is their favourite.
While the setting, in the hills above the river Inn, is strikingly lovely, and the farm buildings, with farmhouse and outbuildings (HQ, exhibition and event space) and barn (auditorium) surrounding a central courtyard (beer garden), creates a festive, flexible and intimate space, it's the programming that makes this event. It draws a mixed audience of approximately 1,200 people per day from the local area and abroad, both dedicated music fans and casual visitors attracted by the beery rustic cheer.
Though the locations could hardly be more different, Zauner's programme reminded me of Ronnie Scott's: both need a mix of uncommitted pleasure-seekers and dedicated jazz fans, and both organisations fulfil this varied set of demands with not just contemporary jazz for ambitious music fans, but a more melodious programme of Latin music, blues and more conventional melodic jazz. In a venue like Inntöne, where the audience tends to stay all day, and will try out an unfamiliar band, that also benefits the hard-core jazzer.
There were two newish and very serious contemporary jazz ensembles, defined by a commitment to create original sound worlds through a combination of harmonic and technical innovation: the Pablo Held Trio from Cologne, and the pan-European quartet of Lorenz Raab, Michel Godard, Erik Hegdal and Patrice Héral. Both were heard by an audience of many hundreds on Zauner's pig farm, which is more people than would attend their gig in one of London's shiniest cultural temples at any time except during the London Jazz Festival.
It's not just a generic range: every year Zauner manages to book both emerging young talent and a few established headliners. This year the Sun Ra Arkestra had star billing, with numerous exciting young artists. In 2010 he bagged both Hugh Masakela (watch his set below), who regularly fills the Royal Festival Hall, and a newly-emerging Gregory Porter, who now fills stadiums. And for an English audience, there's the added benefit of exposure to the European jazz mainstream, much of which, for funding reasons, rarely makes it to the UK. The Raab/ Godard/ Hedgal/ Héral quartet, for example, though excellent, won't be in the UK any time soon; and though the Pablo Held Trio was at the Barbican last November, the players have no imminent plans to return.
Intriguingly, however, sounds travel even when performers don't. The quartet of Raab/ Godard/ Hedgal/ Héral, played a set of exciting new sounds and rhythmic playfulness, that was by turns both challenging and delightful. As it progressed, the influence of New Orleans grew and the austerity waned, and the quartet ended up resembling the British ensemble Pigfoot (Chris Batchelor, Liam Noble, Oren Marshall and Paul Clarvis), whose exhilarating distortions of New Orleans beats combine tradition and novelty with such glee.
While Raab and Hegdal, on trumpet and saxophone respectively, together wrestled with the melodic line with brilliant fluency, the most exciting component of the band's effectiveness, their rhythm, was left to the French pair of Godard's tuba and Héral's drums and electronics. Héral (pictured right) is a showman, and his performances tend to be intense and elaborate, especially his solos, which begin with a complex rhythm, which is then looped, while Héral improvises with both instruments and voice over the top. The other players have to stop while this takes place, so it usually only happens once per performance, but it's a bravura act of giddy rhythmic complexity. One technique I hadn't heard him use before was to ruffle a ball of plastic sheet over the microphone head, creating an intimate crackle. Each time he performs, there's something new.
Godard is capable (as he began to display towards the end of their performance) of the most outlandish effects on the instrument, though for the first two pieces he confined his effects to a complex, subtly disruptive bass rhythm, pitched perfectly between a traditional brass sound and an electronic dance beat; an accurate reflection, in many ways, of the band's musical identity. Godard is also an important serpent player (pictured left), a medieval instrument resembling an S-shaped python held vertically in front of the performer. He played one piece for the instrument, a trance-like rhythm that built to a heady climax, an experience, in some whimsical meta-musical allusion, not unlike a snake charmer's music, perhaps. The serpent's novelty and striking shape makes it a dramatic presence on stage, though it has neither the penetration nor range of the tuba, and its role in mixed jazz ensembles remains, therefore, a minor one.
Michel Godard is a good friend of English tuba maestro Oren Marshall, whose extravagant palette of explosive resonance plays such an important part in the success of the band Sons of Kemet. Both are part of the new wave of tuba virtuosi, who are coaxing registers of hirtherto unimagined delicacy from the instrument. The fascinating reason for this, Godard told me, is that tuba players have been studying Aboriginal didgeridoo technique, which uses complex breathing and lip technique to create its delicate, eerie sounds.
The young German band Pablo Held Trio already have not only a very distinctive sound of their own, but extensive and highly adulatory recognition in the press. Their playing is instantly and unmistakably contemporary jazz: the combination of intensity and playfulness in their improvisation, which extended for nearly the whole set, was compelling. There is very little, directly, of the blues here – drummer Jonas Burgwinkel uses mainly brushes, and his hands, to create the whispery, intimate delicacy that he contributes to the band's sound. But it's also very clearly not contemporary classical music: the whole set unfolds as an extended piece of improvisation, and there's undoubtedly a butterfly-from-the-chrysalis excitement simply in watching and listening as it reveals itself. Though the prevailing dynamic is quiet, there's some very intense expression from Held, exploding bursts of upper-register harmony like squalls of tropical rain that patters and echoes slowly down through the forest canopy. Bassist Robert Landfermann is equally at home with bowed or plucked notes, both his spidery runs of pizzicato, and acrobatic bowed notes a deliciously distorted reflection of Held's chords.
They are also extremely skilful ensemble players. There's a feeling of exceptionally responsive dramatic connection between all three band members, as if joined together elastically, so that the slightest movement from one triggers an instant, compensatory movement from the others in a ultra-sensitive communal relationship absolutely quivering with life.
There are, perhaps, a few discernible influences. There's a touch of minimalism in some of Held's repeated piano phrases, and their sound world certainly owes something to the delicacy of Debussy, and perhaps Takemitsu. But it's an indication of how very special and talented their performances are that otherwise, they are definitely unique. They are one of quite a small number of must-see bands on the scene at the moment. Highly recommended.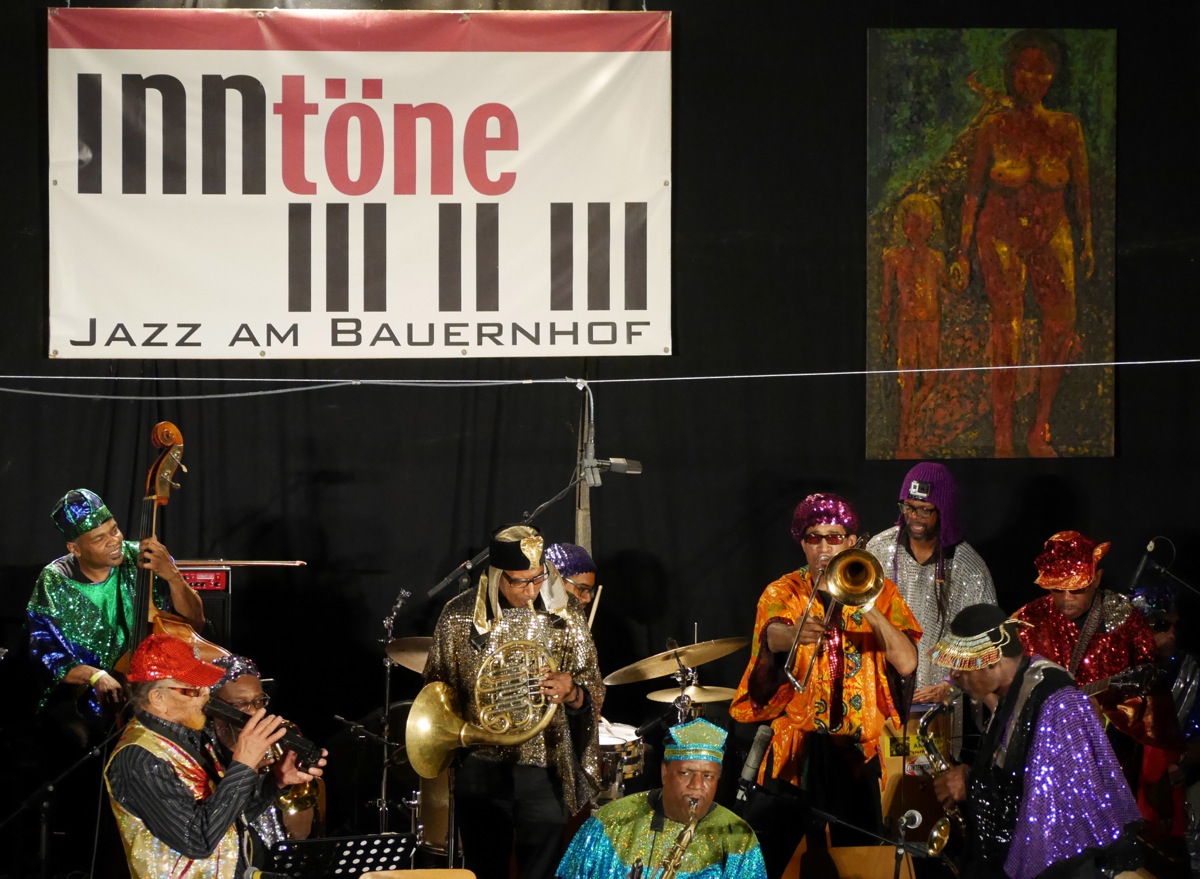 The Sun Ra Arkestra (pictured right) were scheduled as the festival's penultimate act on Sunday evening, and by then, the schedule was running several hours late, so they didn't make it to the stage until after 10pm, probably some time after the audience's peak concentration on the final day of any festival. Since Ra's death in 1993 they have been led by the utterly indefatigable saxophonist Marshall Allen, now fully 90 years old, who joined the band under Sun Ra in 1958, and is utterly dedicated to maintaining its work.
Their style has always been eclectic, spanning quite a catalogue of distinct styles, from free improvisation to swing, Disney tunes, and space chants. They began here at the freer end of that repertoire, with a blast of brassy exuberance, which, together with their uncompromisingly sparkly outfits, set the tone very dramatically. Free improvisation in a big band is hard to pull off without simply creating cacophony, and there was, perhaps, a touch of raggedness about the opening numbers that couldn't have been helped by the late start. As the set progressed, they became less and less free, and swung more and more, an approach that certainly worked better for this audience at this time. Whether or not the Arkestra still has the power to shock that it did when Sun Ra first announced his arrival from Saturn, with the intention of re-introducing the civilisation of Nubian Egypt, is doubtful, but this is still a band of seriously talented international performers, whose extra political agenda and self-dramatising appearance gives their music an edgy, festive character.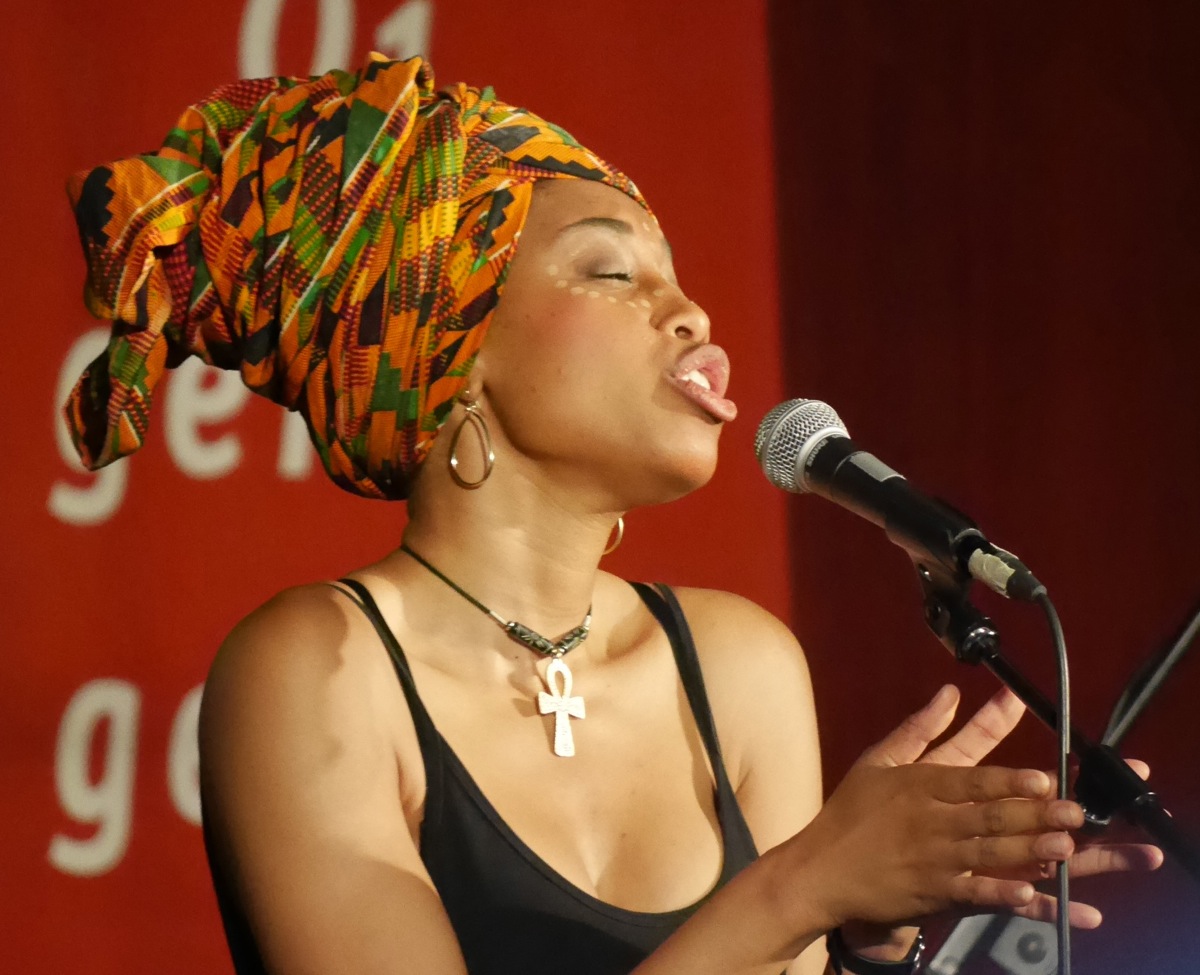 Of the other jazz acts, the most charismatic and captivating, by some distance, was the young American singer Jazzmeia Horn (pictured left), winner last November of the Sarah Vaughan Jazz Vocal Competition in New Jersey. Originally from Dallas, and until recently a student in New York, she combined a fairly traditional repertoire with a precociously ambitious vocal style. Her extensive scat was occasionally a little laborious, but there's no doubting the smooth, expressive quality of her voice or her stage charisma. With veteran accompanist and Chet Baker collaborator Kirk Lightsey giving a magnificently spirited, big-hearted performance that gave little indication beyond its musical intelligence of the more than 50s years' age gap between him and Horn, they were a hit with the Saturday night audience in especially warm, celebratory mood. We will undoubtedly see more of her soon.
Elsewhere in the weekend's programme, pianist Carlton Holmes played a solo set of contemporary jazz-blues, with touches of minimalism; the George and Camilla Mraz Trio gave us some neatly melodic contemporary jazz; and the Spanish Niño Josele Trio played an appealingly charismatic, if also quite conventional, set of flamenco.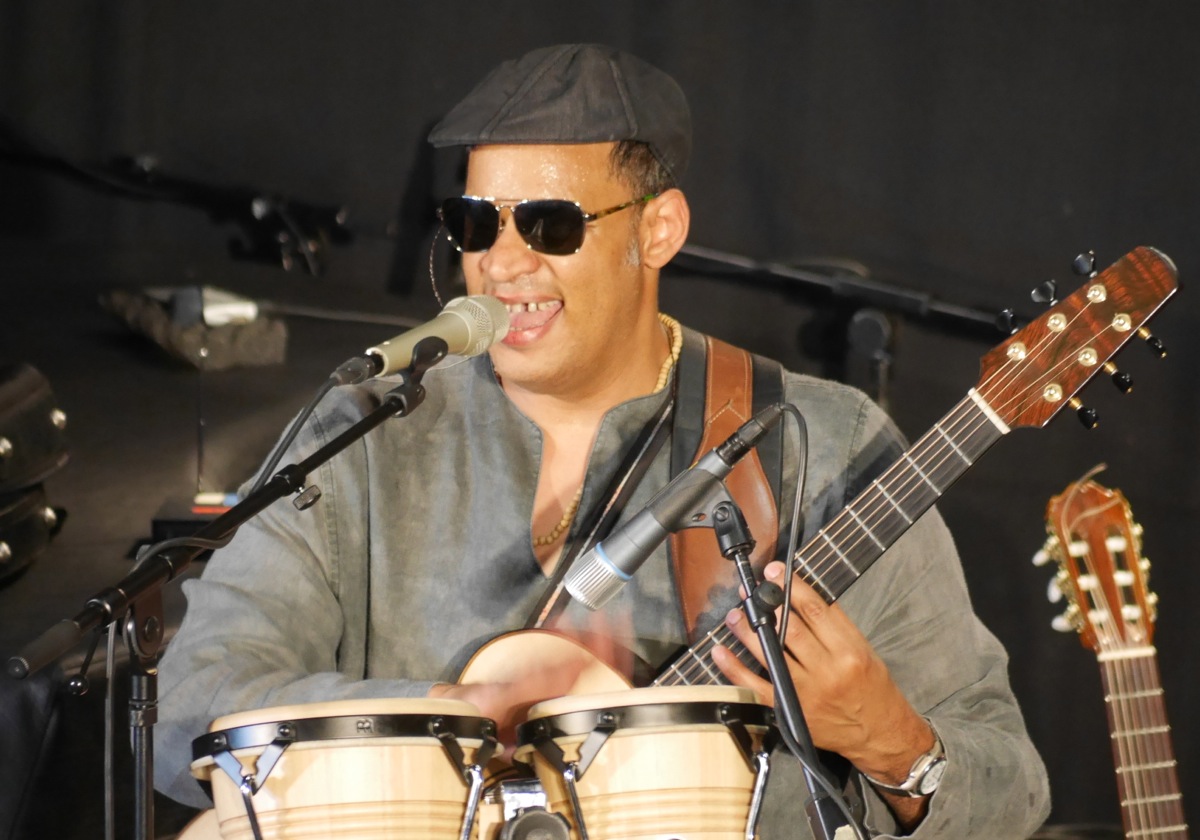 In some ways the greatest surprise of the weekend was the electrifying diversity of American-Argentinian singer and guitarist Raul Midón (pictured right), who can play a mean jazz guitar, though jazz probably isn't the first genre he would be associated with. He's perhaps best described as a soul-blues guitarist and singer, and he's really a one-man band of extravagant virtuosity: as well as the jazz, there are touches of rap, he plays mean percussion, both on a set of stand-mounted Bongos and by tapping on his guitar case, and he can hum or vocalise a very convincing muted trumpet. Being blind, he performs in dark glasses, but the rapport he constructed with an audience he could only hear was instantly warm and engaged. His songs were both funny and touchingly personal, the background to each amusingly anecdotal. The most exciting feature of his performance, however, was his command of all of the genres referenced, and the speed and fluency with which he would blend and switch between them all. An original act in many respects, who's well worth finding live, if you can. After Inntöne, he took off, and is touring non-stop across Europe, the US and South America for the whole summer, but like many of the weekend's artists, appears to have no dates in UK.
Zauner's innovation with his festival is, of course, a typical piece of jazz blending, of the sort the music has so ambitiously done for the past century. In merging the Austro-Germanic tradition of outdoor music and drinking with the more urban tradition of the jazz festival (there have been outdoor jazz festivals before, but they've never thrived in the same way that rock festivals have done), he's created a hugely enjoyable, but also musically important event. It's quite easy to get to from UK, and if you're looking for an attractive cross section of performances from jazz and related genres, I can't think of a better way to spend a long weekend.